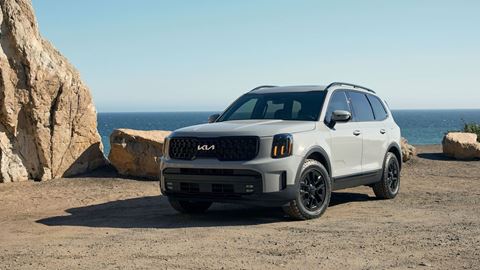 Back-to-back wins for the Kia Telluride
The Kia Telluride SUV was recognized by the Hispanic Motor Press with the organization's "Family Vehicle of the Year" Award. Presented at the Los Angeles Auto show, the award for the family vehicle of the year for Hispanic consumers was decided on by a panel of over 20 Hispanic automotive journalists, content creators, and industry influencers. In 2022, Telluride was named "SUV of the Year" by the Hispanic Motor Press, marking this year as a back-to-back win for Kia's award-winning three-row SUV.
"It is an honor for the Telluride to be recognized by the Hispanic Motor Press for the second year in a row and this award speaks to the rugged capability, versatility and style of our flagship SUV," said Steven Center, COO & EVP, Kia America. "We are humbled that this distinguished group of journalists acknowledged Telluride yet again for offering the best of what today's savvy Hispanic consumers are looking for."
The jury panel thoroughly evaluated vehicles on overall design, comfort, safety, economy, handling, performance, functionality, infotainment integration, interior design, environmental impact, driver satisfaction, and price, keeping the Hispanic audience's preferences foremost in their minds.
"Hispanics account for 18-percent of the current population in the U.S. That means that we buy a lot of new cars. Being a judge and selecting the best for our Hispanic Community is a big responsibility. However, we must help them more than ever as new technologies make cars more expensive. We still want reliability, safety, and comfort for our families at a fair price. The Kia Telluride meets those requirements," said Carlos Hernandez, President LatinoCC.