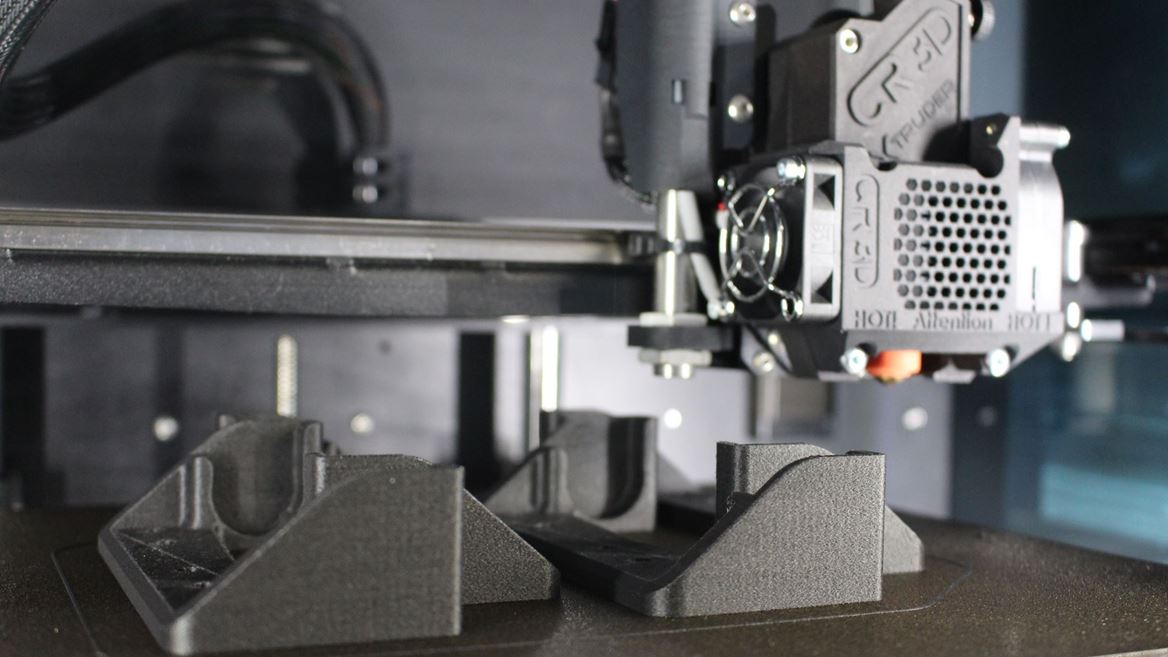 3D printing for mobile machinery manufacturers
Additive manufacturing, commonly known as 3D printing, has become a key concept in the off-highway industry. All major construction, forestry and agricultural machinery manufacturers, as well as their OEM partners, are using this approach for prototype and small batch production and some have even fully integrated 3D printing into mass production.
From November 12 to 18, SYSTEMS & COMPONENTS in Hannover, Germany, will be the leading venue for all suppliers and users of mobile machinery interested in industrial 3D printing.
Custom availability, adaptability, small production quantities, and a high degree of freedom in shape and form – additive manufacturing can drastically shorten development times and produce highly complex component geometries cost-efficiently. The latest developments are attracting increasing interest from off-highway industries and, at SYSTEMS & COMPONENTS, 3D printing will be vacating its rapid prototyping niche and preparing to significantly change the industrial value chain across the board. Unlike conventional subtractive manufacturing, in which material is removed by milling, turning or grinding, additive manufacturing applies material layer-by-layer to form a component. Various processes are used, and the spectrum of materials ranges from plastics and metals to ceramics.
New design freedoms in development
In addition to the familiar powder- and wire-based technologies, exhibitors at the Hannover exhibition center are also working on innovative material combinations to push the limits of 3D printing. For one, they are using 'binder jetting' technology, an additive process for the rapid production of sand casting molds, to be used for high-quality casting of components such as axle housings or wheel hubs. Making 3D molds with sand has decisive advantages in lightweight construction. In addition, the casting design can be more complex than usual since the need for parting lines is greatly reduced.
Printing equipment capable of continuous production of sand castings has already been integrated into the production lines of foundries and prototype workshops working in the off-highway area, as well as OEMs .
At SYSTEMS & COMPONENTS and the parallel Agritechnica trade fair, agricultural machinery manufacturers and their OEM partners, who are already printing components directly, will be able to tap into the full potential of additive manufacturing. Technologies such as 'Fused Deposition Modeling' (FDM) or 'Selective Laser Sintering' (SLS) make it possible to use materials close to production quality in the building of prototypes and preproduction components that are then representative of industrial large-scale production.
Additive production can offer special features not found in traditional manufacture, such as flexible damping elements made of thermoplastic polyurethane (TPU), motorcycle covers made of high-strength fiber-reinforced plastic, or assemblies that allow more degrees of freedom in equipping the driver's cab. 3D printing can also be used to produce components that cannot be manufactured in a single piece using standard injection molding.
Additive manufacturing in industrial use
An example of industrial additive manufacture is vehicle-specific control consoles, such as those manufactured by IBL Hydronic, who, in just one month, completed the development of a control module and presented it to the customer in the agricultural engineering sector. The housing parts were printed using SLS, assembled and fitted with a leather armrest. To make it not only functional but also visually appealing, the surface was textured and the components dyed and polished. The result: a leather-like texture that visually enhances the surface and rounds off the design. For smaller individual parts such as the white and orange keys, stereolithography (SLA) was used, an additive technology that allows the printing of transparent components. In this way, illuminated warning lights could be integrated directly into the keypad.
The example also shows the need for a wide range of 3D printing materials in additive manufacturing. While many types of component can be made using plastics alone, metals are one of the most sought-after materials for additive manufacturing processes. Unsurprisingly, their properties can make them the ideal choice for demanding applications, offering performance and strength. Metals can innately better withstand the stresses, temperatures and pressures of off-highway applications, making it possible to produce parts with the strengths required for drive components in mobile machinery. Aluminum has a particular potential for efficient lightweight construction.
Machines in a new weight class
From heat exchangers to heat sinks, for fully functional prototypes or tool and fixture construction, 3D metal printing enables the creation of components with complex geometries, hollows, undercuts and detailed internal structures, without the use of additional tools,  other input materials or additional assembly steps, all directly from a digital design file, the CAD model, at minimum weight and maximum stiffness. The process uses a focused laser beam to melt a metal powder and, as the metal solidifies, a new layer of powder is applied, resulting in the manufacture of a homogeneous 3D component.
Among the emerging additive manufacturing processes is 'metal binder jetting' (MBJ). John Deere is using HP's Metal Jet S100 technology to produce tractor fuel system valves that function in extreme weather conditions. Similar to 'selective laser melting' (SLM), the process uses a powder bed that is built up layer by layer, but, instead of melting the powder with a laser, the print head deposits droplets of binding material at the defined positions, binding the powder to form the component, layer by layer. The resulting "green part" is allowed to cure and then sintered, removing the binder and resulting in the finished component. HP's 3D printers can precisely apply up to 630 million nanodroplets of the binder to the powder bed per second. John Deere also uses the technology for prototypes to test and fine-tune components such as windshield brackets. "We are among the first in the agricultural industry to take advantage of 3D printing for both prototyping and final production of components," emphasizes Dr. Jochen Müller, Manager Global Digital Engineering at John Deere.
Key for effective maintenance
Another key topic at SYSTEMS & COMPONENTS is spare parts on demand and their production for after-sales. An increasing number of spare parts can be produced using a 3D printer, precisely meeting the customer's requirements and matching the quality of the original. The advantage is that the spare parts only need to be created and stored as data models, while production can take place as and when needed. Especially for older agricultural machinery, where worn-out parts can no longer be manufactured efficiently using traditional production methods, 3D printing is advantageous.
The full potential of additive manufacturing can only be realized with coordinated improvements in equipment, materials and processes. The materials currently being used often fail to meet the diverse requirements of mobile machinery, where, for example, flexibility, temperature stability and magnetic properties must be combined in one part. Additionally, most steels and alloys cannot yet be successfully printed, due to potential crack formation, a problem that becomes more pronounced when additively joining two or more materials. "Multi-material manufacturing using 3D printing is in its infancy. The inability to combine materials as required is the biggest hindrance to a breakthrough of this technology," emphasizes Prof. Dr. Thomas Tröster, chairman of the Institute for Lightweight Construction with Hybrid Systems (ILH, Institut für Leichtbau mit Hybridsystemen) and the Institute for Additive Manufacturing (PIAF, Paderborner Institut für Additive Fertigung) at the University of Paderborn. A research team led by the University of Paderborn is developing industrial applications for this revolutionary technology. MADE-3D (Multi-Material Design using 3D Printing), a project coordinated by Prof Tröster, aims to take additive manufacturing to the next level, using multiple materials with different physical properties. The aim is to enable unprecedented design freedom for highly complex lightweight components, something that could clearly benefit the off-highway sector in the future as well.