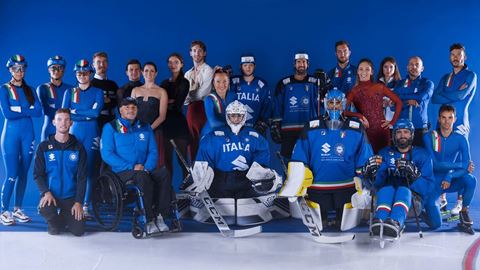 (FILA Luxembourg S.a.r.L.) FILA, the global sports and fashion brand is excited to confirm its partnership with FISG (Italian Ice Sports Federation) will continue for the entire four-year Olympic cycle, until 2026. This news comes on the back of the 2022 Beijing Winter Olympics, the Italian team's most successful ever, where the national short- and long-track speed skating team and the mixed doubles curling performed in specially designed kits by FILA.These garments were not only visually striking but also made from lightweight, high-tech materials. During the design process, they were rigorously tested for durability and fit in specially designed wind tunnels to enhance the athletes' performance.
This renewed agreement will encompass a range of uniforms, including competition and training attire, for the national Senior, Junior and Paralympic teams, and will extend to other disciplines such as synchronized skating, ice stock sport, para ice hockey and wheelchair curling. "With this partnership, we know that all our athletes will be fitted out in the highest-quality apparel—functional and cutting-edge on the rink, refined and elegant off the ice," said Andrea Gios, President of FISG.
In 2026, Italy will host the Milan-Cortina Winter Olympics. For FILA, a brand born in Northern Italy, dressing FISG athletes for an Olympic event hosted on home ground is an honour and a privilege. "For us, sponsoring the Italian teams is as good as it gets. With this agreement, we know that we will continue to make history," adds Luca Bertolino, FILA's Head of Global Strategic Marketing.
Versatility, design, and performance underline FILA's partnership with FISG. Together, they head towards Milan-Cortina 2026 with the shared goal of fully supporting Azzurri athletes, not only on the ice but in every arena where the Italian colours fly.