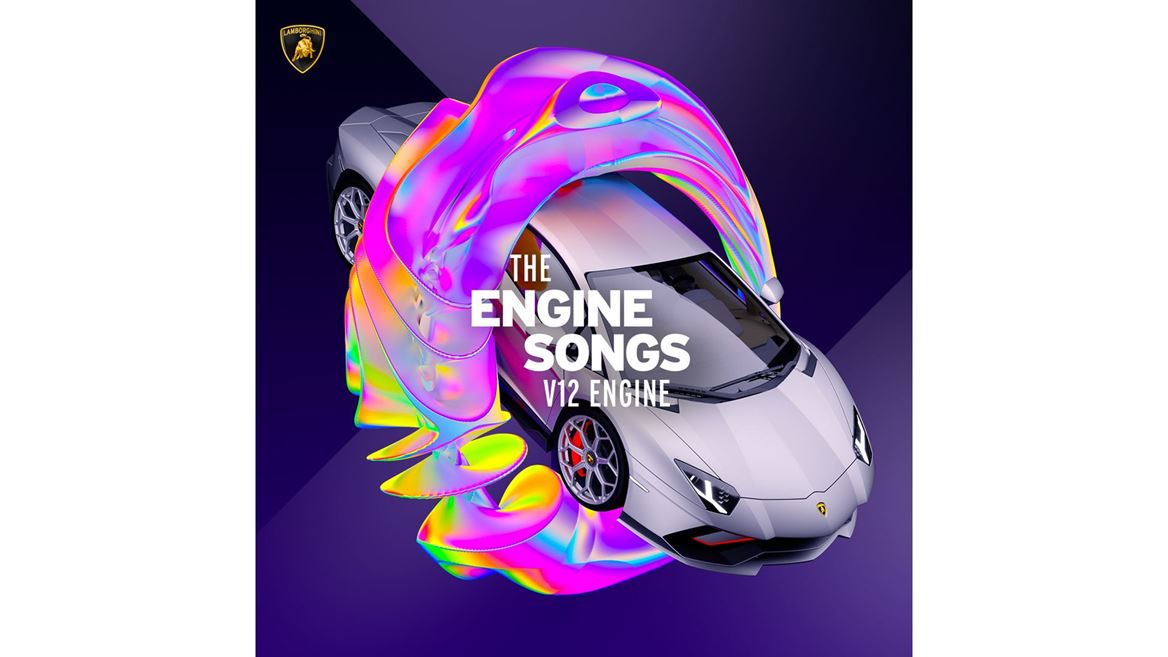 a Spotify playlist tuned to Lamborghini engines
The Engine Songs: Let's Talk V12 video explores the inspiration for the V12 24-track selection
Sant'Agata Bolognese, 15 November 2022 – Lamborghini celebrates the unique songs of its internal combustion engines, the naturally-aspirated V12 and V10 and the twin-turbo V8, with three 24-track playlists available on Spotify including covers created by graphic designer Vasjen Katro. The Engine Songs is a curated collection by music producer Alex Trecarichi created in collaboration with Lamborghini's sound engineers, delivering psychoacoustics and sensory immersion in the most complete and all-encompassing driving experience.
The playlists, one for each engine, juxtapose the sound of the emotive and unleashed engine with songs tuned scientifically to its roar and vibrations. To select the tracks of The Engine Songs, Trecarichi applied the formulas of the Fourier Transform to the music of the engine: a mathematical function that the brain instinctively engages to break down a sound into its infinite subcomponents. Trecarichi reproduced the brain's natural ability in the studio using artificial intelligence: "This procedure enabled me to find the basic frequencies of the engine coinciding with the three precise phases of its expressiveness: ignition (idling), the 4,000-rpm speed, and at maximum power."
The unique experiment started with the artistic transposition of the V12 from the Aventador LP 780-4 Ultimae[1]: the last descendent of the twelve-cylinder sports car tradition that for nearly 60 years has powered the most iconic Lamborghini models. As established by the science, the engine at its lowest revs sings in F-sharp (92.50 Hz): the same key as the soundtrack Canone Infinito by Lorenzo Senni, included in the V12 playlist. At 4,000 rpm the pistons tune to G (98 Hz), a cruising speed to experience with Run Away by Ben Böhmer in the background. At its highest peak of 8,000 rpm, the V12 rises to the G-sharp (103.83 Hz) of Sam Collins' We Can All Dance.
In The Engine Songs: Let's Talk V12 video, Alex Trecarichi is joined by aerospace and sound engineer Mario Mautone, Lamborghini's NVH Whole Vehicle Coordinator.
"One of the aspects I pay attention to is the harshness of sound that sets Lamborghini apart," explains Mautone, "It's that raw, metallic echo which is then embodied in the psychoacoustic experience, the chemical and emotional response to the sound wave that our brains transform into positive emotions and memories. This is why I associate the sound of the V12 with that of a violin: the instrument par excellence of high notes, capable of a crescendo from loudness to sharpness, and quite similar to what is generated by the Lamborghini V12."
Click here to listen to the playlist The Engine Songs: V12.
[1] Fuel consumption and emission values of Aventador LP 780-4 Ultimae; Fuel consumption combined: 18.0 l/100km (WLTP); CO2-emissions combined: 442 g/km (WLTP)