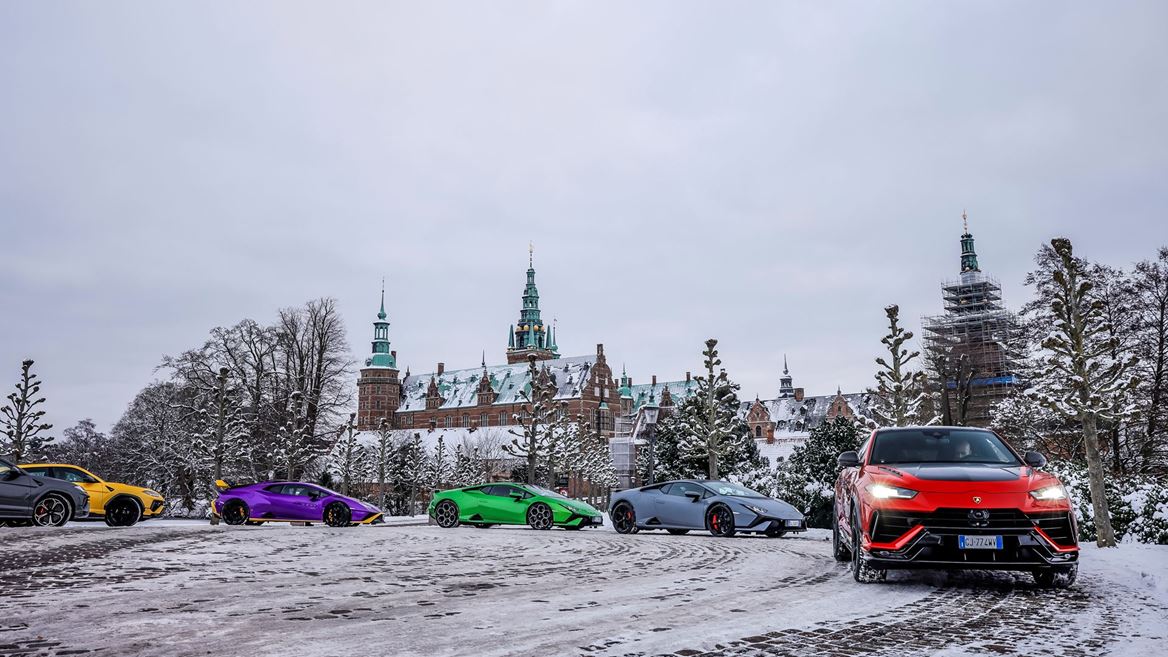 a winter convoy through Denmark and Sweden
A tour highlighting the cars' versatility, concluding with a static presentation of the Huracán Sterrato
Sant'Agata Bolognese/Copenhagen, 11 January 2023 – Winter weather doesn't discourage those wanting to travel and travelling by car is certainly one of the most pleasant ways to go. Destinations and the itinerary can be planned or decided on the spot, just as speeds can be modulated allowing views to be admired. Behind the wheel of a Lamborghini super sports car, these privileges are magnified by the pleasure of taking a trip aboard a masterpiece of technology and performance.
The participants also enjoyed a presentation of the Huracán Sterrato[1] following its recent international premiere at Art Basel in Miami Beach: the first super sports car designed to offer the maximum driving pleasure even when the asphalt runs out, reinterpreting the very concept of sportiness and underscoring the brand's values of "brave, authentic and unexpected".
At the tour's start, echoing the automotive art of Lamborghini was the culinary art of Chef Mattia Risaliti, who created a cooking masterclass and dining experience in the evocative Tower of The Plant. A former factory where containers were built for years, it was later converted into a paper mill, and chosen as an exclusive Lamborghini venue to illustrate the parallels that exist in every industry when it comes to excellence.
The cooking experience created an opportunity to explore how the quality of raw materials, the knowledge of their properties, and the passion for turning those ingredients into something extraordinary is shared across exceptional brands. Having superior raw materials alone is not enough to guarantee an excellent result: it relies on the mastery of those who work with them, attentive to the use of each element and the synergies created between the individual components. Only then is a unique product conceived in the kitchen, just as in the creation of Lamborghini's inimitable super sports cars.
The following day, twelve Lamborghinis – Huracán STO[2], Huracán Tecnica[3], Urus S[4] and Urus Performante[5] – drove a circular route between Denmark and Sweden, starting from Copenhagen and heading to Frederiksborg Castle, continuing onwards to the north coast and then on to Helsingør.
After the ferry crossing, the route continued along the west coast of Sweden to Malmö. From there, crossing the scenic Øresund Bridge, the convoy returned to Copenhagen.
The two- and four-wheel-drive cars conquered icy surfaces and snow with ease, delivering an emotive dynamic experience in every environment. They transported their occupants in luxurious cabins with technology at their fingertips, and thrilled passers-by with their bright colors and unmistakable design.