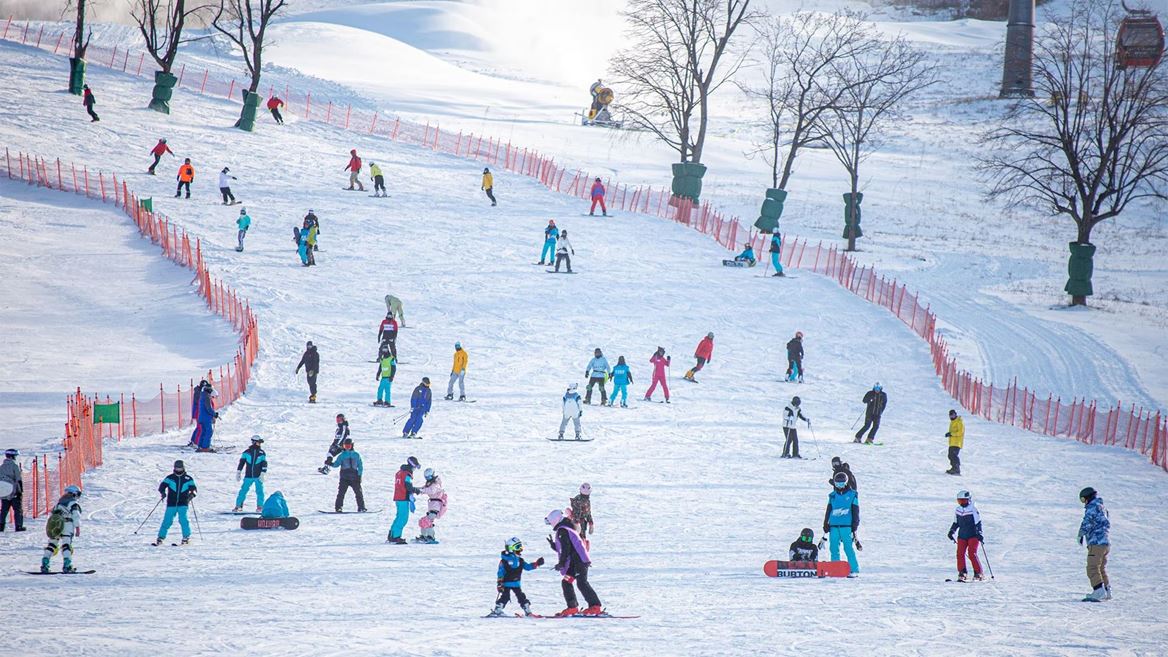 A year on, Chinese people enjoy winter sports, reaping social and economic benefits created by the Olympic Winter Games
01 Feb 2023 – One year after the Games, all the Beijing 2022 venues are being enjoyed by the public and local athletes, and the winter sports industry in the country is booming. Driven by Olympic Agenda 2020 and Olympic Agenda 2020+5, the Games have engaged 346 million Chinese in winter sports since 2015, and created lasting, wide-ranging social and economic benefits for local people.
The first city ever to hold both the Summer and Winter Games, Beijing delivered spectacular Olympic Winter Games last year, while managing to engage almost 350 million people across China in winter sports.
The Opening Ceremony held at the Bird's Nest, a legacy venue from Beijing 2008, kicked off nationwide excitement for winter sports. From teen prodigies to seasoned competitors, nearly 3,000 athletes from 91 National Olympic Committees helped jumpstart China's newly emerging winter sports scene. With nine golds and a total of 15 medals, Beijing 2022 saw China's best Winter Olympic performance to date.
An online sensation
The winter sports fever was felt far beyond China, however. Within the context of the COVID-19 pandemic, many people could only watch the Games thanks to cutting edge technology and digital innovation. Having reached a global audience of more than two billion people, the Games quickly became an online sensation. A total of 2.01 billion unique viewers tuned in to watch coverage from Beijing across linear TV and digital platforms, a five per cent increase on the audience for the Olympic Winter Games PyeongChang 2018.
Olympic legacies created before the Games
The aim to establish China as a snow and ice destination had already been achieved before the Games began. By the beginning of 2021, the country had already built 654 standard ice rinks, up by 317 per cent compared with 2015; and 803 indoor and outdoor ski resorts, up by 41 per cent from 2015 levels.
By one year after the Games, as many as 346 million people have taken part in winter sports since 2015. According to the China Tourism Academy, during the 2024-2025 ice and snow season, China's winter leisure tourism sector is expected to have welcomed more than 520 million visitors and earned revenue of more than CNY 720 billion (approx. USD 107 billion).
The mushrooming growth of this sector has had knock-on benefits for health and leisure, society and the broader economy. For example, for those living in areas surrounding the venues, the Games have created some 81,000 new job opportunities.
"Beyond staging spectacular Games, Beijing 2022 was laser focused on delivering lasting social and economic benefits for its residents – in line with Olympic Agenda 2020+5," said Christophe Dubi, Olympic Games Executive Director. "One year on, the most outstanding feature of these Games is the way they touched the lives of millions of local people by making them discover the world of winter sports. The organisers also made sure the Games minimised their impact on the environment by prioritising the use of existing venues, using renewable energy to power all the venues, and implementing innovative technology, such the CO2 refrigeration systems that will help make winter sports more sustainable."
Sustainable venues
Aiming to reduce the environmental impact of the Games, Beijing 2022 re-used five competition venues from the Olympic Games 2008 while embracing new construction standards for those venues that were newly constructed for Beijing 2022 – from water and energy efficiency to building insulation and cooling technologies. A core driver for this was the IOC's Olympic Agenda 2020, which requires host cities to minimise new construction to reduce emissions, and ensure long-lasting use of any new venues.
One year on, Chinese residents can already visit, use and enjoy the Beijing 2022 Olympic venues.
The National Aquatics Centre, known as the "Water Cube", which hosted Olympic swimming, diving and artistic swimming at the Olympic Games in 2008, was turned into an "Ice Cube" to host the Beijing 2022 curling competitions. The venue has seen massive public interest, with more than 3,000 visitors on day one of its opening, earning it the nickname of "the hottest ice" in Beijing.
In Shougang Park, which has recently been reopened, visitors can jump onto a large inner tube to slide down the lanes of the Big Air Shougang. The iconic venue converted from a former steel mill is now used as both a sports facility and a vibrant culture hub.
A short train ride away, Yanqing, one of the three Olympic zones, hosted alpine skiing, bobsleigh, skeleton and luge competitions at the Games. It now invites amateurs to follow a three-kilometre ski trail that runs through a forest and over a bridge, offering scenic views of Haituo Mountain. More experienced skiers can enjoy the slopes of the National Alpine Skiing Centre.
The Genting Snow Park, where 20 gold medals were up for grabs during the Games, is already one of the busiest Beijing 2022 venues this winter season. Some 30 events, including professional and amateur competitions, junior training programmes and skiing festivals, have been scheduled at the resort so far.
Beijing is committed to making increased use of all its venues, encouraging their multiple, year-round use and upgrading facilities to expand capacity and improve their quality. Rebuilding old factory workshops, warehouses and commercial facilities into indoor winter sports venues has also been recommended by the local authorities.
Gender equality and social inclusion
The Games also created important legacies for gender equality and social inclusion. Of the 2,834 athletes competing at Beijing, 45.4 per cent were female – the highest percentage at any Olympic Winter Games.
With the highest-ever number of women's events at the Olympic Winter Games to date – a total of 46 –  Beijing 2022 also moved seven disciplines to gender balance for the first time. These included skeleton, individual luge, speed skating, cross-country skiing, alpine skiing, freestyle skiing and snowboard. Some 10 out of 15 disciplines at Beijing 2022 were fully gender balanced.
Showcasing new technologies
Winter sports are heavily impacted by the changing climate, and this topic was never far from the Games. As one of the world's most widely watched sporting events, the Games offered a spectacular opportunity to showcase new technologies and sustainable solutions.
Fuel-efficient vehicles accounted for 85 per cent of all the vehicles used in the competition zones, including 710 hydrogen-powered vehicles introduced to Zhangjiakou which are still running today. A preferred mode of public transport, they showcase the technology's immense potential. More than 80.7 million passengers have used the fuel-cell vehicles since the Games, covering 27 million kilometres. By 2025, China plans to produce around 50,000 hydrogen fuel-cell vehicles.
Other carbon-cutting technologies included natural CO2 refrigeration systems at four of the Olympic ice venues. This innovative technology – used for the first time at the Olympic Games and in China – helped cut carbon emissions from the process of cooling the ice rinks to nearly zero, and considerably reduced energy consumption.
Renewable energy powered every venue at Beijing 2022, enabled by the Zhangbei flexible direct current grid project which transferred electricity from Zhangjiakou to Beijing. Beyond powering the Games, it also supplied 10 per cent of Beijing's electricity and boosted the city's use of clean energy.
Following the publication of the post-Games Sustainability and Legacy reports, Beijing will soon celebrate the one-year anniversary of the 2022 Winter Games. Beijing and Zhangjiakou will host a series of cultural and sporting events to mark the legacy of the Games under the theme "Re-walk the Road to the Extraordinary Beijing 2022 Games: Together for a Shared Future".