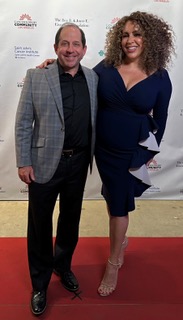 Actress Diana Maria Riva of Netflix "Dead to Me" emcees
LOS ANGELES, CA, May 30, 2023 (GLOBE NEWSWIRE) — Cancer Support Community Los Angeles (CSCLA) presented its Annual Gala, Thursday, May 18, 2023 at The New Mart in downtown Los Angeles. This special evening benefitted the comprehensive free of charge services for cancer patients and their families that CSCLA has provided since 1982. The Cancer Support Community was founded on the principle that no one should face cancer alone® and is committed to working alongside the medical community and community-based providers to ensure that the diverse populations of Los Angeles have access to the quality cancer care that they deserve.
Diana Maria Riva emceed the evening. Ms. Riva has starred as "Detective Ana Perez" alongside Christina Applegate and Linda Cardellini in Netflix's hit series Dead to Me, and can be seen next in Netflix's upcoming series Glamorous.  Mai Bloomfield, American singer-songwriter, multi-instrumentalist, and cancer survivor provided the entertainment. Mai is a founding member of the indie folk-pop band Raining Jane and will be joining Jason Mraz on tour this summer. 
The evening of achievement and celebration honored Dr. Jennifer Linehan, Urologic Oncologist at Saint John's Health Center, and Director of Urology Translational Research, and Associate Professor, at  Saint John's Cancer Institute, with the "Harold H. Benjamin Innovation Award" named for the founder of CSCLA, for her compassionate cancer care and her significant impact on the community-at-large; and Dr. Raul Mena (retired), Past Medical Director of The Roy and Patricia Disney Family Cancer Center, at Providence St. Joseph Medical Center in Burbank with "The Wellness Award" for his visionary leadership in ensuring that cancer care services are provided for all under one roof in a community based hospital setting.   
"We honor the work of Cancer Support Community Los Angeles and its 41 years of existence, providing free of charge services to cancer patients and their families, including children. Drs. Linehan and Mena are two extraordinary, compassionate physicians who have demonstrated over the course of their careers the importance of caring for the whole person and the whole family during a cancer diagnosis," said Julia Forth, CEO, CSCLA. "Both Dr. Raul Mena and Dr. Jennifer Linehan exemplify the best of the best in whole person care."
About the Cancer Support Community Los Angeles
The Cancer Support Community Los Angeles mission is to ensure that all people impacted by cancer are empowered by knowledge, strengthened by action, and sustained by community. For more than 40 years, Cancer Support Community Los Angeles has been providing free, no-cost psychosocial services to persons living with cancer—all ages, all diagnoses, and at all stages—and their loved ones.
Cancer Support Community Los Angeles strives to inspire strength, wholeness, and connection in patients and families facing cancer while partnering with healthcare providers in an integrated and inclusive community of care to ensure that no one faces cancer alone. From our counseling, support groups, healthy lifestyle classes, education workshops, and social events, to our Spanish-speaking and Child, Teen, and Family programs, we are committed to meeting the unique needs of patients. Because of our support, 90% of participants report an improved quality of life and 82% of participants feel more empowered to manage their illness.
About Saint John's Cancer Institute
Saint John's Cancer Institute (SJCI), formerly the John Wayne Cancer Institute, is renowned for advancing therapeutics, translational science, and establishing standards of care since 1991. The institute fosters robust fellowship programs, implements and initiates clinical trials, and collaborates with academic and industry partners worldwide. SJCI established the Sentinel Lymph Node Biopsy technique under the late Dr. Donald L. Morton, which has become the standard of care for melanoma and breast cancer.
Today, patients continue to have access to innovative treatments, vaccines, therapeutics, and clinical trials. Saint John's Cancer Institute is at the forefront of understanding the biology and genetics of cancer while expanding access to treatment for under-served communities through the Saint John's Health Center, Saint John's Health Center Foundation, and our partners.
Jason Kravits, actor and musician, and Diana Maria Riva