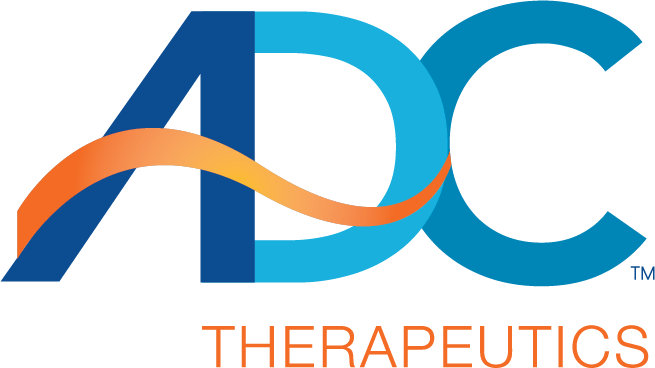 ADC Therapeutics Announces Updated LOTIS-2 Results
LAUSANNE, Switzerland, June 09, 2023 (GLOBE NEWSWIRE) — ADC Therapeutics SA (NYSE: ADCT) today announced updated results from LOTIS-2, the pivotal Phase 2 clinical trial of ZYNLONTA® (loncastuximab tesirine-lpyl) in patients with relapsed/refractory diffuse large B-cell lymphoma (DLBCL). The data are being presented in a poster today at the European Hematology Association 2023 Hybrid Congress (EHA2023) and will also be featured in an oral presentation at the 17th International Conference on Malignant Lymphoma (17-ICML) being held in Lugano, Switzerland from June 13-17, 2023.
"We're pleased to be sharing updated LOTIS-2 results demonstrating the long‐term efficacy and safety of ZYNLONTA with the lymphoma community at EHA2023 and 17-ICML," said Mohamed Zaki, MD, PhD, Chief Medical Officer of ADC Therapeutics. "Importantly, 31% of patients who achieved a complete response remained event-free for two or more years and did not need new anticancer therapy, which we believe validates the durability of ZYNLONTA in heavily pretreated patients with diffuse large B-cell lymphoma."
The multicenter, open‐label, single‐arm Phase 2 LOTIS-2 study that evaluated ZYNLONTA in patients with relapsed or refractory DLBCL after ≥2 prior systemic therapies resulted in an overall response rate (ORR) of 48.3% (70/145), with a complete response (CR) rate of 24.8% (36/145). The median (range) time to response was 41.0 (35 to 247) days for all responders and 42.0 (36 to 247) days for patients with a CR. All-grade treatment‐emergent adverse events occurring in ≥30% of all patients were increased gamma-glutamyltransferase (42%), neutropenia (40%), and thrombocytopenia (33%).
Key data from 145 evaluable patients as of the data cutoff of September 15, 2022 include the following:
The median duration of response (mDOR) was not reached for patients with a CR and was 13.37 months among all responding patientsOf the 36 patients with a CR, 11 (31%) were event-free for ≥2 years with no evidence of disease and no new anticancer therapyIn the subsets of patients who were event-free for ≥1 year and ≥2 years, the median (range) duration of time patients remained treatment-free post-ZYNLONTA was 24.8 (3.4 to 37.5) months and 27.7 (20.7 to 37.5) months, respectivelyNo new safety signals were identified
"The updated results of the LOTIS-2 study demonstrate significant clinical benefit for patients with recurrent diffuse large B-cell lymphoma, an aggressive subtype of non-Hodgkin lymphoma," said Mehdi Hamadani, MD, Professor, Medical College of Wisconsin. "I am excited by the potential of ZYNLONTA to treat underserved patients. ZYNLONTA continues to be a welcome option for patients with difficult-to-treat lymphoma and gives hope to them and their families."
Presentations at 17-ICML
Details of ADC Therapeutics' oral presentation at 17-ICML are as follows:
Long-Term Responses with Loncastuximab Tesirine: Updated Results From LOTIS-2, the Pivotal Phase 2 Study In Patients with Relapsed/Refractory Diffuse Large B-Cell Lymphoma [Encore of EHA 2023]
Session: "Focus On…" Session – Large B-Cell And Double Hit Lymphomas
Session Date and Time: Thursday, June 15, 2023, 17:00 – 18:00 CEST // 11:00 am – 12:00 pm EDT
Presentation Time: 17:30 CEST // 11:30 am EDT
Location: Cinema Corso
Presenting Author: Paolo F. Caimi, MD, Cleveland Clinic Taussig Cancer Center, Cleveland, OH, USA
Details of a poster presentation independently driven by IGM Biosciences at 17-ICML are as follows:
Combination of Imvotamab and Loncastuximab Tesirine Shows Enhanced Anti-Tumor Activity in a Preclinical Model of Non-Hodgkin's Lymphoma
Session: Lugano Poster session
Location: Marquee Parco Ciani
Presenting Author: Kathryn A. Logronio, IGM Biosciences, Inc.
Posters will be available on: Wednesday, June 14, 2023, 12:00 – 18:00 CEST; Thursday, June 15, 2023, 10:00 – 18:00 CEST; and Friday, June 16, 2023, 10:00 – 18:00 CEST. Presenters will be with posters on Thursday, June 15, 2023, from 12:30 – 13:00 CEST. ePosters will be accessible virtually in Gallery from June 14-December 15, 2023.
Titles of ADC Therapeutics' abstracts accepted for publication only are as follows:
LOTIS-5, an Ongoing Phase 3 Randomized Study of Loncastuximab Tesirine with Rituximab (Lonca-R) Versus Immunochemotherapy in Patients with R/R DLBCLPhase 1b Open-Label Study of Loncastuximab Tesirine in Combination with Other Anticancer Agents in Patients with Relapsed/Refractory B-cell Non-Hodgkin Lymphoma (LOTIS-7) [Encore of ASCO 2023]
All accepted abstracts will be included in the Abstract Book, supplement to "Hematological Oncology" (John Wiley and Sons, Inc.), published online on Wiley Online Library on June 9 (23:59 CEST).
About ZYNLONTA® (loncastuximab tesirine-lpyl)
The U.S. Food and Drug Administration (FDA) and the European Medicines Agency have approved ZYNLONTA (loncastuximab tesirine-lpyl) for the treatment of adult patients with relapsed or refractory (r/r) large B-cell lymphoma after two or more lines of systemic therapy, including DLBCL not otherwise specified, DLBCL arising from low-grade lymphoma and also high-grade B-cell lymphoma. The trial included a broad spectrum of heavily pre-treated patients (median three prior lines of therapy) with difficult-to-treat disease, including patients who did not respond to first-line therapy, patients refractory to all prior lines of therapy, patients with double/triple hit genetics and patients who had stem cell transplant and CAR-T therapy prior to their treatment with ZYNLONTA. This indication is approved by the FDA under accelerated approval and in the European Union under conditional approval based on overall response rate and continued approval for this indication may be contingent upon verification and description of clinical benefit in a confirmatory trial. Please see full prescribing information including important safety information about ZYNLONTA at www.ZYNLONTA.com.
About ADC Therapeutics
ADC Therapeutics (NYSE: ADCT) is a commercial-stage global leader and pioneer in the field of antibody drug conjugates (ADCs). The Company is advancing its proprietary ADC technology to transform the treatment paradigm for patients with hematologic malignancies and solid tumors.
ADC Therapeutics' CD19-directed ADC ZYNLONTA (loncastuximab tesirine-lpyl) received accelerated approval by the FDA and conditional approval from the European Commission for the treatment of relapsed or refractory diffuse large B-cell lymphoma after two or more lines of systemic therapy. ZYNLONTA is also in development in combination with other agents and in earlier lines of therapy. In addition to ZYNLONTA, ADC Therapeutics has multiple ADCs in ongoing clinical and preclinical development.
ADC Therapeutics is based in Lausanne (Biopôle), Switzerland and has operations in London, the San Francisco Bay Area and New Jersey. For more information, please visit https://adctherapeutics.com/ and follow the Company on Twitter and LinkedIn.
ZYNLONTA® is a registered trademark of ADC Therapeutics SA.
Forward-Looking Statements
This press release contains forward-looking statements within the meaning of the safe harbor provisions of the Private Securities Litigation Reform Act of 1995. Forward-looking statements are subject to certain risks and uncertainties that can cause actual results to differ materially from those described. Factors that may cause such differences include, but are not limited to: the benefits, if any, of the updated clinical data from the LOTIS-2 study of ZYNLONTA® to be presented at EHA2023 and 17-ICML; the success of the Company's updated corporate strategy including operating efficiencies, capital deployment and portfolio prioritization; the Company's ability to achieve the 2023 net product sales guidance for ZYNLONTA® and the decrease in total operating expenses for 2023 and 2024, the expected cash runway into the middle of 2025, the effectiveness of the new commercial go-to-market strategy and the Company's ability to continue to commercialize ZYNLONTA® in the United States and future revenue from the same; Swedish Orphan Biovitrum AB (Sobi®) ability to successfully commercialize ZYNLONTA® in the European Economic Area and market acceptance, adequate reimbursement coverage, and future revenue from the same; our strategic partners', including Mitsubishi Tanabe Pharma Corporation and Overland Pharmaceuticals, ability to obtain regulatory approval for ZYNLONTA® in foreign jurisdictions, and the timing and amount of future revenue and payments to us from such partnerships; the Company's ability to market its products in compliance with applicable laws and regulations; the Company's expectations regarding the impact of the Infrastructure Investment and Jobs Act; the timing and results of the Company's or its partners' research projects or clinical trials including LOTIS 5, 7 and 9, ADCT 901, 601 and 602, the timing and outcome of regulatory submissions and actions by the FDA or other regulatory agencies with respect to the Company's products or product candidates; projected revenue and expenses; the Company's indebtedness, including Healthcare Royalty Management and Blue Owl and Oaktree facilities, and the restrictions imposed on the Company's activities by such indebtedness, the ability to repay such indebtedness and the significant cash required to service such indebtedness; the Company's ability to obtain financial and other resources for its research, development, clinical, and commercial activities and other statements regarding matters that are not historical facts, and involve predictions. These statements involve known and unknown risks, uncertainties and other factors that may cause actual results, performance, achievements or prospects to be materially different from any future results, performance, achievements or prospects expressed in or implied by such forward-looking statements. In some cases you can identify forward-looking statements by terminology such as "may", "will", "should", "would", "expect", "intend", "plan", "anticipate", "believe", "estimate", "predict", "potential", "seem", "seek", "future", "continue", or "appear" or the negative of these terms or similar expressions, although not all forward-looking statements contain these identifying words. Additional information concerning these and other factors that may cause actual results to differ materially from those anticipated in the forward-looking statements is contained in the "Risk Factors" section of the Company's Annual Report on Form 20-F and in the Company's other periodic reports and filings with the Securities and Exchange Commission. The Company cautions investors not to place undue reliance on the forward-looking statements contained in this document. The Company undertakes no obligation to revise or update these forward-looking statements to reflect events or circumstances after the date of this press release, except as required by law.
Investors
Eugenia Litz
ADC Therapeutics
Eugenia.Litz@adctherapeutics.com
+44 7879 627205
Media
Mary Ann Ondish
ADC Therapeutics
maryann.ondish@adctherapeutics.com
+1 914-552-4625