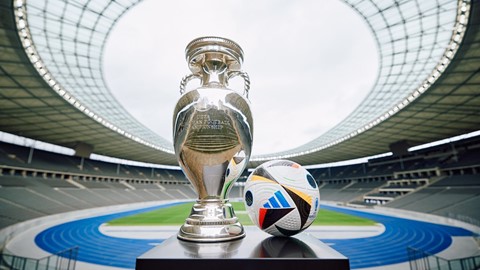 The FUSSBALLLIEBE Official Match Ball will be used throughout the UEFA EURO 2024TM tournament in GermanyThe ball's design is inspired by the joy of football and the energy of the tournament, and has been engineered with improved deboss grooves for greater precision in playThis is the first Official Match Ball produced for the UEFA European Football ChampionshipTM tournament that incorporates adidas Connected Ball Technology, enabling match officials to make accurate decisions fasterThe FUSSBALLLIEBE Official Match Ball is available  to purchase today in adidas retail and selected retailers, and online at adidas.com, with 1% of net sales contributed towards Common Goal.  
Today, adidas unveils the new FUSSBALLLIEBE Official Match Ball for UEFA EURO 2024TM. FUSSBALLLIEBE, meaning 'love of football' will bring Connected Ball Technology to the UEFA European Football ChampionshipTM for the first time.
FUSSBALLLIEBE is specially engineered for greater accuracy in play. Its PRECISIONSHELL 20-piece panel shape and strategically placed deboss grooves on the ball's outer shell were meticulously researched and tested both in the lab and on pitch to control the airflow over the ball for maximum precision. The outer shell is supported by the groundbreaking CTR-CORE within the ball, that is designed for accuracy and consistency, supporting fast, precise play with maximum shape and air retention.
The design of FUSSBALLLIEBE represents the movement of the ball and the energy of the game through prominent black wing shapes accentuated with colourful edges, curves and dots. The use of bold red, blue, green and orange celebrates both the vibrance that the competing nations bring to the tournament and the pure simplicity of football that attracts so much love from fans around the world. Illustrations of each of the tournament's stadiums appear on the ball alongside the name of each host city.
For the first time at the UEFA European Football ChampionshipTM, the Official Match Ball will feature adidas Connected Ball Technology – which sends precise ball data to video match officials in real time. Combining player position data with AI, the innovation contributes to UEFA's semi-automated offside technology and will be key to supporting faster in match decisions. Developed in close collaboration with Kinexon, adidas Connected Ball Technology can also help VAR officials to identify every individual touch of the ball, reducing time spent resolving handball and penalty incidents.
FUSSBALLLIEBE features:
ADIDAS CONNECTED BALL TECHNOLOGY– A Suspension System in the center of the ball hosts and stabilizes a 500Hz inertial measurement unit (IMU) motion sensor, providing unprecedented insight into every element of the movement of the ball. The sensor is powered by a rechargeable battery, which can be charged by inductionCTR-CORE – a groundbreaking core within the ball that is tuned for accuracy and consistency, supporting fast, precise play with maximum shape and air retention. The core consists of two components a zero-waste bladder containing renewable, natural rubber and the carcass made from a double patched PES fabric giving the bladder its strength and shapePRECISIONSHELL– The ball's polyurethane (PU) skin features micro and macro textures and a 20-piece panel shape, enhancing aerodynamics
 SUSTAINABLE BIO-BASED MATERIALS – As well as using recycled polyester and water-based ink, FUSSBALLLIEBE is made from more bio-based substances than any previous adidas Official Match Ball. Each layer of the ball has been adjusted to include materials such as corn fibres, sugar cane, wood pulp and rubber, without impacting its performance
Sam Handy, VP Product and Design, adidas Football, said: "When designing this Official Match Ball, we were inspired by the energy and diversity of the tournament and the love that Europe has for football. With that in mind, we hope FUSSBALLLIEBE will bring joy wherever it's kicked."
"Bringing our Connected Ball Technology to UEFA EURO 2024TM is a watershed moment in the history of the tournament, and a result of our commitment to groundbreaking innovation that improves the experience for match officials, players and fans"
Zvonimir Boban, UEFA Technical Director and Chief of Football, said:  "The UEFA European Football Championship stands as the pinnacle of national team competition in Europe, and we are committed to ensuring that every aspect, from the venues to the equipment, upholds the highest standards of quality and performance. We are, as always, confident that adidas' FUSSBALLLIEBE will mark another stride in our shared dedication to excellence."
FUSSBALLLIEBE is officially unveiled today at a special event in front of the Olympic Stadium in Berlin, kicking off 5 days of activity on site to celebrate the love for football – including appearances from past UEFA EURO legends and current icons, freestyle battles and opportunities for fans to try the ball out themselves.
From November 16th adidas will spread the joy of the new FUSSBALLLIEBE in the nine other UEFA EURO 2024TM host cities with a roadshow featuring pop-up, inner-city football pitches and ball giveaways. Each host city will receive 900 additional balls to donate locally to schools, football clubs and other worthy initiatives.
Adidas continues its commitment to contribute 1% of all global net sales from adidas footballs towards Common Goal, supporting initiatives that drive lasting social change for under-served communities, helping to create a better and more inclusive future through football.
FUSSBALLLIEBE – the Official Match Ball of UEFA EURO 2024TM – with its adidas Connected Ball Technology, will be used in all of the tournament's 51 matches, starting from the first match on 14th June.
Priced at €150, the FUSSBALLLIEBE Official Match Ball is available to purchase today in adidas retail and selected retailers, and online at adidas.com.
The Official Match Ball with the adidas Connected Ball Technology will not be commercialized or available in retail.
For further information please visit adidas.com or follow @adidasfootball on Instagram or Twitter to join the conversation.