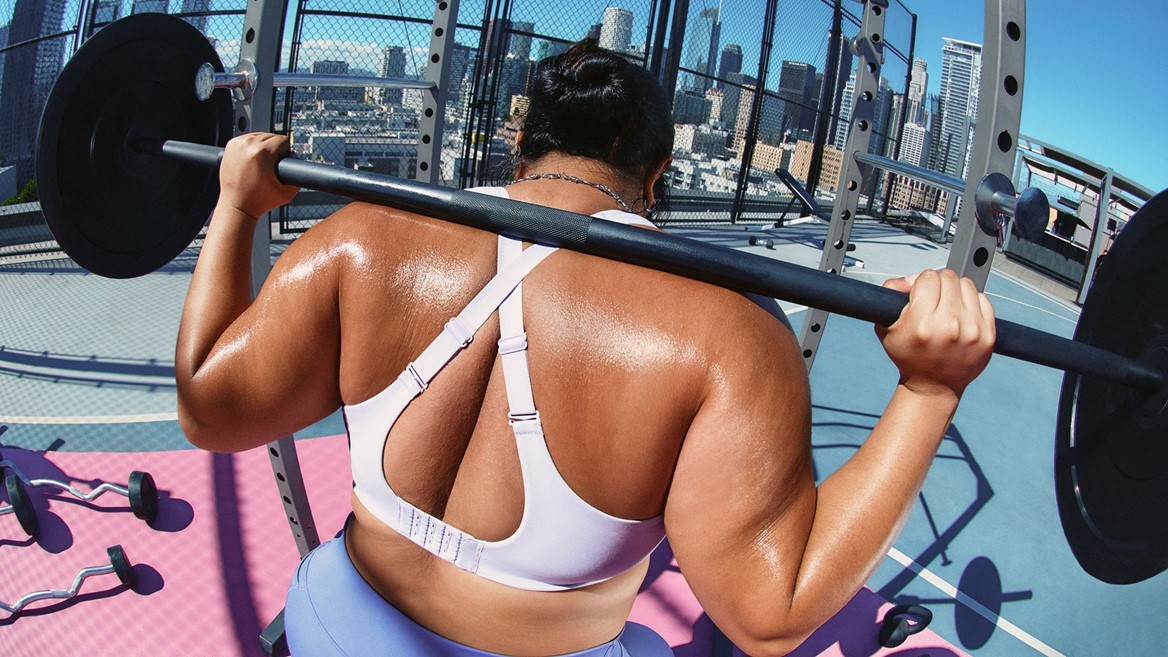 adidas Introduces New SS23 Bra and Leggings Portfolio – Backed by Experts, Designed for Even More Athletes and Activities
Relentlessly committed to tackling barriers to sport participation, today adidas extends its portfolio with new high-performance bra and leggings for more bodies and activities. With widespread dissatisfaction on workout wear continuing to be a challenge amongst the community, the all-new range incorporates adidas' latest material constructs and specific detailing, aiming to reduce distractions so athletes can focus on improving performance.
Partnering with Associate Professor in Exercise Science and Elite Athlete Physiological Consultant Jason White, as well as Professor Joanna Wakefield-Scurr, head of the Research Group in Breast Health at the University of Portsmouth – further supported by a global consumer survey, adidas has uncovered the extent of the impact of inadequate apparel.
From unwanted distractions to physical issues, 58% of women share that they frequently have to stop to pull up their leggings during a workout2, whilst almost half (49%) have had marks left on their skin due to tight fitting apparel3. Coupled with how up to 94% of women are reported to have asymmetrical breasts, reinforces the critical importance of the correct and supportive fit, as well as adequate performance wear.
Following on from the SS22 Bra Collection, adidas' newest bra and leggings' chapter caters to even more workout needs across Studio, All Gym, HIIT and Running, with new styles specifically designed to combat the performance barriers being faced. From four-way material stretch and recovery, to full adjustability, increased support structures, and airflow management, the SS23 Bra & Leggings collection is available in inclusive  sizing and has been crafted to ensure more women athletes can experience sport to its full potential. Key looks from the full collection include: 
ALL GYM: Optime Training Luxe 7/8 Legging & TLRD Impact Luxe Training High Support Bra –

Built with

four-way stretch material and added LYCRA® SPORT technology for optimized shape retention,

the legging is designed to suit all workouts, from cardio to weights, featuring AEROREADY tech to keep the athlete feeling dry. Meanwhile, the bra utilizes HEAT.RDY technology to maximize airflow and keep the athlete feeling cool whilst the thick adjustable stabilizing shoulder straps provide full control over required fit and style.

TLRD HIIT Training 7/8 Legging & TLRD Impact Training High Support Bra –

Designed with the sporadic movements of HIIT in mind, an integrated internal gripper on the high-rise waistband helps minimize leggings rolling down

as the athlete jumps and runs.

Meanwhile the four-way-stretch material with sleek fit aims to help reduce feeling of material dig in and provides all round comfort. The bra's strategically placed HEAT.RDY technology and mesh detailing across the front and the open back design maximizes airflow, so the athlete can feel cool across high heat and sweat zone areas.

 

RUNNING: Daily Run 3 Stripe 5-inch Legging & Running Medium Support Pocket Bra –

With

reflective design details including adidas 3 stripes wrapped around thigh and front logo, the leggings also feature an internal continuous drawcord to ensure maximum adjustability. Meanwhile the bra features mesh panels across the back area – a zone that experiences considerable sweat build up – providing airflow over the spine region whilst the clean and smooth strap edges help to reduce irritation against the skin and chafing.

STUDIO: Yoga Studio Luxe 7/8 Legging &

Yoga Studio Luxe Light Support Bra –

The

legging's

flat and flush seaming, strategically placed in areas of high friction, is designed to help reduce chafing over long sessions, whilst the high-rise waistband offers a supportive feel and streamlined finish. Meanwhile, the bra's continuous

under band without hooks or sliders avoids dig in when the athlete is laid on floor, with the removable pads providing versatility for support and offering coverage bespoke to body shape.
Speaking about the collection, Kim Buerger, Senior Product Manager at adidas, said: "At adidas, we are committed to constantly innovating and iterating our performance products to meet the needs of the community. This collection is focused on solving the widespread issues women face from incorrect fit and inadequate performing apparel, especially leggings and bras. We want our female athletic community to feel unrestricted and focused through every workout."
Reinforcing why what athletes choose to wear whilst exercising, and the way it fits, is so crucial, Associate Professor Jason White explained: "From distractions to performance implications, the research and surveys have shown that a large majority of women face issues due to poorly fitting leggings. Whether the leggings are too tight or lose, comfort is a key element to performance, which is why unearthing this research is an important step to support women's participation and enjoyment in all kinds of sport."
Meanwhile, Professor Joanna Wakefield-Scurr added: "Unknown to some, breast movement and displacement varies considerably across different activities. Whilst during yoga your breasts move predominantly side to side and can experience displacement of up to 5cm, activities such as jumping results in vertical breast displacement of up to 17.8cm and running leads to movement in all directions (vertical, forwards, backwards, side to side). Therefore, tailored sport bra styles and adjustable fit is critical and not something any athlete, at any level, should overlook. Following on from SS22, I am so proud to be working alongside adidas once more and see them continue to raise awareness around this topic as well as extending its offering for women athletes." 
The SS23 Bra & Leggings Collection is available worldwide from January 12 on the adidas website, in stores and via the adidas app,
References
1 2 3 adidas commissioned research conducted by Vitreous World across 1,724 respondents in UK, US, Japan and China, aged 16-24.