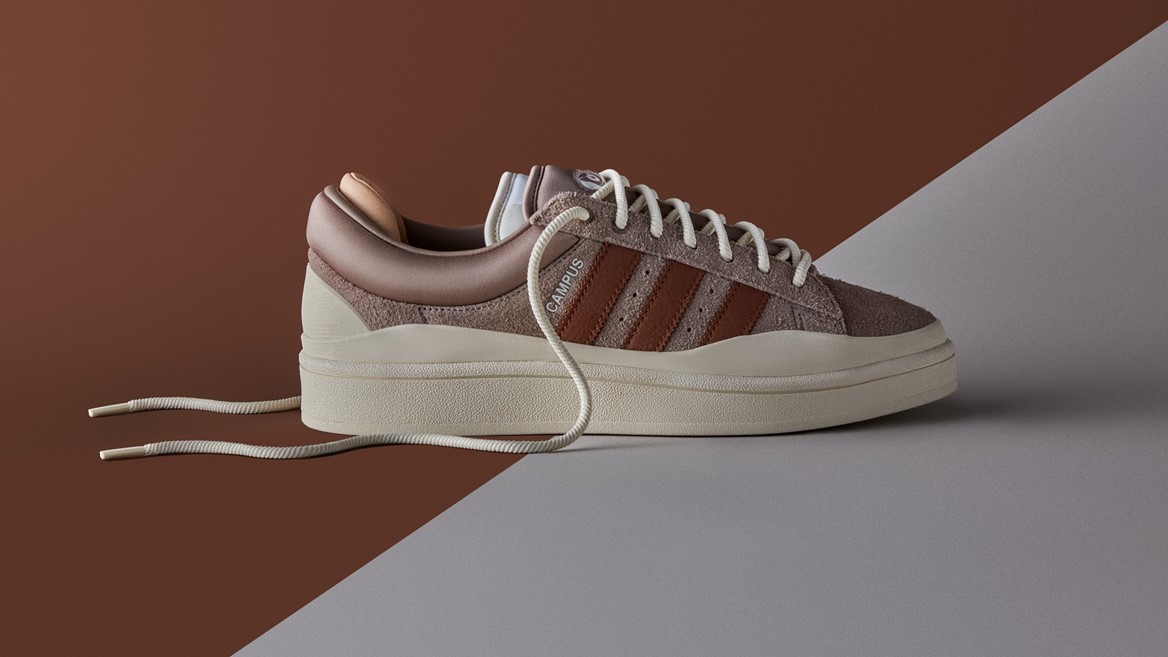 adidas Originals and Bad Bunny Launch Campus Chalky Brown
Bad Bunny and adidas reinvent a classic with the launch of the new Campus Chalky Brown, a simple and timeless design reimagined from the artist's point of view.
The Campus Chalky Brown incorporates a new colorway reflective of a warm palette, with ochre and brown tones, infusing a creative look that only adidas Originals x Bad Bunny can accomplish. The shoe is a classic design with a padded collar, offering maximum comfort and reinforcements in the heel which together with a unique set of laces builds a premium silhouette. Additionally, Campus Chalky Brown features a rubber sole and three stripes on the sides, the classic double set of tabs and the characteristic eye symbol.
The latest iteration of adidas Originals x Bad Bunny brings us one step closer to Benito's personal style and musical influence, with all his spirit, inviting us to wear these shoes any time and any place.
The out of this world new release is the latest creation from adidas x Bad Bunny. The shoe will be available in-store, online, on the CONFIRMED app, BadBunny.com, and in the adidas flagship store starting July 29 and is priced at $160 USD.
adidas.com
@adidasOriginals
About adidas Originals:
Inspired by the rich sporting heritage of adidas – one of the world's leading sports brands and a global designer and developer of athletic footwear and apparel – adidas Originals is a lifestyle brand founded in 2001. With the adidas archive at its foundation, adidas Originals continues to evolve the brand's legacy through its commitment to product innovation and its ability to filter the creativity and courage found on courts and sporting arenas through the lens of contemporary youth culture. Marked by the iconic Trefoil logo that was first used in 1972 and championed by those that continue to shape and define creative culture, adidas Originals continues to lead the way as the pioneering sportswear brand for the street.
About Bad Bunny
Bad Bunny is a multi-platinum recording artist, multiple Latin GRAMMY® and GRAMMY®  winner, who consistently manages to break international barriers and dismantle cultural norms, becoming a global icon of culture and entertainment. In 2021, he was named one of Billboard's 10 most popular superstars in the world and earned the title of the #1 Latin artist of the year for a third consecutive year. In addition, after amassing an impressive more than 9.1 billion streams, he became the only Latin artist who, for two consecutive years, has been proclaimed the most listened to artist globally on Spotify – all of this without releasing a new album.  
In 2022, his tour "El Último Tour del Mundo" became the most globally successful tour of current times, selling out its 35 functions and breaking sales and attendance records. On the heels of his global success he released a new album, "Un Verano Sin Ti," which became the second all-Spanish album to reach number 1 on the Billboard 200 Chart. The first album to accomplish this was Bad Bunny's "El Último Tour del Mundo." The album earned 356.66 million on-demand official streams in its premiere week, registering the largest streaming week ever for a Latin music album; it also set a record by posting its 24 songs on Billboard's "Hot Latin Songs." Currently, the megastar just kicked off his first stadium tour across the U.S. and Latin America, setting the record for the highest-grossing concert in each of the venues he has performed so far and the highest-grossing concert by a Latin act.