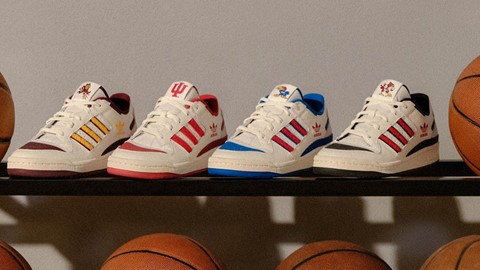 Timeless lifestyle staple arrives in university colors for the first time everNew Forum Collection adds to brand's investment in collegiate lifestyle wear this year following the launch of the first Originals footwear collection made for university partners and fansOfficially licensed colorways for Kansas, Indiana, Louisville and Arizona State will be available starting Sunday, October 1, 2023
Ahead of the college basketball season and "Midnight Madness" celebrations across the country, adidas today unveils a Forum Collection for four partner NCAA programs.
"There was remarkable interest in the Rivalry collection we launched specifically for university students and fans last month and we're excited to be bringing customized streetwear to even more campuses," said Peter Gellert, Director of adidas Originals Basketball Footwear. "The Forum is one of the greatest basketball sneakers turned streetwear icons and its stylish versatility fits perfectly with university colors."
First introduced in the '80s, the adidas Forum quickly gained traction on the court and in music, being worn by some of the biggest names in the industry. Now, fans and students from the University of Kansas, Indiana University, the University of Louisville and Arizona State University can add the Forum to their collections in their respective college colors.
"The launch of this Forum collection signals our increasing investment in bringing the best product the brand has to offer directly to our partner universities and their communities," said Jeanne Schneider, director of NCAA Sports Marketing at adidas. "This collection is a celebration of the Hoosiers, Jayhawks, Sun Devils and Cards as they tip-off the basketball season. We are excited to continue launching product that brings students and fans closer to their teams."
The new Forum collection comes amid a series of historic investments by the brand in its university partners and fans this fall. Last month, adidas Originals unveiled its first-ever footwear collection customized for university students and fans. Shortly after, the brand celebrated history as the University of Nebraska-Lincoln Women's Volleyball team broke the attendance record for any women's sporting event in global history – hosting 92,003 at Memorial Stadium for Volleyball Day in Nebraska.
Students and fans can purchase the newest Forum colorways starting Sunday, Oct. 1 for $120 at adidas.com and the adidas app.
About adidas
adidas is a global leader in the sporting goods industry. Headquartered in Herzogenaurach/Germany, the company employs more than 59,000 people across the globe and generated sales of € 22.5 billion in 2022.