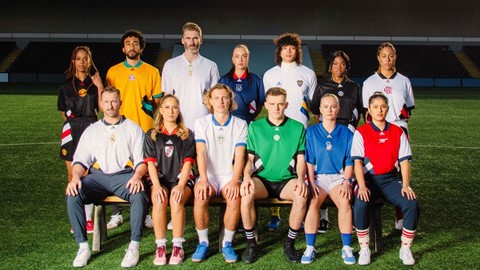 adidas Presents its Latest Football Icons Collection
adidas taps into the culture and style of years past to give fans a throwback replica collection that perfectly blends current streetwear trends and football 
The latest range features designs for some of the world´s leading clubs –incl. Ajax, Arsenal, Boca Juniors, Celtic FC, CR Flamengo, FC Bayern, Juventus, Manchester United, Real Madrid and River Plate – as well as one of the most recent members of adidas´s family of National Team Federations: multi-world cup winner Italy 
90s inspired jerseys, track tops and shorts dive deep into one of the richest eras in modern football where legendary careers and iconic styles were forged into history
Today, adidas is proud to reveal the latest iteration of its football Icons jersey collection, featuring throwback replica designs for some of its leading clubs and federations.
Inspired by a nineties football era that enthralled a generation and defined style both on and off the pitch, the range dives into some of each team's most memorable football moments from the period while unlocking retro stylish looks that blur the lines between football performance and streetwear culture.
Inspired by the iconic 'adidas Equipment' era , the football icons collection revives past classics and reimagines what some clubs might have looked like in the early 90's had they worn The Three Stripes. Centralised branding, glossy finishing and laid-back, loose fits find the balance between instantly-iconic and immediately wearable.
Designed for all fans who live and breathe football culture, who are passionate about their club's heritage and who prize the nostalgic style of the past as much as they value the comfort and high-performance technology of modern sports performance apparel, most of the adidas football icon collection – which features match jerseys, tops and shorts – is available to purchase from today via adidas.com, and selected adidas stores and retailers. Celtic FC´s range will be available as of the 14th of March.
Italy icon Jersey
The 1990s kicked off with football's biggest tournament on Italian soil. This Italy jersey celebrates the decade the beautiful game turned up the volume with adidas Equipment-style details. From its centrally placed, '90s-style badge to its bold 3-Stripes and loose fit, the shirt is every inch an icon.
Ajax icon Jersey
Classic club colours meet iconic adidas style. A throwback to the larger-than-life adidas Equipment era, this football jersey boasts all the hallmarks. From that central club badge to those in-your-face 3-Stripes on the sides, it's a look that many fans recall with affection.
Arsenal icon Jersey
Cup double glory and bold adidas heritage come together in this Arsenal icon football jersey. From that central team badge to the Equipment-style 3-Stripes on the sides, this top radiates early '90s style.
Boca Juniors icon Jersey
This jersey rekindles a classic football era with those signature diagonal 3-Stripes on the sides. It even feels the part, thanks to its soft fabric and loose, laid-back fit. A woven team badge on the chest adds the perfect finish to celebrate an iconic '90s look.
Celtic FC icon Jersey
Celtic FC fans didn't get to live the larger-than-life adidas Equipment era the first time around. So this football jersey reimagines what the green-and-white side of Glasgow may have looked like in the early '90s. From that central team badge to those diagonal 3-Stripes rising from the sides, it certainly looks the part. Its baggy, loose fit will ensures full comfort.
CR Flamengo icon Jersey
CR Flamengo DNA wrapped in adidas Equipment style. This football jersey rekindles a classic early '90s look with oversized 3-Stripes on the sides, a centrally placed team badge and an adidas Badge of Sport at the base of its signature collar.
FC Bayern icon Jersey
A blast from their past. This FC Bayern football jersey borrows its bold colours from the away shirts the club's players pulled on during the mid '90s. Those large diagonal 3-Stripes on either side and the central adidas Badge of Sport and team crest embody a true reflection of adidas Equipment style.
Juventus icon Jersey
Show off some '90s vibes. Everything about this Juventus jersey shouts "football classic." Flashing diagonal 3-Stripes on the sides and a centrally positioned adidas Badge of Sport and team crest, it takes its lead from larger-than-life adidas Equipment gear.
Manchester United icon Jersey
Reimagining what Manchester United would've looked like in iconic adidas Equipment gear. This jersey combines modern details with a classic look, including an adidas Badge of Sport at the base of the collar, a central team crest and large diagonal 3-Stripes on the sides. It's sure to stoke memories for fans of a certain vintage. For others, it will be a whole new football experience.
Real Madrid icon Jersey
Real Madrid narrowly missed out on the adidas Equipment era. So this football jersey reimagines what the team could've looked like in the mid '90s. Those large, diagonal 3-Stripes and that central team badge catch the eye.
River Plate icon Jersey
River Plate's colours and adidas Equipment style come together in this football jersey. From those large 3-Stripes on the sides to the centrally placed team crest and adidas Badge of Sport, there's no mistaking those early '90s influences.
For further media information please visit http://news.adidas.com/GLOBAL/PERFORMANCE/FOOTBALL or contact: adidasglobalfootball@hkstrategies.com
About adidas in Football
adidas is the global leader in football. It is the official supplier of the most important football tournaments in the world, such as the FIFA World Cup™, the UEFA European Championship,the UEFA Champions League& Major League Soccer. adidas also sponsors some of the world's top clubs including Real Madrid, Manchester United, Arsenal, FC Bayern Munich & Juventus, as well as top Federations such as Germany (DFB), Spain (RFEF), Belgium (RBFA), Argentina (AFA) & Italy (FIGC). adidas is also partner to some of the best athletes in the game including Leo Messi, Paul Pogba, Mohamed Salah, Paulo Dybala, Karim Benzema, Catarina Macario, Jude Bellingham, Vivianne Miedema, Trinity Rodman, Jennifer Hermoso, Serge Gnabry, Pedri, Joao Felix, Lindsey Horan & Wendie Renard.