Advertisement. Scroll to continue reading.
Advertisement. Scroll to continue reading.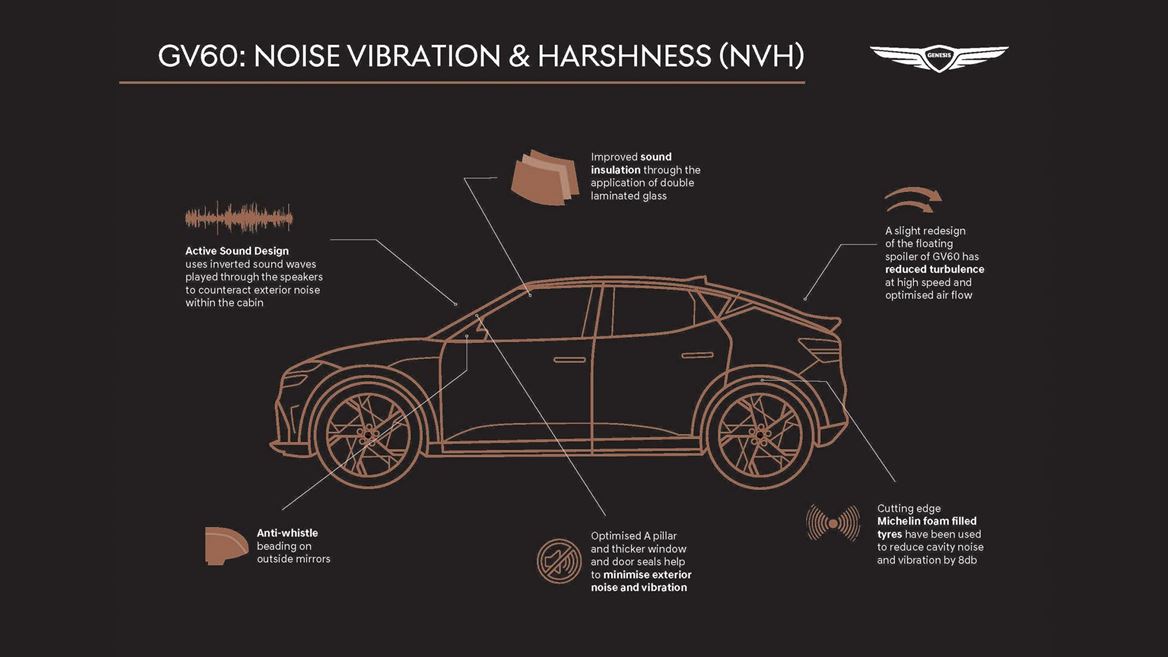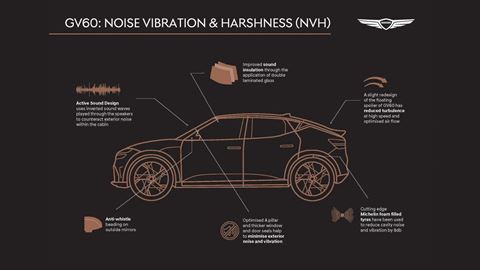 Cutting-edge solutions set new benchmark for cabin refinement

Foam-filled tyres, aerodynamics, and noise-cancellation technology dramatically reduce cabin noise and vibration in GV60

Serenity complemented with soundtracks designed to suit different moods and journeys
Frankfurt, Germany: Genesis has developed the latest noise, vibration and harshness (NVH) technology and testing to improve cabin refinement even more for its first all-electric model, GV60, setting a new benchmark for comfort.
The benefits of near-silent powertrains in electric cars are widely recognised and with GV60, Genesis has redefined what is possible for comfort and serenity inside a car, delivering the highest level of cabin refinement for customers.
The quieter driving experience that is a characteristic of an electric car increases the prominence of other sounds in the cabin, including tyre noise, wind noise and vibration. The development and extensive testing of NVH technologies by the engineering team at Genesis has enabled them to mitigate this phenomenon and make significant improvements to cabin refinement, creating a quieter and more comfortable experience for occupants.
Analysis of wind noise at high speeds on the Autobahn in Germany allowed engineers to identify further areas of development for noise reduction. This included redesigning the aerodynamics of the car's door mirrors and optimising the A-pillar trim to reduce buffeting/turbulence. Door and window seals were redesigned for better isolation and the floating rear spoiler was redesigned to optimise airflow, thereby reducing wind noise.
Innovative polyurethane foam-filled tyres by Michelin help reduce noise versus a standard tyre, which they call "Acoustic Technology", lowering energy in the tyre cavity and reducing the noise which is then transferred to the cabin. The combination of GV60's large battery pack and dedicated electric car platform already provides both stiffness and shock-absorption, reducing the effects of cornering, potholes and uneven road surfaces in the cabin.
GV60 also features ANC-R (Active Noise Control-Road) technology, which significantly reduces the level of noise in the cabin by monitoring and analysing road noises using four sensors and six microphones inside the vehicle. The cabin speakers then create a 'mirror image' or inverted phase of the sound waves to cancel out the unwanted noise. The system runs constantly, ensuring a calm and peaceful experience for all vehicle occupants.
GV60 debuts Electric Active Sound Design (E-ASD) technology to accentuate the car's dynamics and provide the driver with additional feedback. It produces various virtual driving sounds through the speakers based on the driving mode, the vehicle's speed and accelerator pedal data. Customers can choose from three sounds called Futuristic, G-Engine and E-Motor, which give the car a sound characteristic to suit different moods and driving styles. Drivers can explore detailed volume controls and pedal responses in the settings to customise their driving experience.
Head of NVH at Genesis, Christopher Mills explains: "The absence of traditional feedback provided by an internal combustion engine means that many customers come away from driving an electric car feeling that it lacks character. Our E-ASD technology provides customers with the choice to reintroduce a soundtrack to match GV60's dynamics."
"The option of E-ASD is offered in an environment that sets a fresh benchmark for cabin refinement. Through a combination of developing already existing technology and introducing 'new' technology such as foam tyres, we have seen a noticeable reduction of up to 8 decibels of noise in certain frequency bands within the car."
Pre-orders are now open in Europe for GV60. For more information head to https://www.genesis.com/de/en/models/gv60.html.
About Genesis
Genesis brings premium cars with a luxury experience to Europe. The Korean brand has established itself as a true alternative within the premium segment. With a commitment to hospitality and great service, Genesis strives to build sincere relationships with customers and, above all, to respect the greatest luxury – their time. Embodying its unique design language 'Athletic Elegance', the brand continues to strengthen its range of vehicles and services across Europe having launched five premium luxury vehicles in 2021. Genesis will introduce three electric vehicles in 2022 and, from 2025, all-new Genesis vehicles will be zero-emission as part of the brand's vision for a sustainable future. Genesis will also establish itself as a 100 percent zero-emission vehicle brand by 2030 and pursue a goal to become carbon neutral by 2035.
Advertisement. Scroll to continue reading.