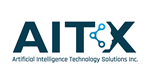 AITX Increases Investment in Video Management System
Detroit, Michigan, March 01, 2023 (GLOBE NEWSWIRE) — Artificial Intelligence Technology Solutions, Inc., (the "Company") (OTCPK:AITX), a global leader in AI-driven security and productivity solutions for enterprise clients along its wholly owned subsidiary, Robotic Assistance Devices, Inc. (RAD), today announced the expansion of two software development teams, specifically the Perception Team that develops innovative analytics and the ROSS™ (RAD Operations System Software) Team that builds the back-end software.
In order to effectively manage the growth of these teams, RAD has been proactively seeking out and recruiting new talent. The highest profile role filled is the newly created position of Product Manager for ROSS, RAD's innovative fully integrated Video Management System.
Anthony Sabino-Staine will be starting in this role today and will be responsible for a variety of projects and goals related to the wide-spread adoption of ROSS throughout the security industry. Sabino-Staine brings a wealth of relevant experience to the role, having spent more than a decade working in the security technology industry, including working with hundreds of end users for a leading video management system provider.
ROSS is RAD's software solution enabling the millions of legacy IP security cameras previously deployed to be able to connect with the RAD ecosystem. ROSS empowers these non-RAD cameras to run the same AI analytic capabilities as other RAD hardware solutions, including firearm, human, vehicle, perimeter breach and loitering detection, immediate notifications, SMS alerts, and more.
RAD has also announced that ROSS will be offered at a competitive introductory price of $10 per channel (MSRP) per month including all analytics, notification abilities and cloud storage. Additionally, the platform will be accompanied by enticing discounts for dealers, integrators, and resellers.
"Anthony is an outstanding addition to our team, and we are thrilled to have him join us in this important role," said Steve Reinharz, CEO of AITX and RAD. "His extensive experience in the video management space and his deep understanding of the security industry will be invaluable as we roll out ROSS and deliver the best possible integrated solutions to our clients."
"I am honored to be joining such a talented team, and a proven industry leader," said Sabino-Staine. "ROSS is an exceptional video management system with an extraordinary market opportunity. I look forward to working with the team to build upon the product's strengths and help it bring new applications and new purpose to the millions of existing security cameras."
"Anthony's appointment comes at a time when businesses are experiencing dissatisfaction with their outdated security cameras and video management systems and are exploring cost-effective alternatives," Reinharz added. "We are confident that with Anthony at the helm, ROSS will take its place as the inevitable, missing link providing RAD's proven AI-based security analytics to common security cameras."
The Company noted that five team members have been added to the two software development teams over the past 2 months with an expected three additional software developers will be added in the next few months. These team members add to the Company's 50+ person Research & Development team.
AITX through its subsidiary, Robotic Assistance Devices, Inc. (RAD), is redefining the $25 billion (US) security and guarding services industry through its broad lineup of innovative, AI-driven Solutions-as-a-Service business model. RAD solutions are specifically designed to provide a cost savings to businesses of between 35%-80% when compared to the industry's existing and costly manned security guarding and monitoring model. RAD delivers this tremendous costs savings via a suite of stationary and mobile robotic solutions that complement, and at times, directly replace the need for human personnel in environments better suited for machines. All RAD technologies, AI-based analytics and software platforms are developed in-house. 
RAD has a prospective sales pipeline of over 35 Fortune 500 companies and numerous other client opportunities. RAD expects to continue to attract new business as it converts its existing sales opportunities into deployed clients generating a recurring revenue stream. Each Fortune 500 client has the potential of making numerous reorders over time.
CAUTIONARY DISCLOSURE ABOUT FORWARD-LOOKING STATEMENTS
The information contained in this publication does not constitute an offer to sell or solicit an offer to buy securities of Artificial Intelligence Technology Solutions, Inc. (the "Company"). This publication contains forward-looking statements, which are not guarantees of future performance and may involve subjective judgment and analysis. The information provided herein is believed to be accurate and reliable, however the Company makes no representations or warranties, expressed or implied, as to its accuracy or completeness. The Company has no obligation to provide the recipient with additional updated information. No information in this publication should be interpreted as any indication whatsoever of the Company's future revenues, results of operations, or stock price.
About Artificial Intelligence Technology Solutions (AITX)
AITX is an innovator in the delivery of artificial intelligence-based solutions that empower organizations to gain new insight, solve complex challenges and fuel new business ideas. Through its next-generation robotic product offerings, AITX's RAD, RAD-M and RAD-G companies help organizations streamline operations, increase ROI, and strengthen business. AITX technology improves the simplicity and economics of patrolling and guard services and allows experienced personnel to focus on more strategic tasks. Customers augment the capabilities of existing staffs and gain higher levels of situational awareness, all at drastically reduced cost. AITX solutions are well suited for use in multiple industries such as enterprises, government, transportation, critical infrastructure, education, and healthcare. To learn more, visit www.aitx.ai, www.stevereinharz.com, www.radsecurity.com, www.radgroup.ai, and www.radlightmyway.com, or follow Steve Reinharz on Twitter @SteveReinharz.
###
Steve Reinharz
949-636-7060
@SteveReinharz