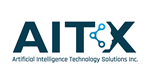 AITX Makes SAFE Investment in Circadian Risk, Developer of
Detroit, Michigan, Jan. 13, 2023 (GLOBE NEWSWIRE) — Artificial Intelligence Technology Solutions, Inc., (the "Company") (OTCPK:AITX), a global leader in AI-driven security and productivity solutions for enterprise clients, along with its wholly owned subsidiary, Robotic Assistance Devices, Inc. (RAD), today announced that it has made an investment in Circadian Risk, Inc., headquartered in Ann Arbor, Michigan.
Circadian Risk develops software that gives security professionals the power to proactively reduce potential risks to individuals and assets. Their industry-leading vulnerability assessment tools provide a complete detailed analysis, as well as corrective actions for every issue that may arise.
The investment by AITX in Circadian Risk is via a SAFE. A SAFE (Simple Agreement for Future Equity) is an instrument that many startups use to raise capital. The SAFE is a legally binding agreement that allows the investor to buy a specific number of shares for an agreed-upon price at some point in the future.
"We are embarking on our first investment into what should be a mutually beneficial relationship," said Steve Reinharz, CEO of AITX and RAD. "Circadian Risk has developed the security industry's most elite risk assessment Software as a Service model. Going forward, there are significant opportunities for collaboration and integration and represents a milestone for both organizations."
"The even closer relationship that is developing between Circadian Risk and AITX will help reshape and disrupt the conventional approach that exists to security and risk analysis" said Michael Martin, CEO of Circadian Risk. "Neither company is satisfied with the current state of the industry, and we are both bringing innovation, experience, and passion to solving age-old issues." Martin has been on RAD's Board of Advisors since its inception and has played a significant role in promoting RAD's awareness and reaching new clients and channel partners within the industry.
"At this time, there are no formal agreements between our two companies," Reinharz added. "There is certainly the intent to strengthen the relationship with specific projects that may develop in the future."
Martin added, "Together with the team at AITX, we hope to create new solutions for corporate security, schools, universities, and public institutions that are weary of the 'pay more / get less' approach to problems. The time is now to adapt, change, and embrace where the future of physical security and risk analysis is going."
"RAD is fundamentally a software company that has developed specialized AI-powered hardware to run its software," said Mark Folmer, President of RAD. "We are confident that our channel partners and corporate clients will be eager to see the potential outcomes of our collaborations with Circadian Risk in revolutionizing the way security is measured and implemented."
AITX and its three subsidiaries collectively have 85 employees spread across 7 departments, sales, marketing, hardware development, software development, production, client services, and administration.
AITX through its subsidiary, Robotic Assistance Devices, Inc. (RAD), is redefining the $25 billion (US) security and guarding services industry through its broad lineup of innovative, AI-driven Solutions-as-a-Service business model. RAD solutions are specifically designed to provide a cost savings to businesses of between 35%-80% when compared to the industry's existing and costly manned security guarding and monitoring model. RAD delivers this tremendous costs savings via a suite of stationary and mobile robotic solutions that complement, and at times, directly replace the need for human personnel in environments better suited for machines. All RAD technologies, AI-based analytics and software platforms are developed in-house. 
RAD has a prospective sales pipeline of over 35 Fortune 500 companies and numerous other client opportunities. RAD expects to continue to attract new business as it converts its existing sales opportunities into deployed clients generating a recurring revenue stream. Each Fortune 500 client has the potential of making numerous reorders over time.
CAUTIONARY DISCLOSURE ABOUT FORWARD-LOOKING STATEMENTS
The information contained in this publication does not constitute an offer to sell or solicit an offer to buy securities of Artificial Intelligence Technology Solutions, Inc. (the "Company"). This publication contains forward-looking statements, which are not guarantees of future performance and may involve subjective judgment and analysis. The information provided herein is believed to be accurate and reliable, however the Company makes no representations or warranties, expressed or implied, as to its accuracy or completeness. The Company has no obligation to provide the recipient with additional updated information. No information in this publication should be interpreted as an indication of the Company's future revenues, results of operations, or stock price.
About Artificial Intelligence Technology Solutions (AITX)
AITX is an innovator in the delivery of artificial intelligence-based solutions that empower organizations to gain new insight, solve complex challenges and fuel new business ideas. Through its next-generation robotic product offerings, AITX's RAD, RAD-M and RAD-G companies help organizations streamline operations, increase ROI, and strengthen business. AITX technology improves the simplicity and economics of patrolling and guard services and allows experienced personnel to focus on more strategic tasks. Customers augment the capabilities of existing staffs and gain higher levels of situational awareness, all at drastically reduced cost. AITX solutions are well suited for use in multiple industries such as enterprises, government, transportation, critical infrastructure, education, and healthcare. To learn more, visit www.aitx.ai, www.stevereinharz.com, www.radsecurity.com, www.radgroup.ai, and www.radlightmyway.com, or follow Steve Reinharz on Twitter @SteveReinharz.
###
Steve Reinharz
949-636-7060
@SteveReinharz