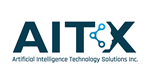 AITX's Quarterly Revenue Up 50%, Forecasts Up to 5x
Detroit, Michigan, Jan. 20, 2023 (GLOBE NEWSWIRE) — Artificial Intelligence Technology Solutions, Inc., (the "Company") (OTCPK:AITX), a global leader in AI-driven security and productivity solutions for enterprise clients, today announced in its FY 2023 3rd quarter SEC filings that its quarter over quarter (Q3 over Q2) revenue increased 50%. The Company also noted that gross margin increased nearly 15% from 50% to 57%. AITX is a fully reporting SEC company that files detailed annual and quarterly reports with the SEC.
The Company has also projected that the results of fiscal year 2024 are expected to yield approximately $800,000 in monthly recurring revenue by February 2024, which if achieved would place the Company in a positive cash flow position.
Highlights from Q3 of Fiscal Year 2023:
During Q3, there was a 50% increase in revenue from Q2, moving from $267,484 to $402,399. This increase was primarily attributed to an augmented number of units purchased by the Company's largest single client. Recurring monthly revenue on units purchased by this particular client begins after 24 months of deployment.
Gross profit percentage increased to 57% from 50%, Q3 over Q2. This gross profit margin (GPM) increase is the result of improvements in supply chain issues and improved production processes. The Company forecasts that the GPM over time should improve significantly. The Company has set a target GPM of 75% by the end of fiscal year 2024.
The total operating expenses for the 3rd quarter ending November 30, 2022 amounted to $3.09 million, representing a 9% decline from the previous quarter. This decrease can be attributed to a reduction in hardware expenditures used for Research and Development. The Company anticipates that operating expenses will rise in the 4th quarter of FY2023 and throughout fiscal year 2024 as a result of the development of projects such as ROAMEO 3.x, RADDOG 2.x, and other projects that are yet to be announced. Furthermore, the Company plans to expand its staff from approximately 85 to 100 over the next several months, which will also contribute to an increase in operating expenses.
The Company reported that as of January 16, 2023, there were approximately 300 units deployed with approximately 290 units on backorder, in production or enroute to deployment. Additionally, the Company has reported a total authorized dealer count of 55. The Company distributes its products through a combination of direct sales to end-users and opportunities developed through the dealer channel.
Fiscal Year 2024 Forecast:
RAD's sales funnel has experienced substantial growth in both volume and value.
RAD is working towards adding the following deployments to be in place by February 29, 2024:
25 ROAMEOs, the robust mobile-patrolling security robot. The current schedule, subject to engineering development timelines, parts availability and manufacturing, has these ROAMEO units available to ship to clients and start billing as soon as August 2023. We expect to deploy 5-10 a month beginning in August. Pre-selling has begun with the goal of exceeding 25 units for FY2024.
150 RIOs, portable solar-powered, wide-area security devices. RAD's largest dealer is expected to add this to their line card by May 2023 which we can reasonably expect will drive significant volume. Management expects RIO revenue to begin significance towards the end of Q2 FY2024.
350 ROSAs / ROSA-Ps, stationary security and safety solutions. This number of ROSA & ROSA P units is roughly at the same run rate as the last few months of calendar year 2022 and is considered by management to be achievable. Management expects a minimum of 30 units being added monthly to recurring monthly revenue beginning March 1, 2023.
100 AVAs, an autonomous access control / vehicle access device. AVA 3.0 units hit 10 deployed units by mid-January. Early indications of market reception are positive and it's expected that dealers will begin ordering in greater quantities as management gathers more case studies and references.
15 RADDOG™, the security industry's purpose-built robot dog. RADDOG version 1.0 was first publicly displayed on December 7, 2022 at the Company's Investor Open House and Technology Reveal. The Company stated at that time that all of our tests were successful and we are moving forward with a larger, stronger version to commercialize. This version will be shown at the ISC West trade show in Las Vegas at the end of March and will be available to ship to clients in the May time frame. The projected number of 15 is considered conservative by management for FY2024.
5000 IP camera integrations via ROSS. These are expected to be 'take-over' or 'side-by-side' type deployments featuring pre-existing LAN connected IP security cameras. 'Take-over' deployments would replace the pre-existing Video Management System and 'side-by-side' deployments would leave the existing systems in place and use secondary camera feeds through ROSS.
35 TOM autonomous visitor management devices. TOM, an acronym for 'The Office Manager' is the evolution and replacement for Wally™. 'TOM+' is scheduled for development and release in FY2024. Currently, RAD's largest single client has deployed TOM units throughout the US and at two European locations. Given monthly sales orders it is expected that this 35 unit target could be met entirely by this one client. We are discussing rolling the product out to its dealer channel as at the moment it is only available to this single client.
The realization of the deployments, if successful and if within a 10% range of standard RAD dealer pricing, will result in our recurring monthly revenues reaching approximately $800,000, and if achieved, would enable us to attain positive cash flow. As such, we will continue to focus on improving existing team members' efficiency and productivity with a focus on retention. Achievement of the sales goals listed herein will require approximately 5% to 10% headcount growth in the production and deployment teams which could push back the goals of positive cash flow.
Several new clients are expected to receive their deployments in FY2024 and are expected to be public. Security is generally a private corporate function and we note that prior clients that have been publicized have been inundated with shareholder phone calls looking for further verification. It is for these reasons that we will continue to rarely pursue publicization of end users.
FY2024 will feature balancing efforts on cost savings with accelerated growth in order to increase probability of achieving targeted positive cash flow targets.
The realization of the deployments will result in the Company's recurring monthly revenues reaching approximately $800,000, and if achieved, would enable the Company to attain positive cash flow.
"Our team, investors, supporters, customers, and followers have worked hard for us to materially increase our sales and meet our forecasted goals," said Steve Reinharz, AITX CEO. "The technology that we've developed, that we're building upon, and that we own, is transforming how legacy security is utilized, paid for, and how it delivers value to its users. I thank everyone for their hard work in bringing the Company to this point. We're far from over, but we'll continue on this mission, and I couldn't be happier."
"Our dealer network, solution set and staff are geared up to achieve the stated goals", said Mark Folmer, President of AITX's primary subsidiary Robotic Assistance Devices, Inc., (RAD). "We've fought through so many challenges to get to this point, we have a strong record of winning and you can count on this team working to overachieve the results."
AITX through its subsidiary, Robotic Assistance Devices, Inc. (RAD), is redefining the $25 billion (US) security and guarding services industry through its broad lineup of innovative, AI-driven Solutions-as-a-Service business model. RAD solutions are specifically designed to provide a cost savings to businesses of between 35%-80% when compared to the industry's existing and costly manned security guarding and monitoring model. RAD delivers this tremendous costs savings via a suite of stationary and mobile robotic solutions that complement, and at times, directly replace the need for human personnel in environments better suited for machines. All RAD technologies, AI-based analytics and software platforms are developed in-house. 
RAD has a prospective sales pipeline of over 35 Fortune 500 companies and numerous other client opportunities. RAD expects to continue to attract new business as it converts its existing sales opportunities into deployed clients generating a recurring revenue stream. Each Fortune 500 client has the potential of making numerous reorders over time.
CAUTIONARY DISCLOSURE ABOUT FORWARD-LOOKING STATEMENTS
The information contained in this publication does not constitute an offer to sell or solicit an offer to buy securities of Artificial Intelligence Technology Solutions, Inc. (the "Company"). This publication contains forward-looking statements, which are not guarantees of future performance and may involve subjective judgment and analysis. The information provided herein is believed to be accurate and reliable, however the Company makes no representations or warranties, expressed or implied, as to its accuracy or completeness. The Company has no obligation to provide the recipient with additional updated information. The reference to the $25 billion (US) security and guarding services industry as presented above is of no predictive value regarding our future results of operations. No information in this publication should be interpreted as an indication of the Company's future revenues, results of operations, or stock price.
The financial projections of the Company (the "Projections") set forth above constitute forward looking statements within the meaning of the Private Securities Litigation Reform Act of 1995. Our actual results, performance or achievements or industry standards may differ materially from those express or implied in in such forward-looking statements. One should not place undue reliance upon the Projections presented herein. The underlying assumptions to the Projections were prepared internally by the Company's management, and were not prepared with a view towards compliance with published SEC or the American Institute of Certified Public Accountants for preparation and presentation of financial forecasts or generally accepted accounting principles. Neither the Company's independent auditors, nor any other independent accountants, have compiled, examined or performed any procedures or review with respect to the Projections, nor have they expressed any opinion or given any form of assurance with respect to such information or its achievability. Furthermore, the Projections are necessarily based on numerous variables, assumptions and estimates that are inherently uncertain, many of which are beyond the Company's control, including a wide variety of industry performance, general business, economic, regulatory, market and financial conditions, as well as matters specific to the Company's business. The Projections should not be regarded as an indication that any of Company or its affiliates or management considered to be predictive of actual future events, including future revenues, results of operations, and stock price. Actual results will likely vary from the Projections, and such variations may be material. Neither the Company nor its management can give you any assurance that actual results will not differ materially from the Projections. The Projections should be read together with the Company's historical financial statements, which are available for review at: sec.gov.
About Artificial Intelligence Technology Solutions (AITX)
AITX is an innovator in the delivery of artificial intelligence-based solutions that empower organizations to gain new insight, solve complex challenges and fuel new business ideas. Through its next-generation robotic product offerings, AITX's RAD, RAD-M and RAD-G companies help organizations streamline operations, increase ROI, and strengthen business. AITX technology improves the simplicity and economics of patrolling and guard services and allows experienced personnel to focus on more strategic tasks. Customers augment the capabilities of existing staffs and gain higher levels of situational awareness, all at drastically reduced cost. AITX solutions are well suited for use in multiple industries such as enterprises, government, transportation, critical infrastructure, education, and healthcare. To learn more, visit www.aitx.ai, www.stevereinharz.com, www.radsecurity.com, www.radgroup.ai, and www.radlightmyway.com, or follow Steve Reinharz on Twitter @SteveReinharz.
###
Steve Reinharz
949-636-7060
@SteveReinharz