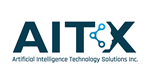 AITX's Subsidiary Robotic Assistance Devices Signs DK
Detroit, Michigan, March 08, 2023 (GLOBE NEWSWIRE) — Artificial Intelligence Technology Solutions, Inc., (the "Company") (OTCPK:AITX), a global leader in AI-driven security and productivity solutions for enterprise clients along its wholly owned subsidiary, Robotic Assistance Devices, Inc. (RAD), today announced the signing of DK Security as a new authorized dealer.
Established in 1995, DK Security is a leading full-service security company which offers uniformed security and a wide-range of investigative services to more than 400 clients and 1,900 employees throughout Michigan. DK Security provides Unarmed Security, Armed Security, and Event Security, as well as Robotics, Investigations, Executive Protection, Audits & Training, Background Screening, Loss Prevention, Mobile Patrols, and anonymous tipline support. DK Security is a woman-owned and woman-led company with branch offices in Grand Rapids, Lansing, and Madison Heights, Michigan. By revenue, DK Security is the largest Michigan-based security guard company.
"RAD is attracting some amazing regional dealers," said Mark Folmer, Mark Folmer, CPP, FSyI and President of RAD. "Dealers like DK Security understand, better than anyone, the issues that their clients are experiencing. Security dealers can't make all problems go away by adding more guards, the clients often don't have the budget or the patience. RAD helps the dealers in helping the clients navigate the solutions."
In a press release dated March 7, 2023, DK Security announced their new partnership with the Company.
"We're in business to make organizations and communities a safer place, and security officers will always be a critical solution to accomplish that," said Johnny Kendall, Director of Marketing & Business Development at DK Security. "We also know the power of artificial intelligence and how it can be used for good. We're excited to partner with an industry leader that's located right here in our home state. Their robotic devices are truly a game changer for what we can offer our clients."
"A robust dealer network is critical to achieving market success," said Steve Reinharz, CEO of AITX and RAD. "RAD's network of strong dealers provides access to new customers, helps expand the Company's reach, and increases product visibility. I'm thrilled that the roster of RAD's dealer network is comprised of influential regional dealers along with the most prominent players in the industry."
RAD authorized dealers are required to obtain a demonstration device for presentations to their clients and prospects. "RAD's unique 'security-in-a-box' approach is best demonstrated by new dealers through the use of a ROSA, which is known for its ease of installation and use," added Folmer.
ROSA is a multiple award-winning, compact, self-contained, portable, security and communication solution that can be deployed in about 15 minutes. Like other RAD solutions, a stand-alone ROSA only requires power, which is provided when configured along with RIO, as it includes all necessary communications hardware. ROSA's AI-driven security analytics include human, firearm, vehicle detection, license plate recognition, responsive digital signage and audio messaging, and complete integration with RAD's software suite notification and autonomous response library. Two-way communication is optimized for cellular, including live video from ROSA's dual high-resolution, full-color, always-on cameras. RAD has published three Case Studies detailing how ROSA has helped eliminate instances of theft, trespassing and loitering at car rental locations and construction sites across the country.
AITX through its subsidiary, Robotic Assistance Devices, Inc. (RAD), is redefining the $25 billion (US) security and guarding services industry through its broad lineup of innovative, AI-driven Solutions-as-a-Service business model. RAD solutions are specifically designed to provide a cost savings to businesses of between 35%-80% when compared to the industry's existing and costly manned security guarding and monitoring model. RAD delivers this tremendous costs savings via a suite of stationary and mobile robotic solutions that complement, and at times, directly replace the need for human personnel in environments better suited for machines. All RAD technologies, AI-based analytics and software platforms are developed in-house. 
RAD has a prospective sales pipeline of over 35 Fortune 500 companies and numerous other client opportunities. RAD expects to continue to attract new business as it converts its existing sales opportunities into deployed clients generating a recurring revenue stream. Each Fortune 500 client has the potential of making numerous reorders over time.
CAUTIONARY DISCLOSURE ABOUT FORWARD-LOOKING STATEMENTS
The information contained in this publication does not constitute an offer to sell or solicit an offer to buy securities of Artificial Intelligence Technology Solutions, Inc. (the "Company"). This publication contains forward-looking statements, which are not guarantees of future performance and may involve subjective judgment and analysis. The information provided herein is believed to be accurate and reliable, however the Company makes no representations or warranties, expressed or implied, as to its accuracy or completeness. The Company has no obligation to provide the recipient with additional updated information. No information in this publication should be interpreted as any indication whatsoever of the Company's future revenues, results of operations, or stock price.
About Artificial Intelligence Technology Solutions (AITX)
AITX is an innovator in the delivery of artificial intelligence-based solutions that empower organizations to gain new insight, solve complex challenges and fuel new business ideas. Through its next-generation robotic product offerings, AITX's RAD, RAD-M and RAD-G companies help organizations streamline operations, increase ROI, and strengthen business. AITX technology improves the simplicity and economics of patrolling and guard services and allows experienced personnel to focus on more strategic tasks. Customers augment the capabilities of existing staffs and gain higher levels of situational awareness, all at drastically reduced cost. AITX solutions are well suited for use in multiple industries such as enterprises, government, transportation, critical infrastructure, education, and healthcare. To learn more, visit www.aitx.ai, www.stevereinharz.com, www.radsecurity.com, www.radgroup.ai, and www.radlightmyway.com, or follow Steve Reinharz on Twitter @SteveReinharz.
###
Steve Reinharz
949-636-7060
@SteveReinharz