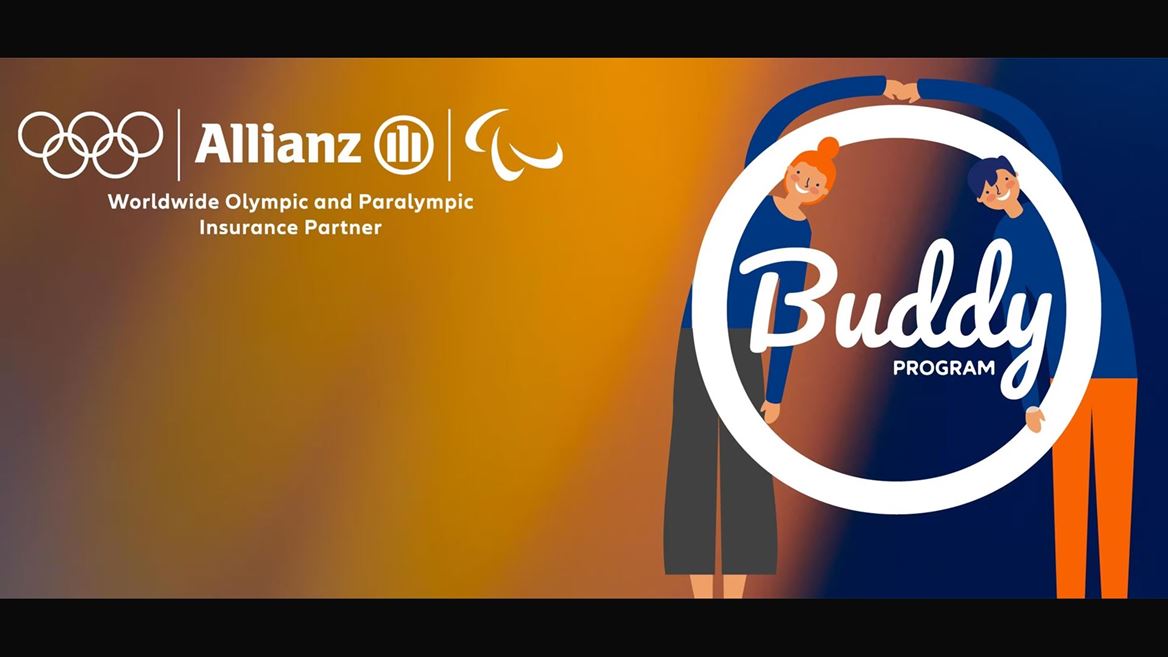 Allianz opens new opportunities for athletes through mentoring program
03 Apr 2023 – The International Olympic Committee (IOC) is working with its Worldwide Olympic Partner Allianz to show their mutual support for the athlete community by offering Olympians and Paralympians the chance to take on paid mentorship roles with its employees through the Allianz Buddy Program.
The initiative, which launched in 2021, has so far seen 51 athletes and 39 Para athletes – from over 40 different sports – team up with more than 700 Allianz staff to share their experiences of elite sport and explore various development topics, including mental health, motivation and mindset while getting insights into a possible future workplace.
Former Great Britain rower Beth Bryan is among the athletes who have already taken part in the program. Looking back on the experience, she says she felt energised by the opportunity to engage in meaningful group exchanges, learning first-hand what can come from thoughtfully collaborating with others and having a supportive space to explore different themes.
"My group has been fantastic – we've engaged in open conversations and shared experiences through topics such as mental health, working under pressure, and teamwork," said Bryan. "I would love to do the program again."
As well as providing an additional income stream for athletes, the Allianz Buddy Program is also helping to facilitate new career opportunities outside sport. Athlete mentors receive exclusive access to learning and development resources, prospective internship and working student opportunities, and hands-on support from the Allianz team. In addition, the program enables them to develop important skills that are required in the workforce, such as keynote speaking and project management.
The program is one of several initiatives that highlight the support offered to the athlete community by the IOC and its Olympic Partners.  In addition, a wide range of assistance and resources are made available to athletes at every stage of their careers, both on and off the field of play, through the IOC Athlete365 platform.
Athlete365 is currently recruiting participants to take part in the next edition of the Allianz Buddy Program, which begins in September 2023. Across six months, participating athletes will host six one-hour virtual mentoring sessions for small groups of Allianz employees. Athletes can offer advice on issues such as resilience, stress management and mental well-being, and share stories from their sporting careers while getting insights into a possible future workplace/getting to know the corporate world.
German sports shooter David Koenders is another former participant in the Allianz Buddy Program. He has since reflected on how opening up to others allowed him to see how transferable his experiences as an athlete are when considering his career transition.
Whether mentor or mentee, we go through similar situations and face similar challenges. The program allows us to exchange such experiences and apply learning across our fields.
David Koenders
The program also provides mutual support and learning for Allianz employees, who receive valuable insights and personal development opportunities from world-class athletes.
Marc van den Hoonaard is a Global Business Development Manager at Allianz who seized an opportunity to learn from Para swimmer Oliver Hynd – a Paralympic gold medallist from Great Britain who has neuromuscular myopathy.
"It is impressive how openly Ollie speaks about his disease and its impact on his daily life and career as a professional athlete," explained Van den Hoonaard. "For me as a hobby athlete, it is quite interesting to dive into his world and learn about his way of defining goals; how he sets targets to achieve them and deals with setbacks. This knowledge can be transferred and is helpful for my work at Allianz Partners."
The Allianz Group is one of the world's leading insurers and asset managers with more than 100 million retail and corporate customers in more than 70 countries.
It began its eight-year worldwide partnership as the Worldwide Insurance Partner of the Olympic and Paralympic Movements on 1 January 2021, building on a collaboration with the Paralympic Movement since 2006.