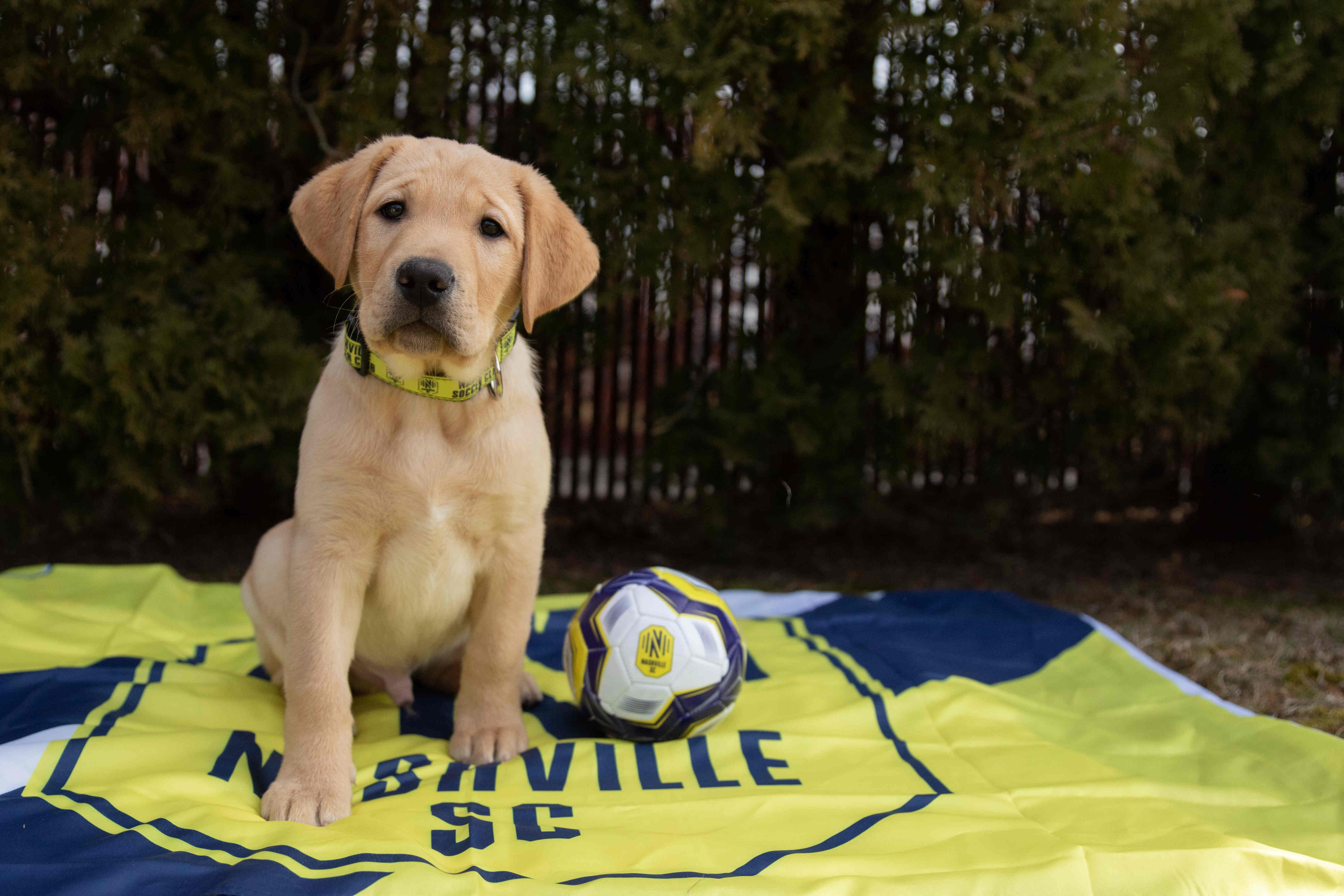 America's VetDogs Partners with Nashville Soccer Club and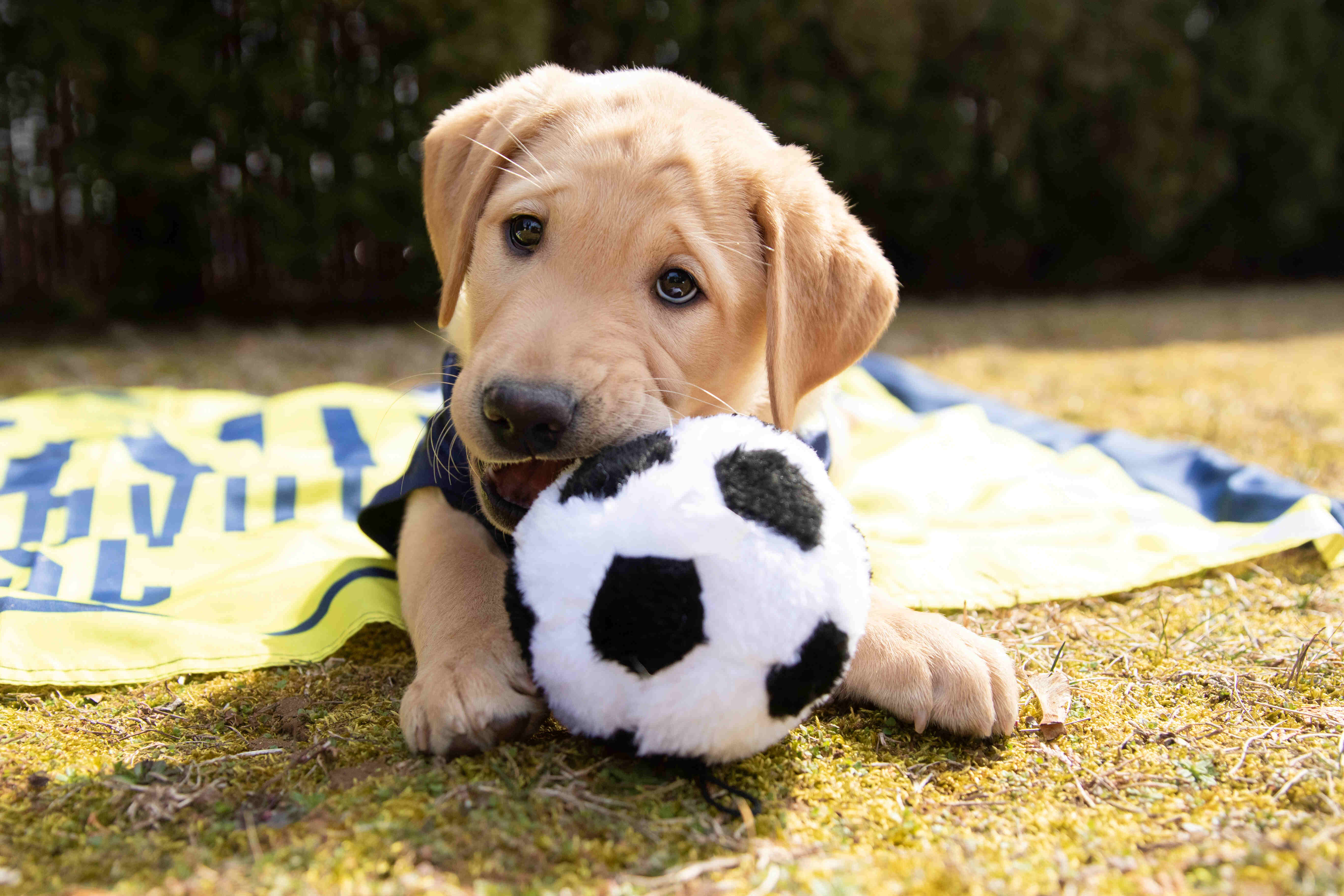 Smithtown, New York / Nashville, Tenn., March 20, 2023 (GLOBE NEWSWIRE) — America's VetDogs is excited to announce its partnership with Nashville Soccer Club and Western Governors University – Tennessee (WGU), to sponsor and co-raise a future service dog as a part of the organization's Puppy with a Purpose Program®. Celebrating 20 years, America's VetDogs, a national nonprofit based in New York, provides specially trained service dogs to veterans, first responders and active-duty service members with disabilities, free of charge.
The Nashville SC Pup is an adorable, 10-week-old, male, yellow Labrador Retriever, who will undergo basic training and socialization with the club's front-office staff, players, and fans for the next 14 to 16 months. The pup will attend community events and select home matches to expose him to various environments that will help mold him into a confident and calm future service dog. Fans can follow the pup on Instagram at @NSCPup to stay up to date on his training and local appearances.
Fans will have a chance to help name the new team pup by casting their vote via the @NashvilleSC Instagram pages; voting will run from today, March 20 through Thursday, March 23. The pup's name will be revealed in person at the March 25 match. Tickets for the match are available for purchase at www.NashvilleSC.com/Tickets.
"We are proud to support America's VetDogs and this extraordinary program to uplift our first responders and veteran communities", said Nashville SC Head of Community Engagement, Brandon Hill.  "Service animals provide amazing benefits, new hope, and joy for many people in need; it is a privilege for our club, players, and fans to serve first responders and veterans in this way."
"America's VetDogs is elated to welcome Nashville Soccer Club and Western Governors University to our ever-growing Puppies with a Purpose program," said America's VetDogs president and CEO John Miller. "The journey this puppy will undergo is unlike any other with the unique environments and exposure opportunities he will have. Throughout the next year, Nashville will help to make a direct impact in the life of a veteran or first responder with disabilities."
It costs more than $50,000 to breed, raise, train and place an assistance dog, however, all of America's VetDogs services are provided at no charge to the individual.  Funding comes from the generosity of individual donors, corporations, events and partnerships. For more on America's VetDogs and ways to get involved, visit VetDogs.org.
About America's VetDogs
For 20 years, America's VetDogs (www.VetDogs.org) has trained and placed guide and service dogs to provide independence, enhanced mobility, and companionship to veterans with disabilities from all eras. In 2015, VetDogs opened its programs to first responders, including fire, police, and emergency medical personnel.  America's VetDogs is a 501(c)(3) not-for-profit organization founded by the Guide Dog Foundation and serves clients from across the United States. VetDogs relies on contributions from generous individuals, corporations, service clubs, and foundations to fund its mission to help those who have served our country live with dignity and independence. It costs more than $50,000 to breed, raise, train, and place one assistance dog, but America's VetDogs provides its services completely free of charge to the individual. America's VetDogs has been accredited by both the International Guide Dog Federation and Assistance Dogs International. 
About Nashville SC 
Nashville SC joined Major League Soccer on Feb. 29, 2020 in front of the largest attendance ever recorded for a soccer match in the State of Tennessee. In its inaugural MLS season, Nashville SC defeated expectations by becoming the second MLS expansion side to win and advance to the Conference Semifinals in the 2020 Audi MLS Cup Playoffs. Nashville SC returned to the 2021 Audi MLS Cup Playoffs in its sophomore season after becoming just the seventh team in MLS history to go unbeaten at home in a season. Nashville SC inaugurated GEODIS Park, the largest soccer-specific stadium in the United States and Canada, in front of a 30,109-sellout crowd on May 1, 2022. For more information, visit NashvilleSC.com and follow the club at @NashvilleSC on Instagram, Facebook, TikTok, Twitter and Spotify.
###