AmpliVox Rolls Out Acrylic Safety Shields for Lecterns, Conferences & Meetings/Hospitality
NORTHBROOK, Ill., Oct. 13, 2020 /PRNewswire/ — AmpliVox Sound Systems has introduced acrylic safety shields for lecterns, podiums, tables, and other work surfaces. The new shields are designed to help protect single individuals or many individuals standing or sitting from airborne virus transmission potentially spread by talking, coughing, or sneezing. They are perfect for all conference and meeting rooms, hospitality settings, schools, entry and check-in areas, point-of-sale locations, and more.
The see-through safety shields are made in the USA of rugged ¼" acrylic, and are secured to a lectern or table surface easily and securely in minutes using convenient mounting rails and adhesive strips, or clamps. One of the safety shield models is portable and needs no fastening. As an option, AmpliVox can also put a logo on any safety shield.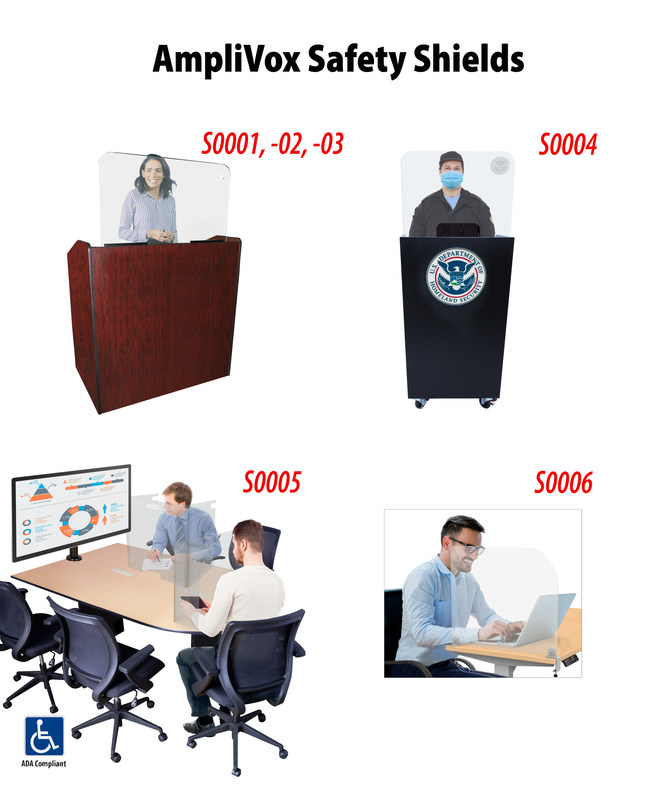 They are available for three different applications:
For lecterns – These safety shields are available in three different widths – 22″, 27.5″, and 39″ – to accommodate most AmpliVox lecterns. The shields stand 22″ above the lectern table.
For security/check-in/ hosting podiums – This safety shield has a pass-through opening at the bottom for handing through documents, money, etc. It stands 22″ above the podium surface and is 27.5″ wide, making it perfect for the AmpliVox Portable Valet Podium – used by the TSA for security check-in.
For meeting, conference, and hospitality table tops – two different safety shield models are available – 1) for protecting individuals seated at tables – a 22″ high by 24″ wide safety shield attaches easily to a desk or table top to provide a shield between one person and the person sitting adjacent. 2) for protecting multiple individuals at a table – a Tri-fold safety shield with a 24″ w x 24″ h center and pass-through window at the bottom, plus two 12″ w x 24″ h wings that enable the unit to stand by itself on a surface without the need for mounting. Hinged to the center shield, the wings can be folded for convenient transport.
To learn more about AmpliVox products, visit Ampli.com.
SOURCE AmpliVox
(PRNewsfoto/AmpliVox Sound Systems)
CONTACT: Jeff Kressmann, Jeff Kressmann Marketing Communications, 847 460 8687, jkressmann@gmail.com
(This News has not been edited by the Life Care team, it is published directly from the agency feed.)
Friends if you like this post, please hit the like button below and share this post with your family, friends and colleagues for more news, articles and updates. Like our Facebook Page, Subscribe Our YouTube Channel And Follow Us On Twitter.