Atari Introduces Eye-Catching Limited Edition Cartridge for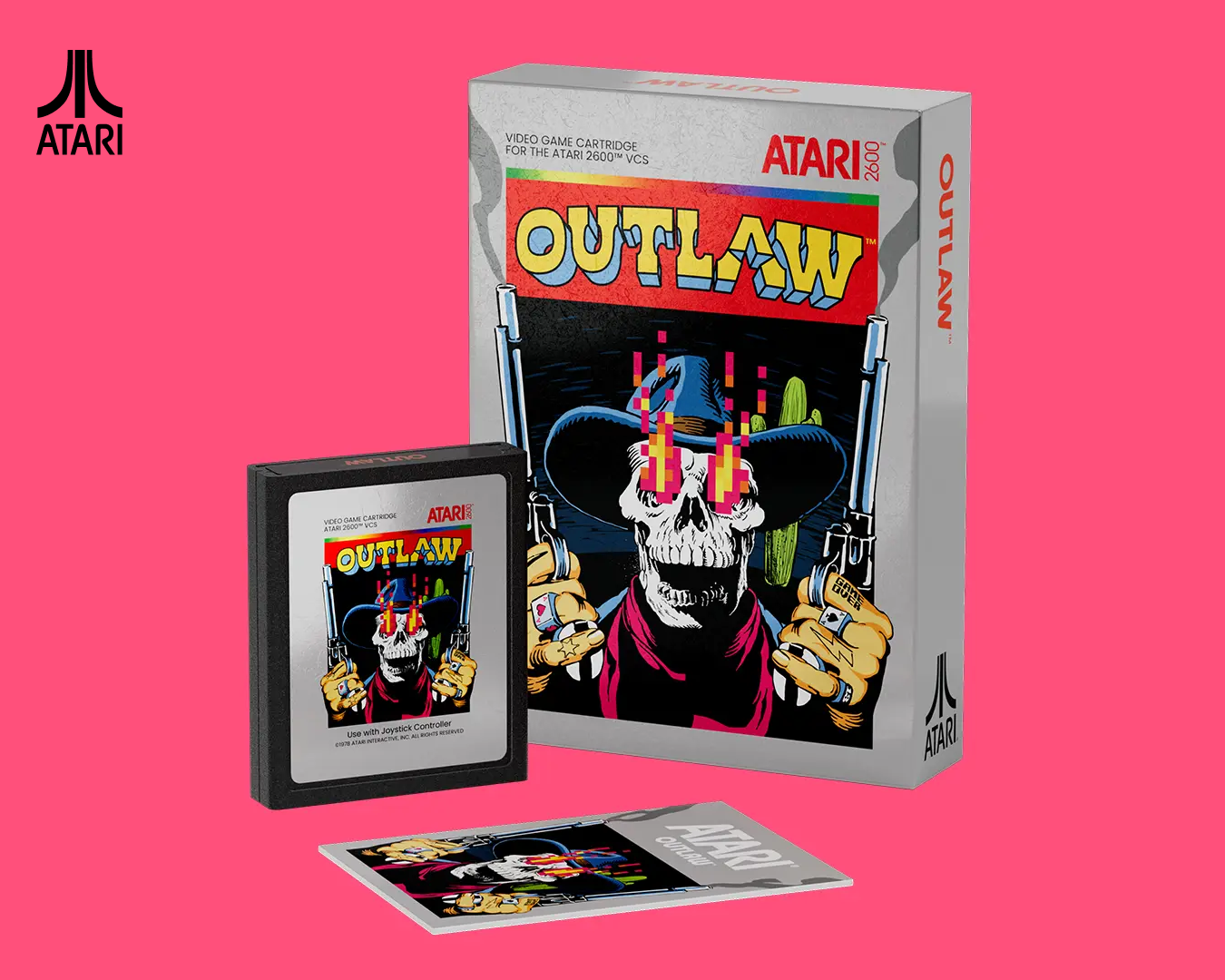 NEW YORK, Sept. 05, 2023 (GLOBE NEWSWIRE) — Atari® — one of the world's most iconic consumer brands and interactive entertainment producers — today announced the Outlaw Limited Edition Atari 2600 Cartridge, featuring new key art by Brazilian pop culture artist Butcher Billy. Available for preorder exclusively in the US beginning today for $59.99, the limited edition includes the distinctive silver box and silver cartridge label, and a color user manual featuring commentary from the artist on his unique interpretation of the Outlaw key art.
The Outlaw Limited Edition announcement follows the recent reveal of the new Atari 2600+, a faithful recreation of the pioneering console that launched the home video game industry.
Based on the 1976 single-player arcade game, the Atari 2600 version of Outlaw added two-player gameplay, making it a favorite in millions of households as players competed in high-stakes duels to see who was the best gunslinger in the family or neighborhood.
The Atari 2600 port of Outlaw, developed by Atari programmer and Activision co-founder David Crane, has 16 different game variations including one and two-player modes, unlimited fire or the more wild-west realistic six shooter option, and even a getaway option.
Atari XP cartridges are manufactured to exacting standards from all new parts and materials, with beveled edges to prevent pin damage, strong gold-plated connectors, and identical power draw to the originals.
To stay up-to-date on all things Atari and retro-pop culture, follow on Facebook, Twitter, Instagram, YouTube, join the community on Discord and enroll in the Atari Club at www.atari.club.
A full press kit, including screenshots, logos, key art, and trailers, is available here: https://uberstrategist.link/Outlaw-2600-Cartridge-press-kit.
About Atari
Atari is an interactive entertainment company and an iconic gaming industry brand that transcends generations and audiences. The company is globally recognized for its multi-platform, interactive entertainment, and licensed products. Atari owns and/or manages a portfolio of more than 200 unique games and franchises, including world-renowned brands like Asteroids®, Centipede®, Missile Command®, Pong®, and RollerCoaster Tycoon®. Atari has offices in New York and Paris. Visit us online at www.Atari.com.
Atari shares are listed in France on Euronext Growth Paris (ISIN Code FR0010478248, Ticker ALATA).
©2023 Atari Interactive, Inc. Atari wordmark and logo are trademarks owned by Atari Interactive, Inc.
PRESS CONTACT
Jessica Timms and Tabitha Beidleman
ÜberStrategist Inc.
pr@uberstrategist.com
1-646-844-8388
A photo accompanying this announcement is available at https://www.globenewswire.com/NewsRoom/AttachmentNg/6c3f2570-4a1d-4b2f-83ee-f1494ac51ab9