Atari Reveals Art Created by Tim Lapetino and Phil Noto for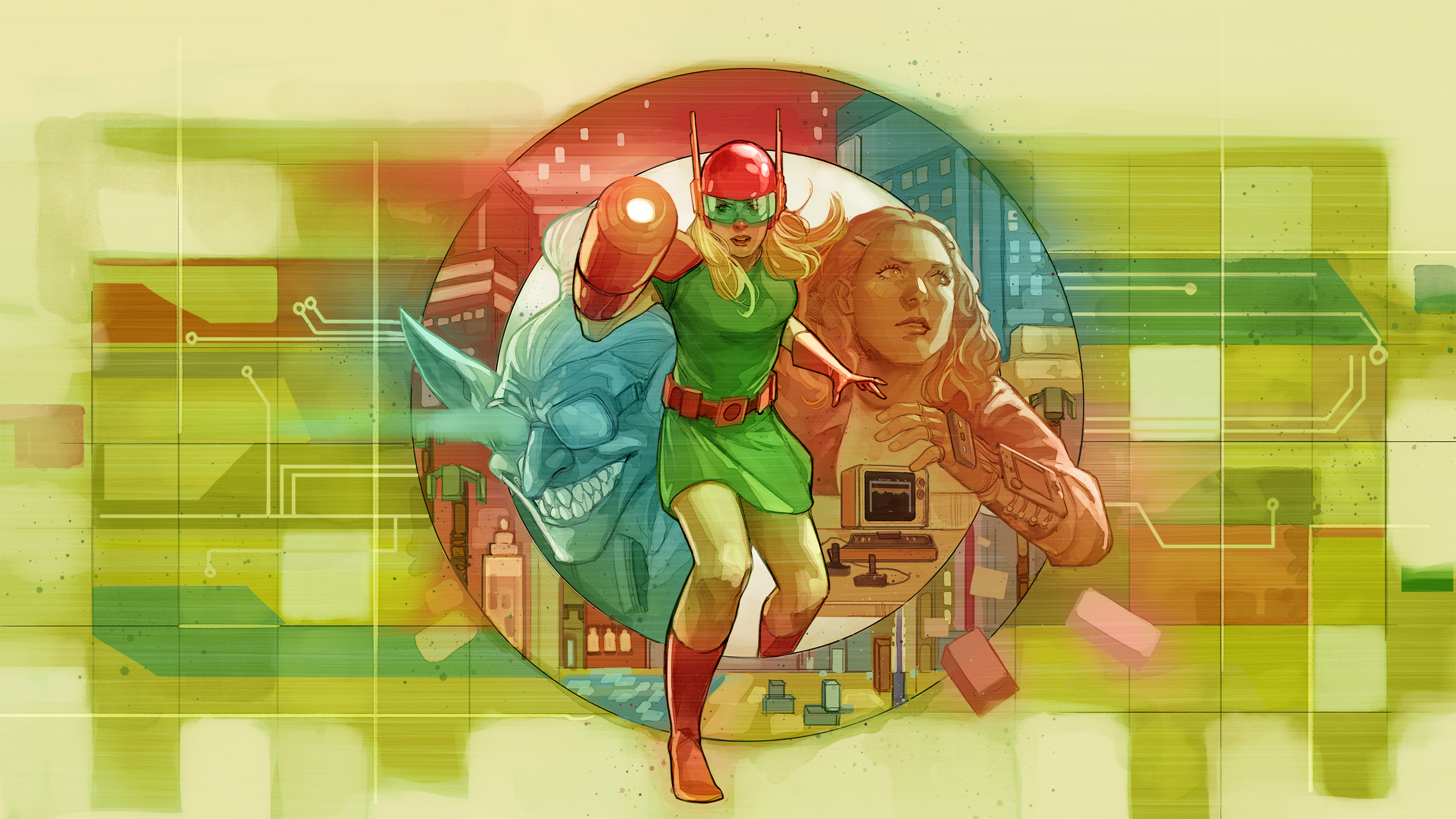 NEW YORK, April 19, 2023 (GLOBE NEWSWIRE) — What's old is new again, as today, iconic entertainment producer Atari and award-winning developer ARVORE revealed the official game art for Pixel Ripped 1978, the upcoming virtual reality adventure set in Atari's pivotal early years.
The new game art, Atari says, was directed by Tim Lapetino and designed by prolific comic artist and NYT best-selling illustrator Phil Noto. Lapetino is a prolific video game preservationist and passionate advocate for all things retro gaming. He's also the author and visionary behind Art of Atari, a detailed stroll through the history of Atari's art design spanning game design through to the most iconic cartridge box art of all time. His deep knowledge and insight into the art styles and design nuances of classic Atari box art lended in the creation of the visually nostalgic new box art for Pixel Ripped 1978, a game that explores the way-back of video game history with today's most innovative technology.
In Pixel Ripped 1978's alternate reality, the Pixel Ripped franchise was one of Atari's early video game prototypes and one of the company's most prized projects. To further play on this fun narrative, Lapetino brought in Phil Noto to illustrate the key art with his signature painterly style. The end result is a beautiful and deeply nostalgic call-back to Atari's earlier box art designs that makes Pixel Ripped 1978 feel like it may have just come from those memorable golden years.
"In the '70s and 1980s, Atari used dynamic artwork on packaging, game cartridges, and advertising to communicate the fun and energy of those emerging home video games. Each Atari title came wrapped in a beautiful, hand-drawn bit of storytelling that bridged the gap between joystick reality and the electronic worlds within," said Tim Lapetino. "That artwork still resides in our pop culture consciousness, and we thought it would be quite appropriate to tap into that style for Pixel Ripped 1978. I considered quite a few artists for this game release, but at the end of the day, Phil Noto was the clear choice to capture that classic Atari montage style."
About Pixel Ripped 1978:
Oozing classic arcade charm and boasting innovative mechanics sure to delight VR enthusiasts, Pixel Ripped 1978 calls back to the very genesis of gaming — a rich, colorful history where Atari takes center stage as the company that would ignite a multi billion dollar industry. Blending the magic of decades past with today's technologically vibrant and diverse gaming landscape, Pixel Ripped 1978 uniquely showcases the fortitude and growth of the video game industry as we, the players, have grown with it.
Watch the official announcement trailer:
YouTube | Download
In Pixel Ripped 1978, players will experience the magic and wonder of the blossoming video game industry during the golden age of home entertainment. Through the eyes of the game's protagonist, Bug, players will travel between dimensions as they play games within games; a multi-layered adventure full of retro classics, unreleased gems, and undiscovered easter eggs. The collaboration with Atari means even more retro gaming goodness, as players will even be able to explore the iconic Atari headquarters in Sunnyvale, California.
Pixel Ripped 1978 launches this summer on PC, PlayStation 5, PS VR2, and Meta Quest 2. Learn more at the official website.
A press kit including key art, screenshots, logos, and videos is available here: https://uberstrategist.link/pixel-ripped-1978-presskit.
New Key Art: https://uberstrategist.link/Pixel-Ripped-1978-Key-Art
To stay up-to-date on all things Atari and retro-pop culture, follow on Facebook, Twitter, and Instagram.
Photos accompanying this announcement are available at
https://www.globenewswire.com/NewsRoom/AttachmentNg/3646c31b-3a30-4478-b147-c48328593ad1
https://www.globenewswire.com/NewsRoom/AttachmentNg/7aa9bc07-527d-4df3-a07a-10a96c262424
A video accompanying this announcement is available at
https://www.globenewswire.com/NewsRoom/AttachmentNg/6d202ed9-fd69-41bf-8a8e-cab6cfcc2552
About ATARI
Atari is an interactive entertainment company and an iconic gaming industry brand that transcends generations and audiences. The company is globally recognized for its multi-platform, interactive entertainment and licensed products. Atari owns and/or manages a portfolio of more than 200 unique games and franchises, including world-renowned brands like Asteroids®, Centipede®, Missile Command®, Pong®, and RollerCoaster Tycoon®. Atari has offices in New York and Paris. Visit us online at www.Atari.com.
Atari shares are listed in France on Euronext Growth Paris (ISIN Code FR0010478248, Ticker ALATA).
©2023 Atari Interactive, Inc. Atari wordmark and logo are trademarks owned by Atari Interactive, Inc.
About ARVORE
ARVORE is an Emmy Award-winning Brazilian studio that creates and develops innovative games, interactive narratives and worlds using the latest immersive technologies such as VR, AR, and MR. With a team of multidisciplinary innovators and trailblazers, ARVORE connects different technologies, senses, and media to push the envelope of games and spatial storytelling to new levels.
ARVORE's expertise in blending technology and art has earned the studio the 2020 Primetime Emmy® Award for "Outstanding Innovation in Interactive Media" for its interactive VR narrative "The Line". The studio's innovative approach has created groundbreaking experiences that engage all the senses and deliver unforgettable stories. Learn more at www.arvore.io.
Press Contact
Jessica Timms, Tabitha Beidleman, and Austin Collings
UberStrategist Inc.
pr@uberstrategist.com
1-646-844-8388