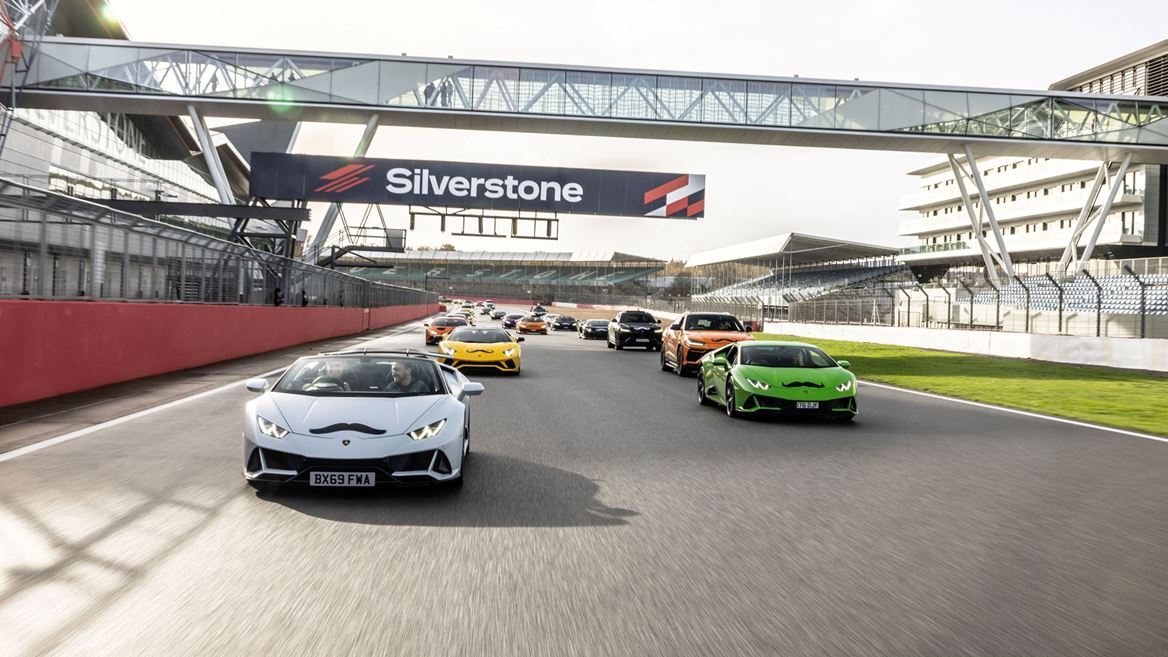 Automobili Lamborghini drives fundraising and awareness for Movember
More than 200 Lamborghini owners and their cars gather at Silverstone Circuit
Sant'Agata Bolognese, 1 December 2022 – More than 200 Lamborghini owners and their cars assembled at the UK's Silverstone F1 Circuit on Saturday 26 November, to raise awareness and funds for Movember: the leading global charity changing the face of men's health.
The cars met at Lamborghini dealers across the UK, and then the 'bull runs' drove to Silverstone in Northamptonshire. They were joined by Automobili Lamborghini Chairman and CEO Stephan Winkelmann; Board Member for Sales and Marketing Federico Foschini; and Quality Director Gerard Pachowsky, as well as Movember co-founder Justin 'JC' Coghlan and his wife Sarah, Movember's Director of Global Men's Health Promotion Programs.
Sporting moustaches on both their faces and their Lamborghini bonnets, each driver donated to Movember. The partnership initiative between the Italian super sports car company and Movember is focused on not only raising funds for men's health projects globally, but developing mindfulness of issues including mental health and suicide prevention, prostate and testicular cancer. Lamborghini bull runs are also taking place in other locations around the world during the month, from Europe to the USA and Asia, dedicated to raising awareness and donations for Movember.
"We continue our collaboration with Movember, reflecting the enthusiasm of our customers, dealers and employees, who want to help impact on men's mental and physical well-being," said Stephan Winkelmann. "The men and women joining us in Silverstone, as well as so many others participating in bull run events around the world, are united in leveraging the colors, sights and sound of Lamborghini cars to create a visibility and start the kind of conversations that can help save lives."
Lamborghini's fundraising activities for Movember this year, involving 100 dealers and 1,555 Lamborghini cars worldwide, have raised more than €330,000 to date during November 2022.
About Movember
Movember is the leading global charity changing the face of men's health. We exist to stop men dying too young by tackling some of the most complex health issues facing men today: mental health, suicide, prostate cancer and testicular cancer. What started as a single-minded fund-raising and awareness campaign in 2003 has evolved into a multi-faceted health organization with programs accessed by millions worldwide. With global support from our Mo Bros, Mo sisters and Mo community, Movember funds and delivers biomedical research, caner survivorship programs, innovative community mental health programs and digital health products that work for men. Movember's purpose is to confront, challenge and change men's health to save more men's lives. Sign up or donate now at Movember.com.