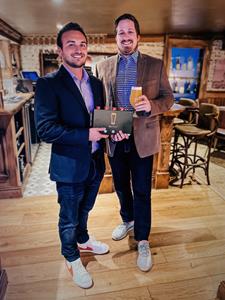 BarTrack Scales Nationwide Presence to Over 40 States,
Washington, D.C., Jan. 31, 2023 (GLOBE NEWSWIRE) — Hospitality quality and data technology company BarTrack celebrated a monumental year in 2022, scaling its presence to more than 40 states and international locations and growing its team more than 233% last year following a $10.9 M investment in May. 
As a fully integrated solution, BarTrack uses plug-and-play sensors to measure nearly a dozen beverage-specific variables. BarTack's system is the only platform in the world to monitor draft beverage quality and keg levels in real time with no moving parts or intrusion to the beer line. The data from the sensors, combined with the intuitive BarTrack App and point-of-sale integration, delivers a comprehensive view of the causes and impact of waste on the bottom line. 
BarTrack's reporting helps teams pinpoint and differentiate causes of beverage waste, including unrung drinks and draft system balance. Sources of waste are categorized and displayed through reporting trends to support data-driven decisions, empowering bar, restaurant, and venue teams with the insights and diagnostics needed to make improvements to draft beverage inventory processes.
"We are excited to grow and support the beverage industry with a focus on providing visibility into the elements that impact beverage quality," says Brett Danielson, co-founder and CEO of BarTrack. "We've helped a large number of clients generate over $100,000 each in additional annual revenue this past year by providing them with real-time reporting that allows them to enhance beverage quality, streamline inventory, and boost profits." 
The industry average for draft beverage keg yield is 77.5%. In 2022, restaurants, breweries, and venues nationwide have reported an increase in keg yield by over 20-30% by using BarTrack to reduce waste like foam through quality monitoring and ensuring proper draft beverage pours. As a result, BarTrack's customers see consistent keg yields far above the industry average. 
Mercedes-Benz Stadium, a leading sports and entertainment venue that is home of the NFL's Atlanta Falcons and Atlanta United of Major League Soccer, began an ongoing partnership with BarTrack in 2022 to reduce waste. BarTrack monitors and enhances the beverage quality of the stadium's sizable draft beer system, which includes more than 1,200 taps. Since installing BarTrack's inventory management system, the stadium has seen an increased keg yield over 10% at select events and up to 10 additional pints poured per keg. 
"Large venues, franchises, and restaurant chains are using BarTrack to increase profitability, optimize the drinking experience for customers, and standardize key draft beer performance analytics," says Danielson. "Our platform can deliver millions of dollars of additional profits and enhance the beverage quality for any size draft system. The BarTrack platform is a no brainer for our industry. We are seeing some of the largest groups in the country bringing on our platform."
In 2022, BarTrack expanded its network of more than 100 industry software, draft installation and servicing, and hospitality consulting groups. The company recruited a sophisticated board of directors with notable members including hospitality legend GJ Hart, who brings executive experience as former CEO of Texas Roadhouse, California Pizza Kitchen, and Torchy's Tacos and currently Red Robin. "BarTrack is the future of smart inventory, better quality and increased visibility both behind the bar and beyond," says Hart. 
Bar, restaurant, brewery, and stadium teams can request a free demo to learn more about BarTrack's innovative quality and data technology. BarTrack also shared its insights and industry best practices in support of the industry in 2022 through its educational series "From Grain to Glass", now available to hospitality teams on-demand. 
About BarTrack
Founded in 2018, BarTrack is a hospitality quality and data technology company that has revolutionized the way bars, breweries, restaurants, and stadiums manage their inventory and eliminate costly waste.  BarTrack's flagship offering is a first of its kind non-intrusive beverage sensor technology platform with no moving parts. The company's sensors and web-enabled software empower better inventory management and improved draft system diagnostics through the monitoring of a dozen beverage specific variables. This, in combination with point-of-sale integration, delivers a comprehensive view of the causes and impact of waste on the bottom line. Learn more at bartrack.beer.