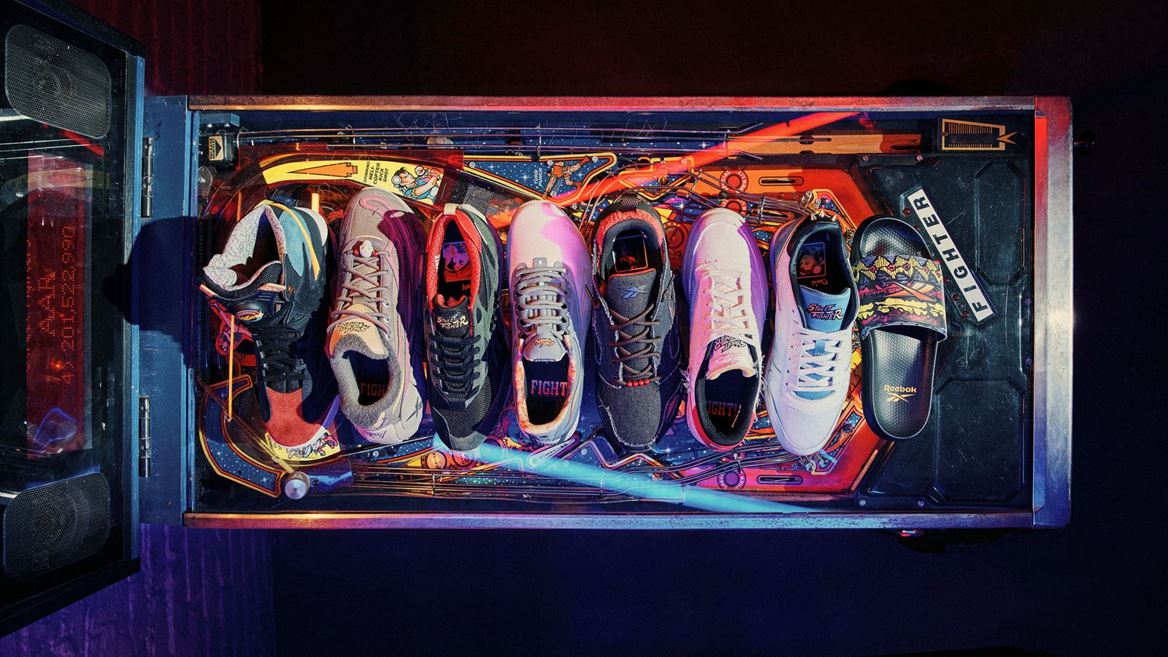 Become a Champion with the Reebok x Street Fighter™ Footwear and Apparel Collection
(BOSTON) December 12, 2022 – Today Reebok and video game developer Capcom unveil a footwear and apparel collection designed to equip you with the gear you need to become a champion. The two brands have come together to create the Reebok x Street Fighter™ collection in tandem with the beloved gaming franchise's 35th anniversary.
The Reebok x Street Fighter collection was designed to give fans of the franchise the complete fighting experience through Reebok's iconic footwear models. The journey starts with gear to help you train and game hard, through the Classic Slide and Nano X2, and leads them to a round-ending combination with the legendary Instapump Fury95 and Zig Kinetica 2.5. Each piece of footwear in the collection pays homage to fan-favorite Street Fighter characters or memorable moments in the game.
Details on the footwear in the Reebok x Street Fighter collection include:
Classic Slide (HR0591 & HP2208, $45) – Every fighter needs a slide when transitioning to and from the arena. These two colorways of Reebok's Classic Slide feature a range of graphics from the Street Fighter franchise to get the wearer ready to fight.
Nano X2 (GZ9540, $150) – This iteration of Reebok's award-winning training shoe takes on details from the training mode in Street Fighter. Details throughout the shoe, including those on the tongue and heel, pay homage to the training screen, with the grid motif brought to life on the midsole and upper.
Club C 85 (GZ9543, $100) – Ryu, one of the most popular characters in Street Fighter, takes over this Club C. The upper features distressed canvas with raw edges, similar to Ryu's gi post-fight. The logo from Ryu's gloves makes an appearance on the heel in addition to red details nodding to Ryu's headband.
Classic Leather (GZ9544, $100) – Chun Li and her iconic outfit inspire this Classic Leather. Custom woven underlays pay homage to Chun Li's dragon sash while her legendary spiked bracelets are reimagined on the heel. The shoe is finished off with distressed gold and blue details, nodding to her outfit coming out of battle.
LX2200 (H06329, $110) – Cammy and her fierce aesthetic influence this military green and black LX2200. The logo from Cammy's beret is found on the heel of the shoe and her utility belt is brought to life with nylon webbing on the window box.
Furylite 95 (GZ9542, $100) – This Furylite brings Akuma to life by bringing his distressed dark-colored gi to the upper of the shoe and translating his signature wild look into a furry fleece heel. A rope lace and heel graphic taken from Akuma's battle-tested outfit round out the tribute.
Instapump Fury 95 (GZ9541, $200) – Details honoring Zangief are hidden throughout this Instapump Fury from the custom molded tongue mimicking Zangief's belt to the printed webbings showing off his wristband.
Zig Kinetica 2.5 (GZ9539, $130) – The beloved fighter Dhalsim inspires this sneaker with a colorway reminiscent of his unique look and a rope lace representing his belt. The skull lace dubrae is modeled after his necklace and Dhalsim's signature metallic bracelets are featured as metal eyelets.
Shaq Attaq (HR0603, $200) – Last but not least, in true champion fashion this version of the Shaq Attaq represents the Champion Edition of Street Fighter II. The sneaker features the Champion Edition logo and a distressed upper signifying how hard one has to fight to become a champion.
Paired with the footwear is an apparel range featuring several graphics and emblems from the revolutionary gaming franchise. Pieces in the line include graphic tees, hoodies, sweatpants and shorts, all of which can be worn as warm up gear when prepping for your own fight or as the ultimate comfort gear to game in.
The majority of the Reebok Street Fighter collaboration will be available on Reebok.com/street_fighter beginning December 15th. The Classic Leather and Workout Plus will be available exclusively from the Foot Locker, Inc. family of brands.
About Capcom
Capcom is a leading worldwide developer, publisher and distributor of interactive entertainment for game consoles, PCs, handheld and wireless devices. Founded in 1983, the company has created hundreds of games, including groundbreaking franchises Resident Evil™, Monster Hunter™, Street Fighter™, Mega Man™, Devil May Cry™ and Ace Attorney™. Capcom maintains operations in the U.S., U.K., Germany, France, Hong Kong, Taiwan, Singapore and Tokyo, with corporate headquarters located in Osaka, Japan. More information about Capcom and its products can be found at www.capcom.com or news.capcomusa.com.