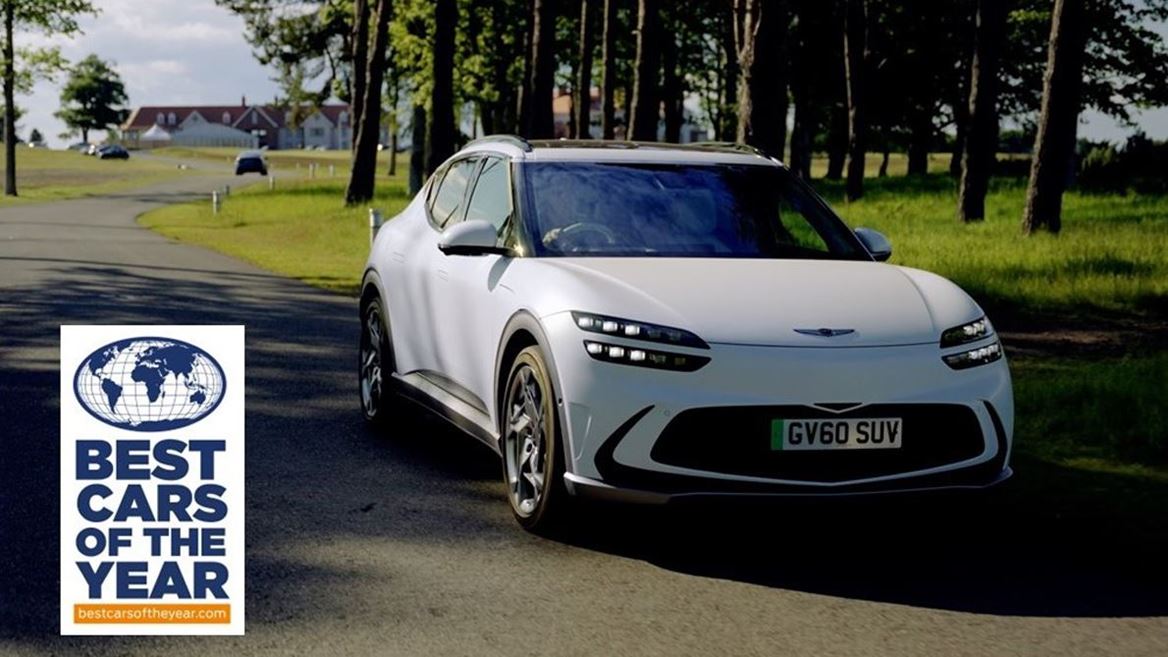 BEST CARS OF THE YEAR AWARDS NAMES GENESIS AS 'BEST CAR COMPANY'

Inaugural 'Best Car Company of the Year' title awarded to Genesis for '23/'24Genesis received the most nominations across the board from judgesPure-electric GV60 model voted into 'Best Cars of the Year' Top 5 Judging panel includes car designers, motorsport legends, engineers and industry titans
LONDON, United Kingdom, Apr. 26, 2023:  Genesis has triumphed at the annual Best Cars of the Year Awards, picking up the coveted 'Best Car Company of the Year' accolade. The company received the most nominations across the board from the expert panel of independent industry experts.
Having launched in Europe in May 2021, after already establishing itself in its home market of South Korea and in the US, Canada, China, Middle East and Australian markets, Genesis has brought eight cars to market in under two years, starting its electrification journey last year with the GV60, Electrified GV70 and Electrified G80.
"We are extremely proud of the impact Genesis has made in Europe since launch and to receive the 'Best Car Company of the Year' from such an esteemed group of industry judges, who know the industry so well, is really motivating for the entire team," commented Lawrence Hamilton, Managing Director of Genesis Motor Europe.  "We know Genesis has been accepted in Europe by the public, who are buying our cars in greater numbers, and the number of votes which have contributed to this award are evidence we are on the right track."
Best Cars of the Year (Best COTY) has confirmed that its unique and independent judging panel voted for numerous all-new Genesis models this year. "The pure-electric GV60 received enough votes for it  to earn a place in the 'Best Cars of the Year' Top 5. But more importantly, Genesis was the outright winner of the 'Best Car Company' award' – after taking on and beating countless larger, longer-established brands from Europe, Asia and North America."
The Best COTY organisation continued: 
"An added bonus for Genesis is that the GV60 was, by far, the most popular car with the public when recently exhibited on the 11-vehicle Best Cars of the Year stand at The British Motor Show."
BestCarsoftheYear.com (Best COTY) is an unaffiliated, not-for-profit organisation that devised and runs the New Car World Championships. At the heart of the project sits a hand-picked judging panel that votes for then announces the latest World Champion vehicle manufacturers and World Champion vehicles for consumers across the globe. These international judges include independent, world-renowned car designers, engineers, auto industry titans, motorsport legends, journalists, broadcasters, media professionals, vehicle retailers, automotive consultants, motor club chiefs and major motoring events organisers. Additionally, a small group of real-world car buyers and other consumers have a small but important say in the annual Best COTY voting process.
For more information head to https://www.genesis.com/uk/en/index.html
About Genesis
Genesis brings premium cars with a luxury experience to Europe. The Korean brand has established itself as a true alternative within the premium segment, receiving multiple award wins in 2022. With a commitment to hospitality and great service, Genesis strives to build sincere relationships with customers and, above all, to respect the greatest luxury – their time. Embodying its unique design language 'Athletic Elegance', the brand continues to strengthen its range of vehicles and services across Europe having launched five premium luxury vehicles in 2021. Genesis introduced three electric vehicles in 2022 and, from 2025, all-new Genesis vehicles will be pure electric as part of the brand's vision for a sustainable future. Genesis is also pursuing a goal to become carbon net zero by 2035.
For more information about Genesis and its definition of premium, please visit www.genesis.com.