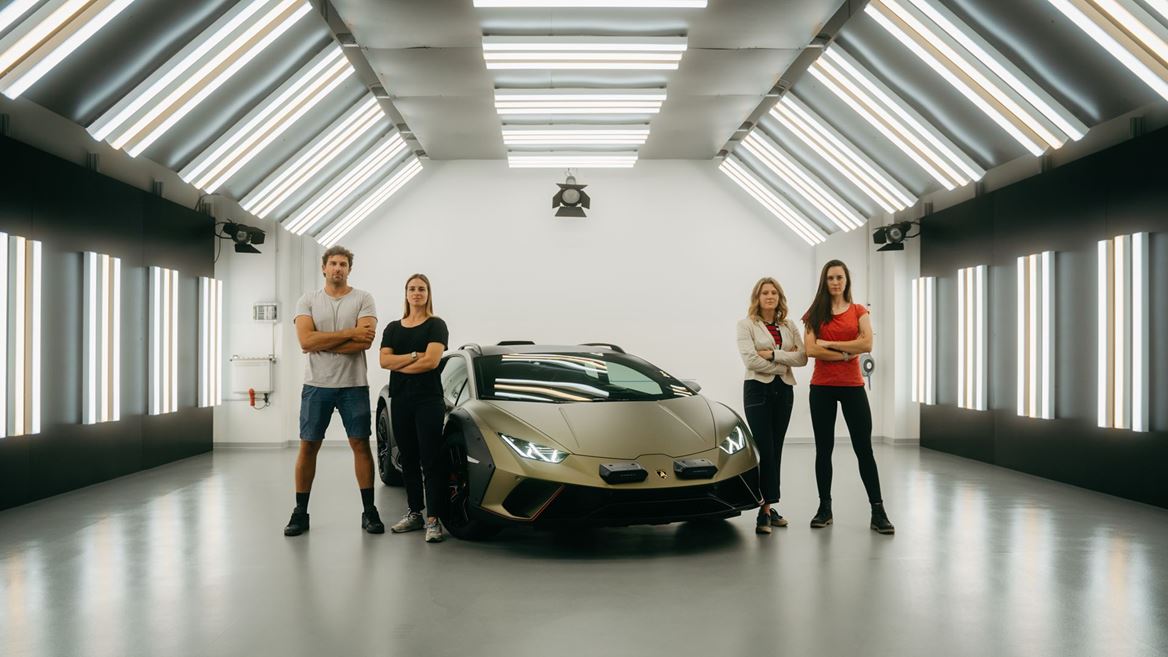 Beyond the concrete with the Lamborghini Huracán Sterrato and four extreme sports stars
The Huracán Sterrato was joined in its debut by a quartet of international champions: Gaia Tormena, Blanca Alabau, Matteo Iachino and Maud Perrin
Sant'Agata Bolognese, December 21, 2022 – The latest vehicle to be presented by Automobili Lamborghini is the Huracán Sterrato[1]: the first super sports car designed to offer maximum driving pleasure both on and off the road. It gives a fresh twist to the very concept of a sports car, with its spirit exemplified in three teaser videos shot in stunning settings, which highlight the car's unprecedented capabilities and feature three extreme sports: mountain biking, windsurfing and paragliding.
The first video showed the Huracán Sterrato taking on the dirt tracks of the gorgeous Tuscia area between Lazio and Tuscany. Going up against the sports car was mountain biker Gaia Tormena: the Italian, European and World Eliminator champion and Italian Enduro champion, who was raised in the Aosta Valley and still lives and trains there today. She battled it out against a Huracán Sterrato in a race that went down to the last drift.
In 2016 Matteo Iachino became the first Italian windsurfing World Champion, while Blanca Alabau claimed a spectacular victory at Défi Wind Superstars 2021. The world-famous windsurfers are a couple in real life and they share a passion for whizzing through the waves. Always looking out for another record to break, they were the stars of the second film shot among the sandy roads and breathtaking Sicilian scenery of the coast between Petrosino and Mazzara Del Vallo.
In the last video the Huracán Sterrato sped along routes that are normally only followed by special vehicles on Mount Etna[2], which is the tallest active volcano in Europe (3,329.6 meters/10,924 feet). The teaser depicted the off-road supercar pretending to race Maud Perrin: the 21-year-old French and Dutch paragliding pilot, French champion and 2022 Women's Arco World Tour gold medal winner.
The Huracán Sterrato comes with a 5.2-liter V10 engine with maximum power output of 610 hp and 560 Nm of torque (at 6500 rpm), combined with 7-speed dual-clutch transmission and electronically controlled all-wheel drive with rear mechanical self-locking differential. Designed to offer optimum performance on unpaved and sandy surfaces, it accelerates from 0 to 100 km/h (ca. 60 mph) in 3.4 seconds and reaches a top speed of 260 km/h (ca. 160 mph). The 1499-unit limited edition production run will start in February 2023.
[1] The vehicle is not yet offered for sale and therefore it is not subject to Directive 1999/94/EC. The fuel consumption and emissions data are in the approval stage.
[2] The filming in Etna Park was carried out in compliance with formal guidance and authorization was provided by official documents ("Measure no. 345/2022" and "PUBLIC PROPERTY PERMIT NO. 34 OF 09/02/2021"). In accordance with the instructions received and the applicable legislation and regulations, the filming did not impact on the environment or disturb fauna and flora.