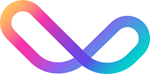 Bitmart Exchange Listed LuxWorld ($LUX) on February 9,
Singapore, Feb. 10, 2023 (GLOBE NEWSWIRE) — Bitmart Exchange, a premier global digital assets trading platform, has listed LuxWorld ($LUX). For all users of Bitmart Exchange, the LUX/USDT trading pair will be officially available for trading at 09:00 AM (UTC). Besides, to celebrate this big event, LuxWorld will release a Social Airdrop ($1,000 worth of $LUX for 2,000 lucky winners).
LuxWorld is the Web3 Lifestyle App with NFT Gamification and interactive Social-Fi layout. Its native token – $LUX will be listed on Bitmart Exchange at 9:00 AM UTC on February 9, 2023, to expand its global reach further and help it achieve its TravelToEarn vision.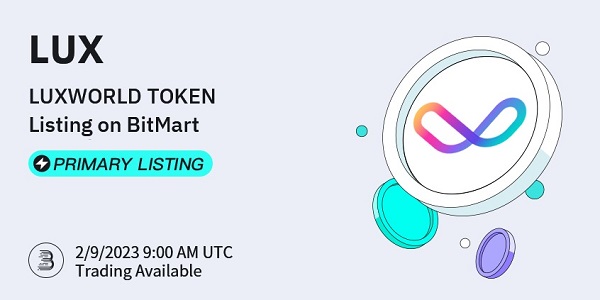 Introducing LuxWorld:
LuxWorld is being developed to keep up with developments and to integrate travel into the Web3 world. The application is built on a few available parts based on SocialFi – a mix of social networking and finance used to develop decentralized social apps.
Main Features
With 2 types of NFT: Luggage NFT or Check-in Node NFT, the users can choose to be a Traveler, a Check-in Node Owner, or BOTH. Only by using Luggage NFT, users make a nice profit while still enjoying their trip to the fullest. With the wonderful Check-in Node NFT, you can leave your mark in an incredible virtual environment and earn a limitless amount of money.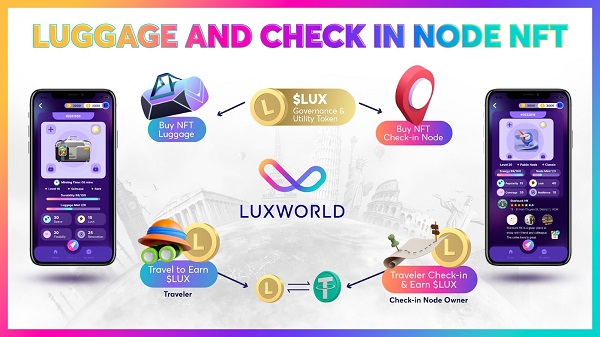 While large organizations control traditional social media, Social-Fi has created a way of networking that maintains the privacy and safety of users and gives them more freedom and benefits from decentralized social networks. In LuxWorld, users can profit by producing content based on their travel experiences, creating NFTs, and engaging in social activities with the community.
LuxWorld creates a relationship between brands and customers through the NFT Membership mechanism while they participate in Luxworld.
To promote brand awareness and the development of global green tourism, LuxWorld is developing the Retail Program. In the first step, they will start with a platform that will give their travelholic users more inspiration to experience the trip by selling NFTs, physical Luggages and other items to friends and family. Users can get special priority when becoming a LuxWorld Retailer.
Users not only gain incentives for themselves, but they also contribute to building a green & sustainable tourism environment.
About $LUX Token:
$LUX is the official utility token of LuxWorld. Built on ERC20, $LUX is used as a currency in LuxWorld's ecosystem.
$LUX has a total supply of 2 billion (2,000,000,000). Of which, 569,461,518 $LUX was sold through Presale and raised more than $3,900,000. To learn more about Tokenomic, you can check out LuxWorld's Whitepaper or visit their Website, follow their Twitter, Discord and join their Telegram.
Staking Program:
After listing on the Bitmart cryptocurrency exchange, LuxWorld staking is now officially available on BitMart with an interest rate of up to 250%. 
The term and interest rate will be calculated as follows:
7 days – 120%,
15 days – 180%,
30 days – 250%.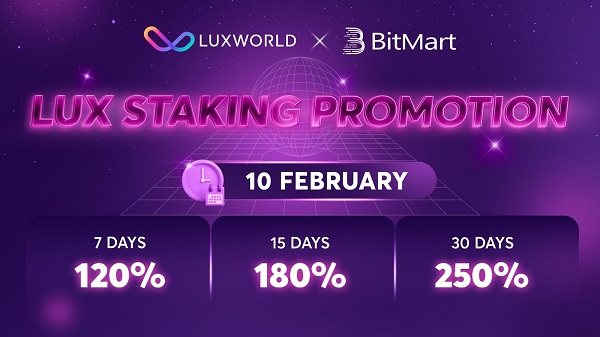 Social Airdrop:
To mark this special milestone, LuxWorld and Bitmart have teamed up and released a Social Airdrop. 
Reward: $1000 worth of $LUX. Follow LuxWorld & Bitmart Twitter for the latest updates. 
About BitMart
BitMart Exchange is a premier global digital assets trading platform. With millions of users worldwide and ranked among the top crypto exchanges on CoinMarketCap, BitMart currently offers 1000+ trading pairs with one of the lowest trading fees in the industry. Constantly evolving and growing, BitMart is interested in crypto's potential to drive innovation and promote financial inclusion. To learn more about BitMart, visit their Website, follow their Twitter, or join their Telegram for updates, news, and promotions. Download BitMart App to trade anytime, anywhere.
BitMart Social Media:
English Telegram | Asia Telegram | BitMart Exchange Twitter |
BitMart Research Twitter | BitMart Homepage | BitMart App |
Sign up on BitMart, and start trading today!|