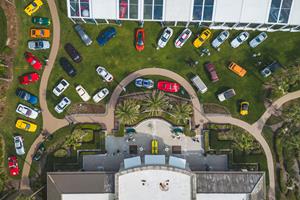 BROAD ARROW ACHIEVES $31 MILLION IN TOTAL SALES AT
Amelia Island, Florida, March 06, 2023 (GLOBE NEWSWIRE) — Broad Arrow Auctions, a Hagerty (NYSE: HGTY) company, today announced official results from its inaugural Amelia Auction—the official auction of The Amelia. Held on the oceanfront lawn and in the standing-room-only ballroom of The Ritz-Carlton, Amelia Island, on 4 March, the auction totaled $31,046,160 with 81 percent of all lots sold
The top seller of the auction was a one-of-a-kind 2015 McLaren P1, the headlining car of the "carbon sisters" trio of carbon-fiber-bodied McLaren supercars. Following an exciting bidding competition, the P1 sold for a final $2,425,000, a new world record for the model at auction. The top three sales were rounded out by the McLaren's analog supercar ancestors, including a stellar example of Porsche's technological masterpiece, a 1987 Porsche 959 Komfort, which brought a final $1,710,000, and a meticulously cared for and well-preserved 2005 Porsche Carrera GT, at a final $1,517,500.
Broad Arrow set additional new auction records in Amelia Island, all representing the RADwood era and modern classics segment of the market. A pair of ultimate AMG sedans stole the show, with a 1987 Mercedes-Benz AMG 'Hammer' Sedan setting a new record for a 124 series Mercedes-Benz at $775,000, quickly smashed just 20 lots later by a 1991 AMG 6.0 Widebody Coupe at a final $885,000. A one-of-100, low-mileage 2002 Lotus Esprit V8 25th Anniversary Edition set a new auction record for a non-James Bond Esprit at $193,200, while an exceptionally well-preserved 1997 Acura Integra Type R sold for a new model record at $151,200.
In a top ten list filled with supercars and RADwood-era collectibles, coachbuilt pre-war European masterpieces also brought strong prices. A striking, supercharged, and highly eligible 1932 Alfa Romeo 6C 1750 Series V Gran Sport Figoni Roadster achieved $1,270,000, while a spectacularly restored 1937 Bugatti Type 57C Vanvooren Roadster sold for $1,250,000.
"We are thrilled with the results for our first-ever Amelia Auction," said Kenneth Ahn, President of Hagerty Marketplace and President of Broad Arrow Group, following the auction. "Our deliberate focus on a younger segment of the collector car market within our catalog translated to strong results for highly sought-after cars as seen throughout our top ten sales and in the stand-out prices for the pair of AMG Hammers. We were honored to collaborate with Hagerty on The Amelia weekend and we look forward to continuing to bring a new dynamic to the collector car auction market."
Broad Arrow VP of Auctions, Barney Ruprecht, adds, "We're grateful to our consignors and nearly 700 bidders for their participation in this inaugural sale, and we were delighted to see a well-attended preview and busy auction room over the three-day event. The quality of our catalog offering shone through in our results and we will continue to elevate the Broad Arrow experience via the unique Porsche 75th Anniversary auction in June as well as with our expanded two-day Monterey event this summer."
Broad Arrow Amelia Auction 2023 Top 10 Sales
| | | | | |
| --- | --- | --- | --- | --- |
| 1. Lot 137 | 2015 | McLaren | P1 | $2,425,000 |
| 2. Lot 168 | 1987 | Porsche | 959 Komfort | $1,710,000 |
| 3. Lot 147 | 2005 | Porsche | Carrera GT | $1,517,500 |
| 4. Lot 139 | 2019 | McLaren | Senna | $1,380,000 |
| 5. Lot 190 | 1932 | Alfa Romeo | 6C 1750 Series V Gran Sport Figoni  | $1,270,000 |
| 6. Lot 132 | 1937 | Bugatti | Type 57C Vanvooren Roadster | $1,250,000 |
| 7. Lot 176 | 1961 | Mercedes-Benz | 300 SL Roadster | $1,220,000 |
| 8. Lot 146 | 1994 | Porsche | 911 Turbo S Flachbau | $1,215,000 |
| 9. Lot 120 | 2021 | Ford | GT | $1,050,000 |
| 10. Lot 170 | 1991 | AMG | 6.0 'Hammer' Widebody Coupe | $885,000 |
Complete results from Broad Arrow's inaugural Amelia Auction can be found at broadarrowauctions.com.
Broad Arrow continues its calendar with The Porsche 75th Anniversary Auction. The single-marque sale will be held during the celebration of the marque's 75th anniversary at the Porsche Experience Center in Atlanta, Georgia, over the weekend of 8-10 June. Broad Arrow's sale will commemorate the Porsche milestone and feature a curated selection of 75 of the most desirable classic and collectible Porsche motor cars in today's market. Interest parties are invited to contact a Broad Arrow car specialist about consignment opportunities.
NOTE: All prices are listed in USD and are inclusive of the applicable buyer's premium. Broad Arrow's buyer's premium for all motor car lots is equal to the sum of twelve percent (12%) of the first $250,000 of the Hammer Price and ten percent (10%) of the amount by which the Hammer Price exceeds $250,000. Buyer's premium for all non-motor car lots is twenty percent (20%) of the Hammer Price. Results include post-auction transactions that were completed immediately following the sale.
###
---
About Broad Arrow Group, a Hagerty Company
Broad Arrow Group, a Hagerty (NYSE: HGTY) company, is an advisor, market maker, and financier for car collectors with a commitment to integrity, trust, and innovation. Broad Arrow Group operates Broad Arrow Auctions, Broad Arrow Capital, and Collectors Garage and is headquartered in Grosse Pointe, Michigan. Learn more at broadarrowgroup.com.
About Hagerty, Inc. (NYSE: HGTY)
Based in Traverse City, Michigan, Hagerty's purpose is to save driving and car culture for future generations and its mission is to build a global business to fund that purpose. Hagerty is an automotive enthusiast brand offering integrated membership products and programs as well as a specialty insurance provider focused on the automotive enthusiast market. Hagerty is home to Hagerty Marketplace, Hagerty Drivers Club®, Hagerty Drivers Club magazine, Hagerty Drivers Foundation, Hagerty DriveShare™, Hagerty Valuation Tools®, Hagerty Media, MotorsportReg, Hagerty Garage + Social®, The Amelia, the Detroit Concours d'Elegance, the Greenwich Concours d'Elegance, the California Mille, Motorlux, RADwood, Broad Arrow Group and more. For more information on Hagerty please visit www.hagerty.com, or connect with us on Facebook, Instagram and Twitter.
Forward-Looking Statements 
This press release contains forward-looking statements within the meaning of the Private Securities Litigation Reform Act of 1995. These statements reflect our current intentions, expectations, or beliefs regarding the business. Because forward-looking statements relate to the future, they are subject to inherent risks and uncertainties that are difficult to predict and may be outside of our control. Some of the factors that may cause our actual results to differ materially from those contemplated by our forward-looking statements include: (i) our ability to recognize the anticipated benefits of the subject of this press release; (ii) our ability to compete effectively within our industry and attract and retain members; and (iii) the other risks and uncertainties listed in our Form 10-K filed with the U.S. Securities and Exchange Commission ("SEC") on March 24, 2022. This press release should be read in conjunction with the information included in our other press releases, reports and other filings with the SEC. Understanding the information contained in those filings is important in order to fully understand our reported financial results and our business outlook for future periods. We do not undertake any obligation to publicly update or review any forward-looking statement, whether as a result of new information, future developments, or otherwise, except as required by law.