Broad Arrow Announces Porsche 75TH Anniversary Auction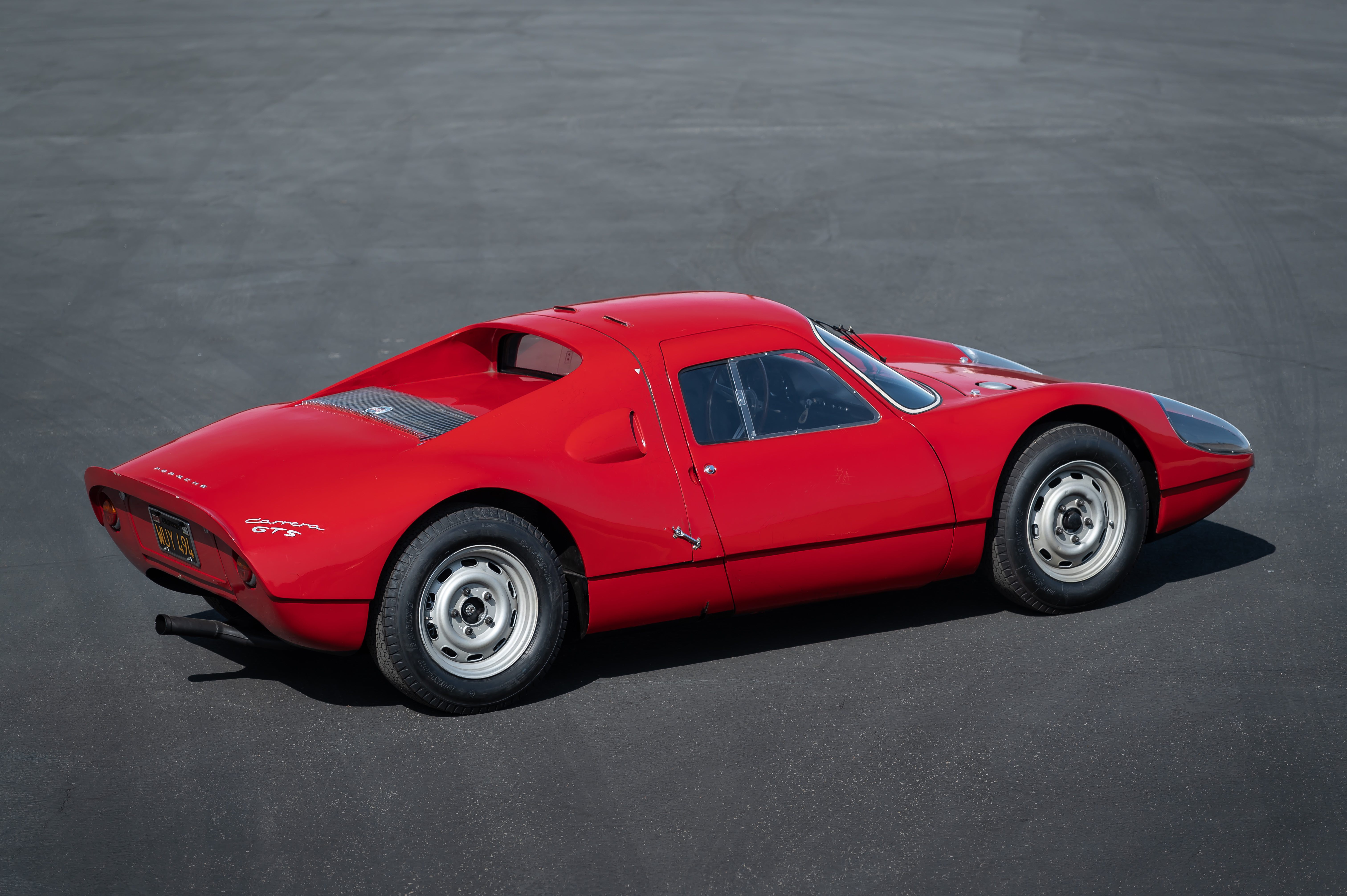 Grosse Pointe, MI, April 28, 2023 (GLOBE NEWSWIRE) — Broad Arrow Auctions is pleased to announce another significant grouping of exciting motor cars is consigned to the upcoming Porsche 75th Anniversary Auction, being held on 10 June at the Porsche Experience Center in Atlanta, Georgia. Broad Arrow Group, a sponsor of Luftgekühlt, will be presenting seven cars consigned for the Porsche auction for display at the Luftgekühlt 9 event.
Two hugely significant cars that have been consigned to the auction which will also be on display at Luft 9, are a 1967 Porsche 910 and a 1964 Porsche 904 Carrera GTS. The 1967 Porsche 910, estimate: $2,800,000 – $3,400,000, is one of 27 built that year and was initially purchased by the William Bradley Racing Team, raced throughout 1968 and 1969 by Vic Elford, Bill Bradley, John Fitzpatrick, Tony Dean, and Gijs van Lennep. Impressively, this example, chassis number 020, won a first in Class at the 1969 Spa 1000 kms and a 12th overall at the 1969 Nürburgring 1000 kms. Retained by Bradley for 30 years and subsequently restored by Paddy O'Grady, it is a veteran of the Goodwood Festival of Speed, Goodwood Revival, Le Mans Classic and has been maintained by Road Scholars Durham, NC, with a full repaint in 2022.
The second watershed example that will also be included in the auction and on display at Luft 9 is the 1964 Porsche 904 Carrera GTS, estimate: $2,400,000 – $2,800,000. Originally sold by the factory 'Verkauft von Werk' to Italian racer Ernesto Prinoth, this 904 GTS was Porsche's final road/race car, one of only 107 produced and fitted with its original Type 587/3 180 PS 'Sport' Fuhrmann four-cam engine and Sebring race exhaust system. 904 044 enjoyed renown, long-term, 53-year, single, southern California ownership and after two years of thoughtful and careful work at Emory Motorsports, 904 044 made its third public debut at none other than Luftgekühlt 8 at the Port of Los Angeles. Since Luft 8, 904 044 has been enjoyed in very much the same way Les Gunnarson intended; light but regular road use, preservation, and above all an emphasis placed on enjoyment derived from the sound and feeling emanating from the type of dual-use car that could only emerge from such an exciting period of Porsche's history.
The 1991 Porsche 911 Carrera 4 Lightweight, estimate: $850,000 – $1,050,000, consigned for the upcoming auction and on display at Luft 9, is one of the rarest and least understood Porsches of its era. The 1991 Carrera 4 Lightweight is a hand-built 911, featuring numerous competition components from the Weissach customer sports department. One of just 22 constructed, and tipping the scales at a scant 1098 kg, aluminum body panels, Plexiglas windows, and stripped interior keep the weight to a minimum. Built in a similar style to the 1967 911 R and 1984 911 SCRS, it's rare that C4 Lightweights emerge from private collections and are now gaining the Motorsports-derived notoriety they deserve.
A third significant racing Porsche is the 1981 Porsche 924 Carrera GTS Clubsport, estimate: $400,000 – $500,000, one of 15 924 Carrera GTS Clubsports and among the rarest Porsche models ever constructed. Presented as the FIA Group 4 homologation variant of the 924 Carrera GTR, it is fitted with alloy Matter roll cage, 935-style 'Lollipop' seats, Plexiglas windows and is a highly original example with just two owners from new and 3610 kilometers indicated. Fitted with a turbocharged and intercooled 2093 cc 275-horsepower engine, the Clubsport, at the time of introduction was the most expensive and fastest Porsche street car available.
The 1979 Porsche 930 Turbo, estimate: $300,000 – $375,000, that we have the pleasure of highlighting here is one of 806 US specification models built in 1979, this 911 Turbo is finished in one of the rarest shades ever to grace a Porsche 911 – Moonstone. Naturally a special order 930, the long-term first owners, Alan and Dottie Crebo of Kokomo, Indiana, are said to have selected this color when thinking about the moon-walking exploits of fellow Purdue alum Neil Armstrong. Smartly ordered with a Brown leather interior, limited slip differential, sport seats, electric sliding sunroof, and Turbo side lettering, records indicate that the Crebos would keep their special 911 Turbo until 2019.
1996 Porsche 911 Turbo, estimate: $275,000 – $300,000, joins the display, with this particular example built to a highly individual specification. This 993-generation 911 Turbo features a rarely seen, but highly attractive color combination of Speed Yellow over Midnight Blue full leather upholstery with under 17,000 miles on the odometer.
Notably, out of the seven cars presented here, only the color-to-sample 2004 Porsche Carrera GT, estimate: $1,500,000 – $1,800,000, was previously announced. The "Speedster Blue" Carrera GT is a U.S. market example, showing less than 2,300 miles and complete with its five-piece factory luggage set in dark grey. For this weekend, the CGT will join Luft's unique presentation of water-cooled cars for Sunday's "Air |Water" show.
Collectors interested in consigning their important Porsche to this world-class event are invited to contact a Broad Arrow specialist via broadarrowauctions.com. Further information on auction consignments as well as additional activities set for the 75th anniversary weekend in Atlanta, is available on the website.
Photo Credits: Photos courtesy of Broad Arrow Group/Robin Adams excluding the Carrera GT by Jonathan Harper
About Broad Arrow Group, a Hagerty Company
Broad Arrow Group, a Hagerty (NYSE: HGTY) company, is an advisor, market maker, and financier for car collectors with a commitment to integrity, trust, and innovation. Broad Arrow Group operates Broad Arrow Auctions, Broad Arrow Capital, and Collectors Garage and is headquartered in Grosse Pointe, Michigan. Learn more at broadarrowgroup.com.
About Hagerty, Inc. (NYSE: HGTY) – Hagerty is an automotive lifestyle brand committed to saving driving and car culture for future generations. The company is a leading provider of specialty vehicle insurance, expert car valuation data and insights, live and digital car auction services, immersive events and automotive entertainment custom made for the 69 million Americans who self-describe as car enthusiasts. Hagerty also operates in Canada and the UK and is home to Hagerty Drivers Club, a community of 750,000 who can't get enough of cars. As a purpose-driven organization, Hagerty Impact aims to be a catalyst for positive change across the issues that matter most to our teams, our members, the broader automotive community, our shareholders and the planet at large. For more information, please visit https://www.hagerty.com/, or connect with us on Facebook, Instagram and Twitter. Press materials can be found at newsroom.hagerty.com.
Forward-Looking Statements  – This press release contains forward-looking statements within the meaning of the Private Securities Litigation Reform Act of 1995. These statements reflect our current intentions, expectations, or beliefs regarding the business. Because forward-looking statements relate to the future, they are subject to inherent risks and uncertainties that are difficult to predict and may be outside of our control. Some of the factors that may cause our actual results to differ materially from those contemplated by our forward-looking statements include: (i) our ability to recognize the anticipated benefits of the subject of this press release; (ii) our ability to compete effectively within our industry and attract and retain members; and (iii) the other risks and uncertainties listed in our Form 10-K filed with the U.S. Securities and Exchange Commission ("SEC") on March 24, 2022. This press release should be read in conjunction with the information included in our other press releases, reports and other filings with the SEC. Understanding the information contained in those filings is important in order to fully understand our reported financial results and our business outlook for future periods. We do not undertake any obligation to publicly update or review any forward-looking statement, whether as a result of new information, future developments, or otherwise, except as required by law.