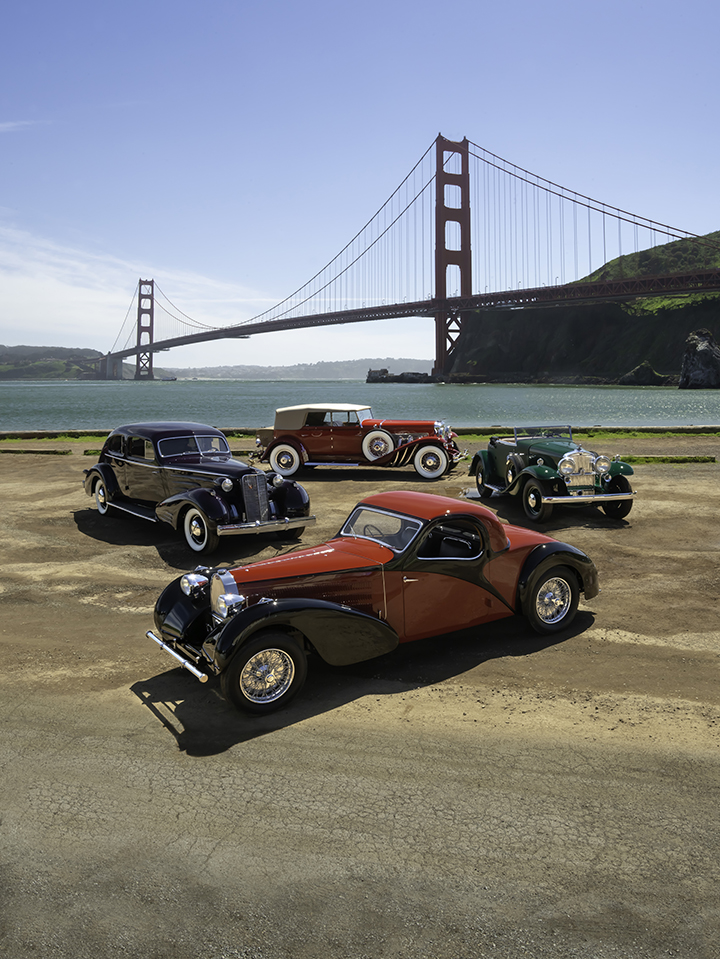 BROAD ARROW GROUP ANNOUNCES EARLY MONTEREY AUCTION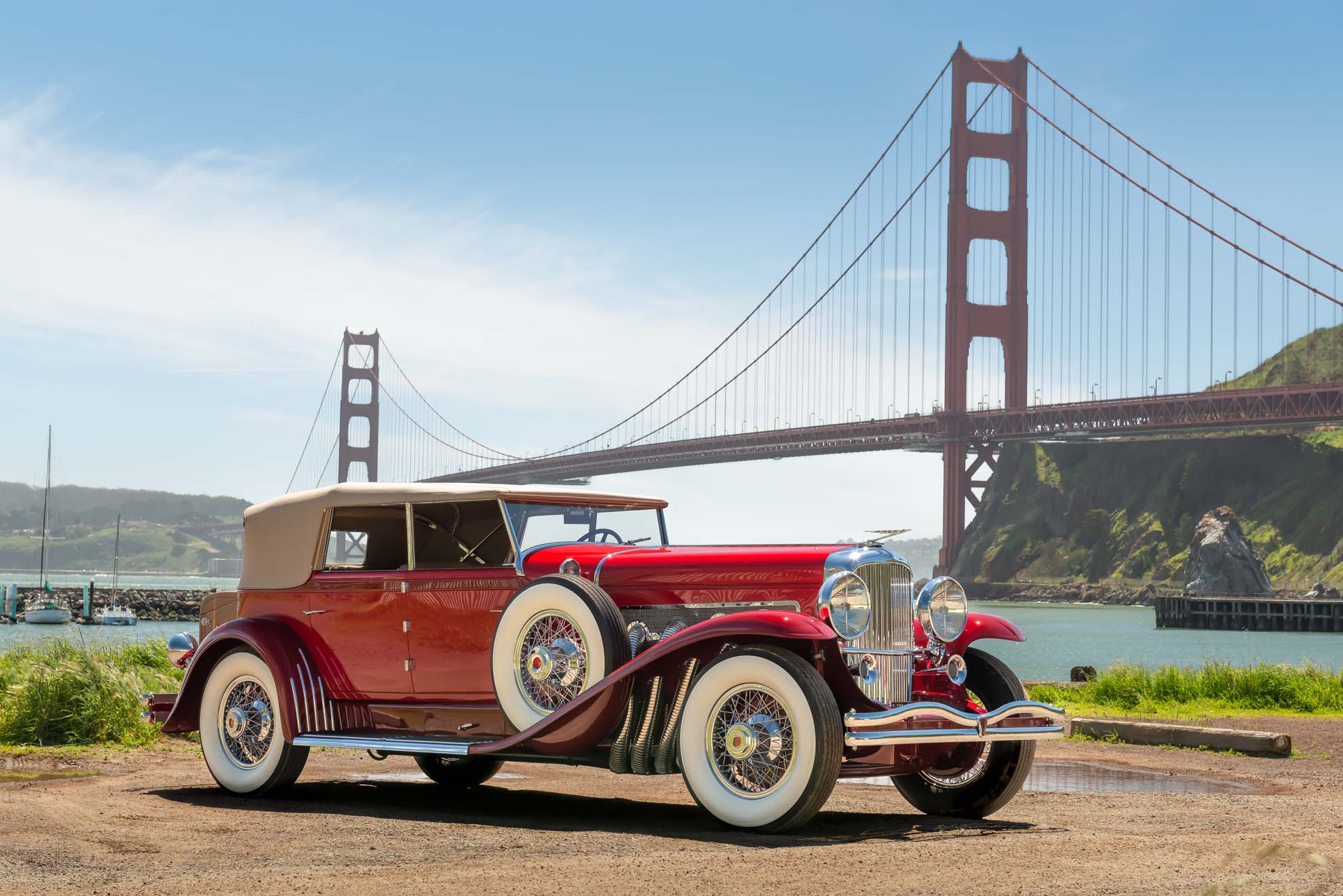 Grosse Pointe, MI, April 20, 2023 (GLOBE NEWSWIRE) — Broad Arrow Group (BAG), a Hagerty (NYSE: HGTY) company, is delighted to announce the consignment of four outstanding motor cars headed for the auction block at the Broad Arrow Monterey Jet Center Auction this 17-18 August in Monterey, California. Following the success of last year's inaugural Broad Arrow Monterey Jet Center Auction, which saw total sales in excess of $55,000,000 and a strong sell through rate of 88%, the team is excited to return to the one-of-a-kind venue which will see the auction expand from a single day sale to now two days as well as returning as part of the Hagerty Motorlux Jet Center event.
The phenomenal group of pre-war American and European Classics have been assembled over the last several decades first by longtime President of the Academy of Art University, Dr. Richard Alan Stephens and then subsequently by his daughter, Dr. Elisa Stephens who has been committed to expanding the Academy's curriculum to stay current with new technologies and industry trends, as well as developing state of the art facilities and resources. Dr. Stephens, and her father, also shared a love for vintage automobiles and she successfully continued to integrate the Automotive Restoration program within the University's curriculum all while promoting the very best in art, design, and engineering and the opportunity for students to learn first-hand.
Caroline Cassini, Car Specialist and former Graduate of the Academy of Art University goes on to say, "It is an absolute honor to represent this group of stellar motor cars at our upcoming auction on behalf of the Academy of Art. My adoration and respect for the Academy extends not only to its staff and curriculum, which helped me find my career path, but also to its principles and management, such as Dr. Elisa Stephens, a woman I have long admired and learned from in terms of business and the business of all things automotive".
The highlight American Classic within the group is the striking 1930 Duesenberg Model J Murphy Convertible Sedan, Estimate: $1,600,000 – $2,000,000. It features notable early ownership by Academy Award-winning set designer, Cedric Gibbons, the designer of the Oscar statuette. Additional former owners include well-known enthusiast and collector Mr. Bruce Meyer, racing legend Andy Granatelli, and the Milhous Brothers of collecting fame. Truly a peerless example with a highly desirable body style on the sought-after short-wheelbase chassis, overall, a very well-preserved restoration.
Dr. Elisa Stephens, President of the Academy of Art University goes on to reflect on her family's love for classic cars, "My father had always prized the most exceptional of automotive designs and our collection was meant to reflect that excellence as well as the technical innovation embodied by many of the finest cars in period. We have strived to showcase this high level of automotive excellence, whether as an instrument of learning or representation of the very best in modern design. I hope that these very special automobiles find the same level of appreciation and enjoyment as they benefited from our family and the University these last several decades."
An additional stunning highlight from the Academy of Art University is the 1937 Bugatti Type 57C Atalante, Estimate: $1,750,000 – $2,250,000 with chassis no. 57557, one of the most famous designs on the Type 57 chassis, formerly of the noted Thomas Perkins and J. Peter Ministrelli collections. Equally impressive and incredibly rare is this 1932 Stutz DV-32 Weymann Super Bearcat, Estimate: $900,000 – $1,300,000. The "Stutz SSJ," as it is commonly known, was built on a unique short-wheelbase chassis. Formerly owned by Harrah's Automobile Collection and Dr. Barbara Atwood, is one of just two survivors with fabric Weymann coachwork, superb older restoration. Lastly is the incredible 1934 Cadillac V-16 Fleetwood Aero-Dynamic Coupe, Estimate: $750,000 – $1,000,000. A landmark, highly important aerodynamic design, trendsetting worldwide. One of just five known surviving examples on the V-16 chassis. Formerly owned for many years by early V-16 enthusiast, William Walter.
The stunning 1930 Duesenberg Model J Murphy Convertible Sedan will be on display at this weekend's La Jolla Concours d'Elegance on 21-23 April. Car Specialists Caroline Cassini and Jakob Greisen will be on hand to answer any questions on the Duesenberg or to assist with those clients interested in consigning to one of Broad Arrow's upcoming auctions.
Photo captions and credits: 1. & 2. (Credit Robin Adams – / Courtesy of Broad Arrow Group).
About Broad Arrow Group, a Hagerty Company
Broad Arrow Group, a Hagerty (NYSE: HGTY) company, is an advisor, market maker, and financier for car collectors with a commitment to integrity, trust, and innovation. Broad Arrow Group operates Broad Arrow Auctions, Broad Arrow Capital, and Collectors Garage and is headquartered in Grosse Pointe, Michigan. Learn more at broadarrowgroup.com.
About Hagerty, Inc. (NYSE: HGTY)
Based in Traverse City, Michigan, Hagerty's purpose is to save driving and car culture for future generations and its mission is to build a global business to fund that purpose. Hagerty is an automotive enthusiast brand offering integrated membership products and programs as well as a specialty insurance provider focused on the automotive enthusiast market. Hagerty is home to Hagerty Marketplace, Hagerty Drivers Club®, Hagerty Drivers Club magazine, Hagerty Drivers Foundation, Hagerty DriveShare™, Hagerty Valuation Tools®, Hagerty Media, MotorsportReg, Hagerty Garage + Social®, The Amelia, the Detroit Concours d'Elegance, the Greenwich Concours d'Elegance, the California Mille, Motorlux, RADwood, Broad Arrow Group and more. For more information on Hagerty please visit www.hagerty.com, or connect with us on Facebook, Instagram and Twitter.
Forward-Looking Statements
This press release contains forward-looking statements within the meaning of the Private Securities Litigation Reform Act of 1995. These statements reflect our current intentions, expectations, estimates, or beliefs regarding the business. Because forward-looking statements relate to the future, they are subject to inherent risks and uncertainties that are difficult to predict and may be outside of our control. Some of the factors that may cause our actual results to differ materially from those contemplated by our forward-looking statements include: (i) our ability to recognize the anticipated benefits of the subject of this press release; (ii) our ability to compete effectively within our industry and attract and retain members; and (iii) the other risks and uncertainties listed in our Form 10-K filed with the U.S. Securities and Exchange Commission ("SEC") on March 14, 2023. This press release should be read in conjunction with the information included in our other press releases, reports, and other filings with the SEC. Understanding the information contained in those filings is important in order to fully understand our reported financial results and our business outlook for future periods. We do not undertake any obligation to publicly update or review any forward-looking statement, whether as a result of new information, future developments, or otherwise, except as required by law.
Selected Highlights from The Academy of Art University