Call2Recycle partners with four CFL teams to encourage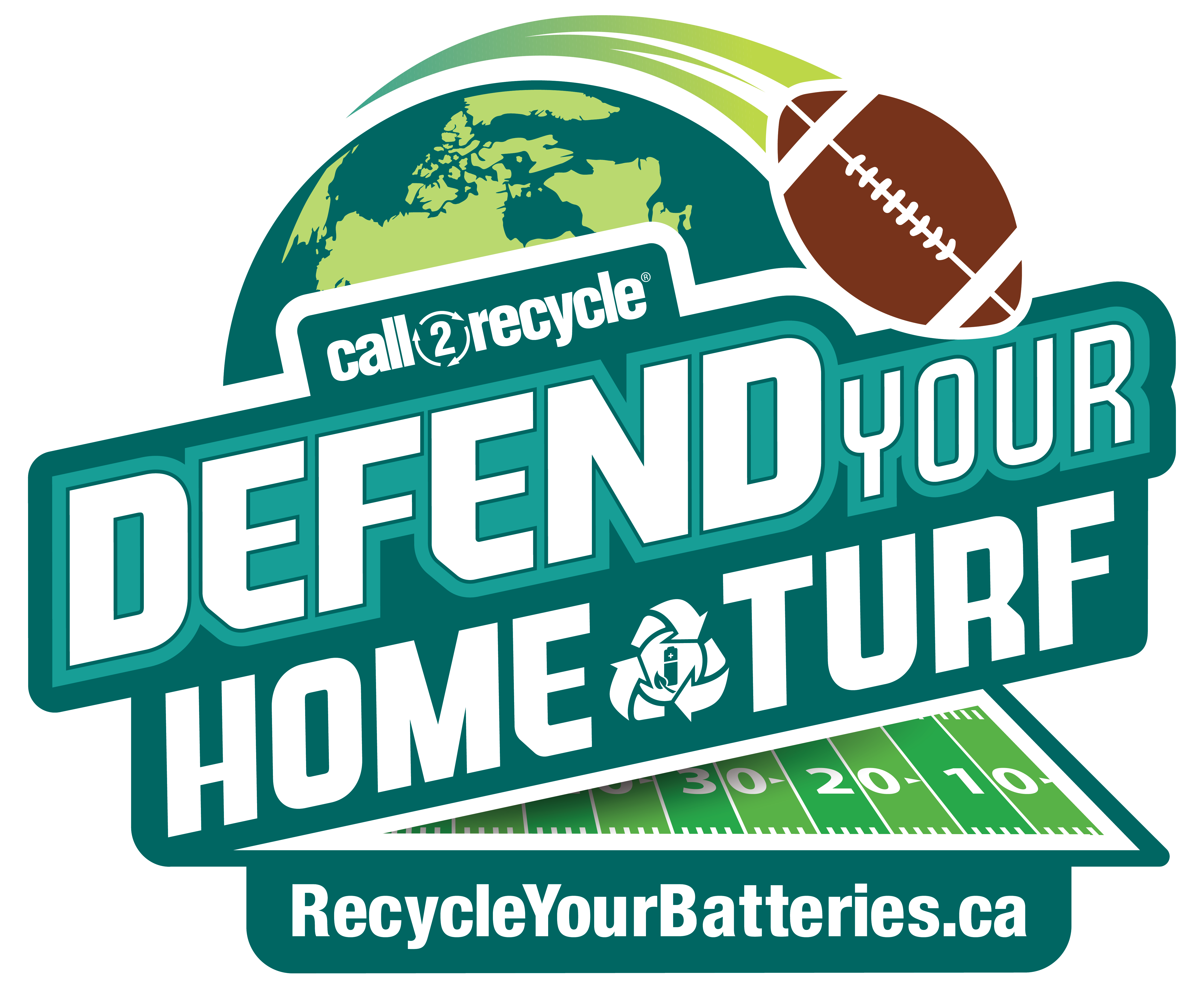 Toronto, ON, Sept. 08, 2023 (GLOBE NEWSWIRE) — Call2Recycle, Canada's leading battery collection and recycling program, announced today the kick-off of their promotional campaign, "Defend Your Home Turf", through a partnership with four CFL teams: the BC Lions, Winnipeg Blue Bombers, Hamilton Tiger-Cats and the Montreal Alouettes. Football fans in four provinces will learn about the importance of battery recycling and have a chance to win tickets to see their favourite CFL team play!
Call2Recycle's "Defend Your Home Turf" digital campaign is running throughout the month of September in collaboration with the four teams. The first 10,000 fans at four regular season home games and one playoff game will receive a special team-branded personal battery collection cube to take home.
Featured regular season games include:
Toronto Argonauts at Hamilton Tiger-Cats, September 4, 2023Toronto Argonauts at Montreal Alouettes, September 15, 2023Ottawa Redblacks at BC Lions, September 16, 2023 Toronto Argonauts at Winnipeg Blue Bombers, September 29, 2023
"We are excited to partner with these four amazing CFL teams to combine the excitement of the football season with Call2Recycle's goal of encouraging Canadians to collect as many batteries as possible," said Joe Zenobio, President, Call2Recycle Canada. "We hope to encourage Canadian football fans to continue adopting positive battery recycling habits. It's a simple and effective way to play a positive role in protecting our environment and diverting batteries from landfills."
"As important as it is to have a great defensive game plan, it's just as important to defend our home turf in our community. That's why the Hamilton Tiger-Cats are proud to partner with Call2Recycle to help support the safe and effective recycling of batteries," said Jameer Thurman, Linebacker for the Hamilton Tiger-Cats.
We are proud of this partnership with Canada's largest and most reliable battery recycling program," said Hugo Bernier, Senior Director, Corporate Partnerships with the Montreal Alouettes. "The desire of Call2Recycle to protect the environment resonates with us as an organization and will certainly resonate with our fans."
"The BC Lions are pleased to partner with Call2Recycle to help educate our fans and the public to collect, protect and drop off their batteries every 3 months for recycling. At our home game on September 16th vs Ottawa, we will be handing out 10,000 Lions branded battery collection cubes post-game to our fans. The cubes will also help fans find their closest battery drop-off location and learn how they can enter for a chance to win BC Lions tickets and merchandise.  Consumer awareness is key to changing behaviors and the BC Lions as well as our fans want to help protect one another as well as our environment in British Columbia." said Lions Vice President Business, George Chayka.
"The Winnipeg Football Club is happy to partner with Call2Recycle and join in its mission of educating Canadians on the proper process for collecting and recycling batteries." declared Wade Miller, President and CEO of the Winnipeg Football Club. "To that end, battery collection cubes will be distributed at our September 29th home game, helping fans safely dispose of their batteries and find the nearest battery drop off location. Fans will also be able to enter to win Bombers tickets and an authentic jersey."
During the campaign, players from participating CFL teams will act as ambassadors and share important messages about battery safety, environmental protection and the circular economy on their team's social media channels. With the number of fan engagements on CFL social media channels up 30 per cent, this is a great time to share insights about the environmental benefits of battery recycling with the league's loyal followers. Ambassadors will also encourage fans to enter the "Defend Your Home Turf" contest where they can win tickets to an upcoming CFL game, by bringing used batteries to a Call2Recycle drop-off location near them.
This campaign is part of Call2Recycle's ongoing effort to educate the public about the importance of battery recycling and promote positive battery recycling habits.
"Defend Your Home Turf" Contest Rules
To enter the contest, fans can collect end-of-life batteries and bring them to a nearby Call2Recycle drop-off point. Once present at a public Call2Recycle drop-off location, fans can visit RecycleYourBatteries.ca/cfl, enable mobile "location services" to confirm their whereabouts and be entered to win!
For more information and to read the contest rules and regulations, please visit www.RecycleYourBatteries.ca/cfl.
About Call2Recycle Canada, Inc.
Call2Recycle® is Canada's leading organization for battery collection and recycling, fulfilling product stewardship obligations on behalf of over 400 members, including producers of single-use and rechargeable batteries. It is the provincially-approved consumer battery collection and recycling program for British Columbia, Saskatchewan, Manitoba, Quebec, and Prince Edward Island, and operates as a registered Producer Responsibility Organization (PRO) in Ontario according to the Ontario Batteries Regulation. Call2Recycle accepts household batteries (weighing up to 5 kg) for recycling and eTransport batteries used to power eBikes, eScooters, eSkateboards, Hoverboards and Electric Vehicles (EVs).
Since its inception in 1997, Call2Recycle has diverted over 40 million kilograms of batteries from Canadian landfills. This reputation for excellence has enabled Call2Recycle to maintain trusted, long-term relationships with stakeholders and a network of more than 10,000 participating collection locations across Canada, including at leading retailers and municipal facilities.
About Hamilton Tiger-Cats
The Hamilton Tiger-Cats are members of the Canadian Football League (CFL) and have a rich history dating back to 1869, which includes 13 Grey Cup Championships. For more information, visit Ticats.ca.
About the Montreal Alouettes
Founded in 1946, the Montreal Alouettes possess a rich history. The organization has had its name inscribed on the Grey Cup seven times (1949, 1970, 1974, 1977, 2002, 2009, 2010), a trophy awarded yearly to the champion of the Canadian Football League. They play their home games at Percival Molson Memorial Stadium, on beautiful Mount Royal.
About the BC Lions Football Club
The BC Lions Football Club is Vancouver's most successful professional sports organization with six Grey Cup titles: 1964, 1985, 1994, 2000, 2006 and 2011. Drawing on pride, decades of tradition, passion and a spirit of excellence, the BC Lions Football Club seeks to touch the lives of our community in a positive way and is dedicated to serving partners, sponsors and fans.
About the Winnipeg Blue Bombers
The Winnipeg Blue Bombers are a professional football team based in Winnipeg, Manitoba. Founded in 1930 as the Winnipeg Football Club, the Blue Bombers are members of the West Division of the Canadian Football League and play their home games at IG Field. The Club has won the league's Grey Cup Championship 12 times since its inception, including recent back-to-back championships in 2019 and 2021.