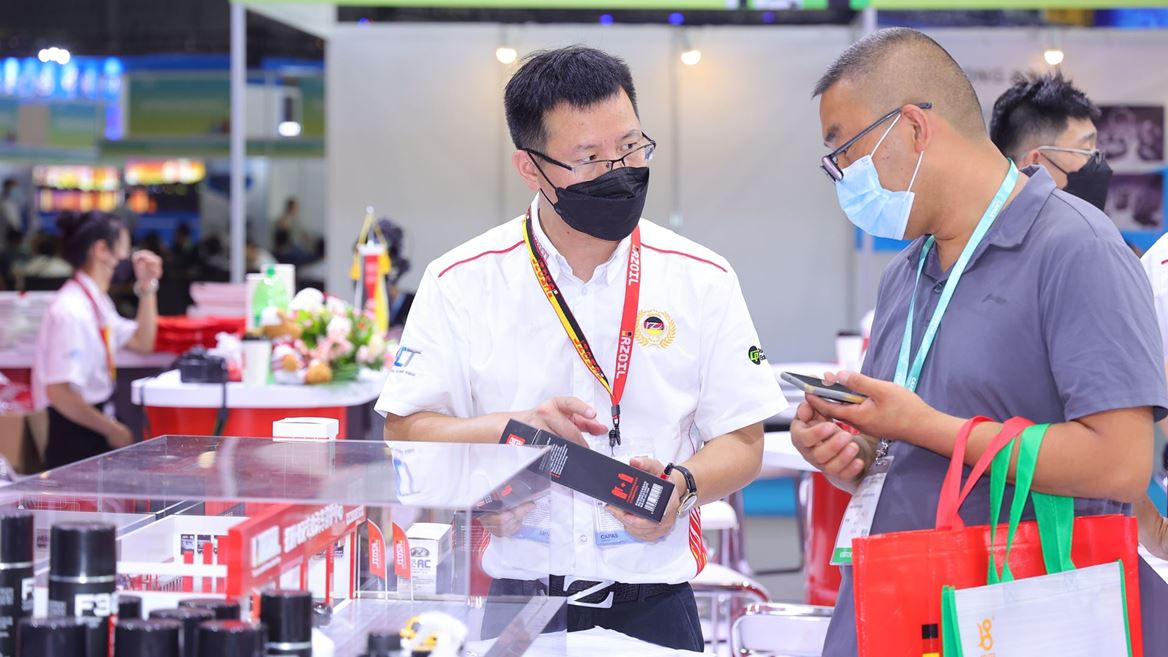 CAPAS 2023 helps to carve out a new phase for the Southwest China's automotive industry
The Chengdu International Trade Fair for Automotive Parts and Aftermarket Services (CAPAS) will take place from 18 to 20 May 2023 at the Chengdu Century City New International Exhibition & Convention Center. The show will continue to actively promote trade opportunities and the advancement of the automotive industry in Southwest China by hosting an expected 550 exhibitors across 40,000 sqm of space. In this regard, showcases and value-added events offer an all-round platform for industrial development and stimulating the consumer market.
In a critical year for restoring commercial activity, China has introduced a number of policies to boost domestic demand, strengthen industrial chains and upgrade industries. As a pillar sector, the automotive industry plays a key role in national economy. In addition, accelerating new energy vehicle development and connected mobility has become a core task in the long-term goal of reaching the carbon peak and neutrality.
Responding to these calls, CAPAS 2023 will spotlight current trends, encourage business and information exchange, as well as explore Chengdu-Chongqing's position under the influence of the Regional Comprehensive Economic Partnership (RCEP).
Mr James Yu, General Manager of Messe Frankfurt (Shanghai) Co Ltd, said: "It is clear that players are looking outward for collaboration in the China market as well as overseas. Therefore, we have fine-tuned our range of business services and networking activities at CAPAS in response to the new types of demand we are seeing in the region. I believe these upgrades will demonstrate the geographical reach and manufacturing strengths of Southwest China and help players to expand their business operations."
CAPAS offers a window into the RCEP market opportunuties Since the RCEP came into effect one year ago, the agreement has helped to integrate markets between 16 countries for stronger cooperation in the global economy. In this regard, China's frequency of trade and two-way investment in ASEAN and other Asia-Pacific member nations has greatly increased.
As a result, CAPAS will leverage the geographical advantages of Chengdu and explore prospects in the market from the agreement. The 2023 exhibition will feature a number of events to examine the current collaboration between Chengdu-Chongqing and ASEAN in the automotive industry and discuss the policies that support future trade and investment.
Chengdu-Chongqing alliance develops new energy and connected mobility as a hub for the industry
Chengdu-Chongqing is one of China's key hubs for new energy and connected mobility development. As a whole, Sichuan has a network of nearly 100 upstream suppliers in the lithium-Ion battery and battery materials sectors1. Recent forecasts also paint a positive picture of Chongqing's consumer market with new energy vehicles bagging over 20 percent of new car sales by 20252.
To spotlight new energy vehicles manufacturing and automotive parts, CAPAS 2023 will welcome local pavilions from Chongqing with another 14 cities in Sichuan, such as Nanchong, Neijiang and Yibin. Leading companies from these cities will present batteries, semi-conductors, autonomous driving solutions, hydrogen energy, and low-carbon commercial transportations for logistics.
Related events like the China New Energy Vehicle International Cooperation Conference 2023 will provide an in-depth analysis on Chengdu-Chongqing's automotive industry and the future strategic plans.
Onsite events strengthen cooperation and information exchange to fulfil automotive consumer and aftermarket needs
In 2022, new energy vehicle sales in Chengdu increased 67 percent3 while purchases in Chongqing grew by 79.9 percent4. The increasing amount of new energy vehicles on roads is creating more opportunities in R&D and aftermarket as the demand for battery testing, motor and electronic controls (the three electrics), talent and maintenance services rises.
In this regard, this year's show will feature a New Energy Vehicle Maintenance area offering technical training and a workshop about the three electrics, battery testing, and repair tools.
Furthermore, the Car Customising Festival will spotlight self-driving holidays and new energy vehicle customising, prevalent in the Southwest market, with accessories, body and paint customisation, exterior and interior decoration, and maintenance and repair. At the same time, retail stores and car lovers will find an array of presentations with experts sharing their experiences on professional customising and self-driving vacations, as well as live demonstrations for vehicle customising.
At the same time, CAPAS will see a collection of fringe events and services. Forums and technical training will provide insights into industry prospects, with key events such as the Southwest Automotive Aftermarket Summit 2022 and China New Energy Vehicle International Cooperation Conference 2023. The fair's roadshows across Chongqing, Guangdong, Guizhou, Shaanxi, Sichuan, Tibet, Yunnan, and other provinces and cities also help industry players to keep up momentum during the year and communicate about current supply and demand.
In addition, the year-round hybrid business matching services help buyers to explore procurement channels and exhibitors to connect with their target customers. The aim is to help develop effective cooperation for trade between the two sides. Other events like the VIP Buyers Programme, the Dealers' Dinner and the Workshops Networking Dinner also help industry players to communicate and seize business opportunities.
CAPAS is jointly organised by CCPIT-Auto, MesseFrankfurt (Shanghai) Co Ltd and CCPIT-Sichuan. For more information, please visit www.capas-chengdu.com or email auto@hongkong.messefrankfurt.com.
Background information on the China Council for the Promotion of International Trade, Automotive Sub-Council (CCPIT-Auto)
The China Council for the Promotion of International Trade, Automotive Sub-Council (CCPIT- Auto) promotes foreign trade and economic cooperation, technical exchange and introduction of advanced technologies for China's auto industry by following the China Council for the Promotion of International Trade and China Chamber of International Commerce charter. It acts as a bridge for Chinese auto industry enterprises to build cooperation and exchange opportunities across the world. In addition, the committee organises three world leading and highly regarded international automotive exhibitions in Beijing, Shanghai and Guangzhou.
Background information on Messe Frankfurt
The Messe Frankfurt Group is one of the world's leading trade fair, congress and event organisers with their own exhibition grounds. With a workforce of some 2,200* people at its headquarters in Frankfurt am Main and in 28 subsidiaries, it organises events around the world. Group sales in financial year 2022 were around €450 million*. We serve our customers' business interests efficiently within the framework of our Fairs & Events, Locations and Services business fields. One of Messe Frankfurt's key strengths is its powerful and closely knit global sales network, which covers around 180 countries in all regions of the world. Our comprehensive range of services – both onsite and online – ensures that customers worldwide enjoy consistently high quality and flexibility when planning, organising and running their events. We are using our digital expertise to develop new business models. The wide range of services includes renting exhibition grounds, trade fair construction and marketing, personnel and food services. Sustainability is a central pillar of our corporate strategy. Here, we strike a healthy balance between ecological and economic interests, social responsibility and diversity. For more information, please visit our website at: www.messefrankfurt.com/sustainability. With its headquarters in Frankfurt am Main, the company is owned by the City of Frankfurt (60 percent) and the State of Hesse (40 percent). For more information, please visit our website at: www.messefrankfurt.com
* Preliminary figures for 2022
Background information on the China Council for the Promotion of International Trade, Sichuan Council (CCPIT-Sichuan)
The China Council for the Promotion of International Trade, Sichuan Council (CCPIT-Sichuan) aims to promote foreign trade cooperation and communication, under the guidance of the Sichuan Provincial Party Committee and the Provincial People's Government, and in accordance with the guidelines of national economic policy and principles. Its main duties are to encourage foreign trade and investment, enhance economic and technological exchange and cooperation, and to foster local enterprises to participate in the economic globalisation. CCPIT-Sichuan also organises a number of international exhibitions including the Western China International Fair.
1 "People's Daily" Sichuan: Tax capacity forms ideal lithium industry chain, August 2022, Sichuan Provincial Tax Service, State Taxation Administration, https://sichuan.chinatax.gov.cn/art/2022/8/15/art_1527_742504.html, Retrieved January 2023
2 Chongqing promotes green consumption plan with new energy vehicle sales exceeding 20% by 2025, October 2022, The Paper, https://m.thepaper.cn/baijiahao_20260690, Retrieved January 2023
3 Chengdu's GDP reached 2 trillion in 2022, October 2022, Chengdu Bureau of Statistics, http://cdstats.chengdu.gov.cn/tjgzxxw/xhtml/tjxx_content.html?id=438756&channel, Retrieved January 2023
4 The car market "rebounded"! The sales of new energy vehicles in Chongqing increased nearly by 80% year on year, February 2023,CQCB https://www.cqcb.com/chongqingcaijing/2023-01-30/5157040_pc.html, Retrieved February 2023