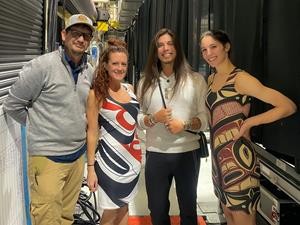 Cape Fox Corporation is in Fashion
Ketchikan, Alaska, Feb. 14, 2023 (GLOBE NEWSWIRE) — Cape Fox Corporation (CFC) recently brought its unique style and art to the fashion world. On January 28, 2023, CFC participated in the 3rd annual Trend Fashion Show in Anchorage, Alaska. Six unique outfits were showcased. The artwork for the outfits was created by Kenneth White,  Miilgm Ts'amtii (Michael Milne), and Kyle Hudson and then put into fashion apparel by Ts'iingyimgm'aatk (Jeremy Barrett). Miilgm Ts'amtii, Kyle, and Ts'iingyimgm'aatk are Ts'msyen Alaska Natives. This was the first year CFC was represented at the Trend Fashion Show, and we were delighted to be able to exhibit the talent of the members of the CFC team and present the unique style, colors, and meanings illustrated in our Alaska Native art.
The Trend Fashion Show is an exclusive event that showcases Alaska's artists and fashion designers. This is the third year the show has taken place. Each year proceeds from the show are donated to a meaningful cause. This year's event supported Let Every Woman Know, a local nonprofit organization dedicated to preventing and ending gynecologic cancers through education, support, advocacy, and arts programs.
CFC had six designs on exhibit at this year's show, which contained bold, Indigenous-inspired prints adorning the ready-to-wear line. This clothing collection included streetwear with designs inspired by the Tlingit culture. CFC was asked to participate in the event when one of the hosts happened by the Cape Fox Lodge gift shop and saw a pair of shoes that caught her eye. The shoes have been designed with Kenneth White's Human Tinaa design and Jeremy put his artistic flair by adding the design to the shoes.
When interviewed recently, Jeremy Barrett was asked what he wanted others to feel when they see his fashion and the Alaska Native designs. Jeremy replied, "My mission with this clothing line is for people to see that our art is alive and thriving, evolving, and coming to life in more and more ways. I want to get our artists' names out there. I want people to reach out to these artists and help provide revenue for Saxman, Ketchikan, and Alaska. Being invited to the Trend Alaska Fashion Show was such an amazing feeling. The art made by local artists and how I applied them to clothing and accessories being noticed by a fashion show that Alaska hosts is such an amazing feeling. It makes me proud. I look forward to next year, and I already have ideas brewing."
CFC's mission believes strongly in supporting our Tlingit Shareholders, celebrating and preserving the traditions of our ancestors, and showcasing to the world our unique culture of history, music, language, insights, and of course, art. To view more about our culture, can visit our CFC Cultural Center at https://www.capefoxcorp.com/culture-center/. Or, if you would like to see and purchase any fashion or art, visit ShopVillageStore.com.  As we say in Tlingit, "Gunalchéesh" or "Thank you."
For additional information, email Heather Kaiser at hkaiser@capefoxss.com or call (703) 749-3045.                                                 
About Cape Fox Corporation                    
Cape Fox Corporation (CFC) was formed as part of the Alaska Native Claims Settlement Act (ANCSA) of 1971. Cape Fox Corporation is the Alaska Native Corporation for the village of Saxman.
Today, Cape Fox Corporation is comprised of a family of businesses divided between two distinct groups: The Federal Contracting Group and The Commercial (Tourism) Group. Collectively, CFC and its subsidiaries specialize in tourism, information technology and cybersecurity; professional services; health care services; marketing; training services, and logistical services. 
Visit Cape Fox Corporation to learn more.