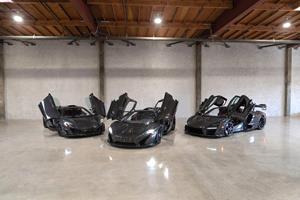 CARBON FIBER MCLAREN TRIO LEADS FINAL ENTRIES FOR BROAD
GROSSE POINTE, Michigan, Feb. 08, 2023 (GLOBE NEWSWIRE) —
McLaren trifecta leads a lineup of desirable supercars on offer, which also includes a carbon series 2021 Ford GT, a Porsche 959 Komfort, a Porsche Carrera GT, and more.
Complete digital catalog for Broad Arrow's inaugural Amelia Auction, March 4 at the Ritz-Carlton, Amelia Island now available here.
Event details and bidder registration available at broadarrowauctions.com
Broad Arrow Auctions, a Hagerty (NYSE: HGTY) company, today released the complete digital catalog for its inaugural Amelia Auction on March 4 at the Ritz-Carlton, Amelia Island. As the official auction of The Amelia, the sale will feature more than 100 motor cars, from coachbuilt beauties of the 1920s and 1930s, to the fastest, rarest, and most sought-after supercars of the last three decades.
Along with the digital catalog comes final entries within the latter category, led by a trio of carbon fiber-bodied McLaren supercars. The delivery-mileage, single-owner group is topped by a 2015 McLaren P1, chassis no. SBM12ABA4FW000168, the second to last of just 375 P1s produced and the only example delivered new with stunning McLaren Special Operations (MSO) exposed carbon fiber bodywork. 
An outstanding example of McLaren's pioneering, 903-hp hypercar, the P1 is capable of 0-186 miles per hour in just 16.5 seconds. This one-of-a-kind example is equipped with the seldom-seen MSO stage two tuning with dynamic wing control, along with over $400,000 in carefully selected options, including the extremely rare 24-carat gold heat shield. Offered with just 130 miles at the time of cataloging, the car remains in excellent condition following prominent display at the Petersen Museum and is a prime example of a beautiful, comfortable, and yet entirely functional design (Estimate: $1,800,000 – $2,100,000).
The P1 would inspire the additional cars in the group, the 2019 McLaren Senna #68, and the 2016 McLaren MSO HS #16, both featuring nearly identical specifications. The Senna wears stunning Full Visual Gloss Carbon Fiber bodywork, a highly desirable and valuable option worn by very few McLarens. Equipped with over $300,000 in options, including the 24-carat gold heat shield, this is not simply just one of 500 McLarens named for Formula One's greatest champion. This is one of the most extensively optioned and well-specified Senna models offered in recent memory (Estimate: $1,200,000 – $1,400,000). Finally, the McLaren MSO HS (High Sport) is among the most exclusive McLaren offerings, as one of just 25 examples built, each delivered to McLaren's most VVIP customers with completely bespoke specifications. This example was specified with over $300,000 in options from MSO and is one of just 7 delivered new to the U.S., again clothed in an exposed carbon fiber body, and presented in 'just out of the box' condition with 75 miles at the time of cataloging (Estimate: $650,000 – $750,000).
Broad Arrow Auctions Senior Car Specialist Alexander Weaver comments, "This limited-edition McLaren trifecta was specced and delivered to the same original owner who is offering the cars today and has been in excellent company in a collection of other highly optioned and sought-after supercars. These are surely the best-optioned, well-specified, and well-taken care of examples of McLaren's most exclusive offerings, and their sale at our Amelia Auction may well be an unrepeatable opportunity. The new owner is sure to stand out in an already exclusive club."
Broad Arrow's Amelia Auction is flush with additional top-tier supercars, including a stellar example of the Porsche marque's technological masterpiece, a 1987 Porsche 959 Komfort, chassis no. 0051. One of just 292 production 959s built, this French market example is offered in its original colors of Silver Metallic over 'Interior to Sample' Black leather upholstery. Complete with its matching numbers twin-turbocharged flat-six along with the very rare multi-piece tool kit and warning triangle, the 959 features subtle performance modifications and is offered at Amelia fresh from a recent service (Estimate: $1,750,000 – $2,000,000). Joining the 959 is a well-preserved example of the Porsche marque's standout supercar of the 2000s, a 2005 Porsche Carrera GT, chassis no. WP0CA29875L001523. Having had just three owners from new, this Carrera GT has been meticulously serviced throughout its life and presents a fantastic opportunity to any collector considering the very best of the final generation of analog supercars (Estimate: $1,400,000 – $1,500,000).
Additional standout supercars set for the Amelia Auction include:
A special Carbon Series 2021 Ford GT featuring carbon fiber wheels and stripes. Finished in a beautiful Extended Color Palette 3 Shell Grey exterior, which was originally an Aston Martin color from the 1950s, the GT is offered from its original owner with just 671 miles at the time of cataloging (Estimate: $1,000,000 – $1,250,000).
The modern GT is complemented by a 2006 Ford GTX1. Finished in Mark IV Red over Ebony Black Leather with desirable 'stripe delete', the GT is further enhanced by Genaddi Design Group's X1 upgrades, which include a convertible, targa-roof conversion blessed by Ford. Vehicle number 33 of what is believed to be fewer than 40 Ford GTX1s, this is a remarkably well-documented car retaining nearly all of its original literature (Estimate: $500,000 – $600,000).
A race car for the road, a 1991 Jaguar XJR-15, one of just 27 originally constructed in road-going specification. Tastefully restored and upgraded by Don Law Racing in 2012, the XJR-15 is offered in excellent condition ready to fulfill childhood enthusiast dreams (Estimate: $1,250,000 – $1,450,000).
A supercar for the track and the first 993 GT2 race car constructed, a 1996 Porsche 911 GT2. This GT2 was Rohr Racing's entry for the 1995 Daytona 24 Hours, taking 2nd place in the GTS-1 class and 4th overall. Piloted by Jochen Rohr, Bernd Mayländer, and Hurley Haywood, the GT2 retains its matching numbers G50/54 transmission and includes its original M64/81 engine case. In the Porsche 75th anniversary year, surely endless opportunities await the new owner of this Porsche factory race car (Estimate: $1,250,000 – $1,450,000).
Broad Arrow's debut as the official auction of The Amelia will kickstart the company's 2023 calendar on March 4 at The Ritz-Carlton, Amelia Island. The Amelia Auction will feature more than 100 exceptional collector cars ranging from pre-War American and European classics to motorsport icons and modern supercars. Event information, bidder registration, and the complete digital catalog are available at broadarrowauctions.com.