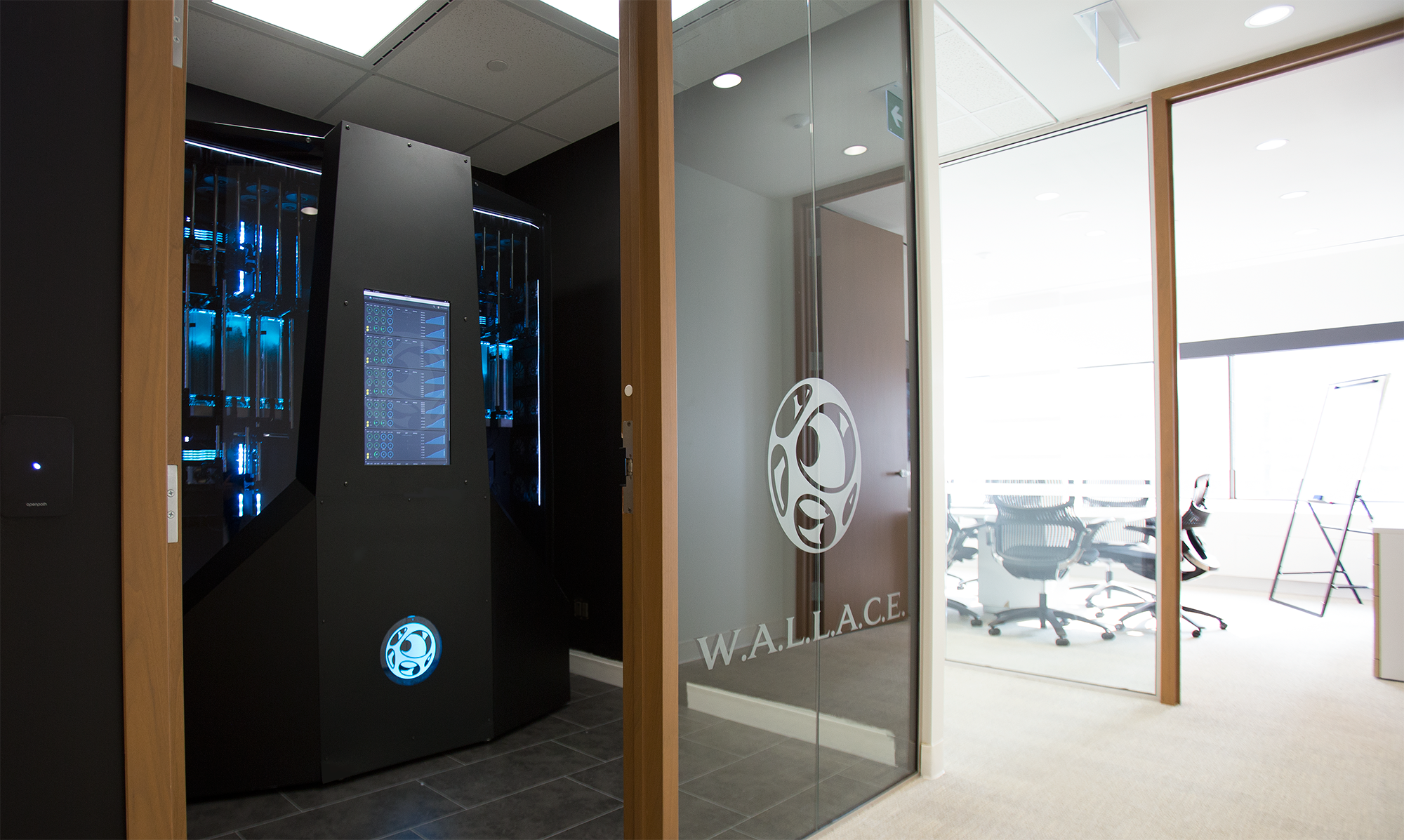 Castle Ridge unveils one-of-a-kind #AI supercomputer,
TORONTO, Sept. 13, 2023 (GLOBE NEWSWIRE) — Castle Ridge Asset Management, a leading #Artificial Intelligence-driven hedge fund, has unveiled its new one-of-a-kind #AI supercomputer at its headquarters in Toronto. The WALLACE supercomputer is capable of quadrillions of floating-point calculations per second and packs thousands of square feet of hardware footprint and datacentre level cooling requirements into a proprietary 7.5 by 5.5 foot fluorinert liquid-cooled system.
Founded in 2015, Castle Ridge is a deep tech laboratory and asset manager, pioneering self-evolving AI investment strategies. The ground-breaking #WALLACE supercomputer project, first imagined a half-decade prior, involved Castle Ridge designing custom hardware, chassis, cooling and software and manufacturing the supercomputer.
Using a novel AI approach, Geno-Synthetic Algorithms ("GSA"), developed entirely by Castle Ridge, WALLACE detects sustainable behavioural patterns in vast market data (fundamental, technical and sentiment). The supercomputer project was necessary because traditional AI hardware was not designed for the way GSAs work. Most commercially available systems are 'tuned' for #DeepLearning algorithms. Compared to mainstream #NeuralNetworks, #LLMs and #GPTs, Castle Ridge's GSAs are far more computationally complex.
The GSA approach sets itself apart by its ability to find optimal solutions in a problem space defined using various data types, including integer, Boolean, float, decimal, and complex (imaginary and real) numbers. When dealing with such a vast hyperdimensional search space (think cosmic scales), a single optimization technique run on traditional computing hardware could take many years to find an acceptable solution. However, constant market fluctuations demand investment decisions in a matter of hours and minutes.
Notably, Castle Ridge introduced a novel approach to handling sequential time series data. WALLACE can parallelize this type of data without the typical blackbox effect of Deep Learning. This transparency significantly accelerates the analysis process, pushing boundaries of what was previously thought possible in Evolutionary Computing.
WALLACE analyses thousands of securities, each from over 42 dimensions simultaneously, and monitors complex interrelationships between these securities over time. As a result, WALLACE uncovered market patterns two to three levels deeper than typical quant factors. The platform continuously evolves through a survival-of-the-fittest mechanism. Overnight, WALLACE generates tens-of-thousands of generations of virtual portfolio managers, all competing to improve performance. In under an hour, WALLACE achieves what would take millions of years of natural selection in the real world.
Adrian de Valois-Franklin, Castle Ridge's CEO, said, "We are thrilled to unveil the new supercomputer. WALLACE replaces an army of human portfolio managers and analysts, requiring no sleep, vacations, or pep-talks. WALLACE is relentless in its goal, spotting hidden market opportunities to generate independent Alpha and maximize risk-adjusted returns."
Dr. Alex Bogdan, Chief Scientific Officer, also commented, "Traditional systematic strategies are book-smart. Humans design them and rely on past patterns that work, until they don't. At Castle Ridge, WALLACE generates street-smart strategies, able to enter unknown environments and rapidly adapt."
ABOUT CASTLE RIDGE ASSET MANAGEMENT
Castle Ridge Asset Management, with offices in Toronto and New York, offers hedge fund investment strategies powered by its proprietary Artificial Intelligence system, named WALLACE. The WALLACE AI platform continuously learns and evolves by analysing vast quantities of financial data. Castle Ridge developed two completely new approaches to Machine Learning, including Ranking Inference Engine and self-evolving Geno-Synthetic Algorithms, which allows WALLACE to uncover unique market patterns that go far deeper than typical quantitative strategies. Unlike traditional or static investment strategies that often fail when market conditions change, WALLACE adapts and thrives. As a result, Castle Ridge avoids the pitfalls of human bias and ego in an effort to deliver Alpha under ever changing market conditions.
To learn more about Castle Ridge, visit: www.castleridgemgt.com
Media contact:
Christen Thomson, Senior Director, Citigate Dewe Rogerson
christen.thomson@citigatedewerogerson.com
A photo accompanying this announcement is available at https://www.globenewswire.com/NewsRoom/AttachmentNg/8a3c9d18-7c38-44c4-8e20-79085c3233d0