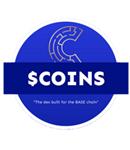 CBSWAP.IO LAUNCHES $COINS TOKEN ON ETHEREUM CHAIN
SAN FRANCISCO, CA, March 01, 2023 (GLOBE NEWSWIRE) — CBSwap.io, the decentralized exchange built for Coinbase's new layer 2 blockchain BASE, announced the launch of $COINS token on the Ethereum Chain. $COINS is the native utility token of CBSwap.io, designed to provide users with a range of benefits, including farming, governance rights, and more. $COINS will be used as the governance token on the CBSwap.io platform, providing users with a convenient and secure way to trade cryptocurrencies. The token will be listed on several major decentralized exchanges, including CBSwap.io on the BASE chain and Uniswap on the Ethereum main net.
 CBSwap, the next generation decentralized exchange, is proud to announce its official launch. CBSwap provides a seamless and secure trading experience for users of all levels, with a focus on accessibility and ease of use. 
Built for Coinbase's new layer 2 blockchain BASE Chain, CBSwap.io will be providing traders with a fast and efficient platform to trade a wide range of cryptocurrencies, including stable coins, ethereum and other native tokens to Coinbase's BASE Chain. The exchange is fully decentralized, meaning that users can trade without the need for a middleman, reducing the risk of fraud and hacking.
 With CBSwap, users can trade a wide range of cryptocurrencies with low fees, high liquidity, and lightning-fast transaction times. The platform is built for Coinbase's BASE Chain, which provides a reliable and secure infrastructure for decentralized applications.
 CBSwap's intuitive interface and user-friendly design make it easy for anyone to trade cryptocurrencies without the need for technical expertise. The platform's easy to use interface makes trading and operating on BASE chain a breeze.
 "Our mission is to provide a transparent and user-centric platform for cryptocurrency traders," said a spokesperson for CBSwap.io. "We believe that users should have full control over their assets and be able to trade them in a safe and secure environment. CBSwap.io is the next generation decentralized exchange that delivers on that promise.
" One of the most significant advantages of CBSwap is its low transaction fees. The platform charges only a fraction of the fees of traditional centralized exchanges, making it an attractive option for users to have full custody over their cryptocurrency assets. 
"We're excited to bring CBSwap to the market and provide a better, more accessible trading experience for everyone," said a spokesperson for CBSwap. 
CBSwap's launch is a significant milestone for the decentralized finance (DeFi) ecosystem. The platform's cutting-edge technology and user-friendly design place it in a class of its own within the industry. 
To learn more about CBSwap and $COINS and start trading, visit us at:
 Socials:
Telegram: https://t.me/CBSWAPOFFICIAL
 Twitter: https://twitter.com/cbswapofficial