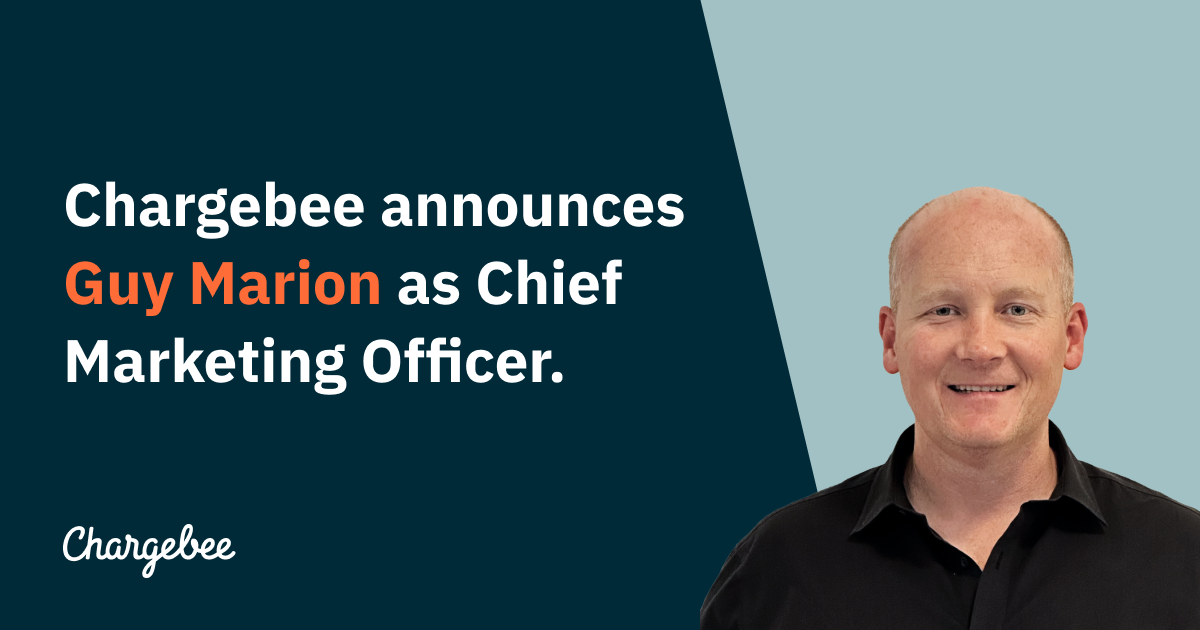 Chargebee appoints Guy Marion as Chief Marketing Officer
San Francisco, Calif., May 04, 2023 (GLOBE NEWSWIRE) — Chargebee, a leading subscription and recurring revenue management platform, today announced the appointment of Guy Marion as Chief Marketing Officer (CMO) and member of the company's Executive Team. Marion has over 20 years of experience in strategic marketing, product development, growth, and sales and has an outstanding record of driving multi-million-dollar revenues for enterprises across different sectors.
"We are beyond excited to welcome Guy Marion as our new Chief Marketing Officer; With his extensive expertise in strategic marketing, product development, growth, and sales, we know that he is the perfect person to take our marketing operations to new heights," said Krish Subramanian, CEO of Chargebee. "Guy's appointment is a critical step towards greater growth and impact for Chargebee and our global partners and customers." 
Marion has extensive tech industry experience. He previously served as GM of Chargebee Retention following the acquisition of Brightback in January 2022, where he was the Founder and CEO. Prior, he was CMO at Autopilot, a marketing automation platform where he helped grow revenues into the millions and exponentially increased user acquisition, and Head of Online Sales at Zendesk. 
"I'm excited to be taking on the role of Chargebee's CMO at a time when the subscription industry is growing and evolving. The needs of consumers and our customers are changing, and Chargebee's suite of services continue to help companies stay one step ahead – providing better, more personalized features and options," said Marion. "I am honored to work with the world-class teams at Chargebee to develop and execute marketing strategies to take the company to new heights."
Chargebee is committed to helping businesses adapt to changing market conditions by providing valuable insights into customer behavior and new revenue stream opportunities. With access to business-critical data, Chargebee customers can retain customers, maximize cash flow, and develop long-term growth strategies.
About Chargebee
Chargebee is a leading recurring revenue management platform tailored to the needs of subscription businesses ranging from startups to enterprises. Its customizable suite of products, including Chargebee Billing, Chargebee Retention, Chargebee RevRec, and Chargebee Receivables, enables growth across the entire customer lifecycle. With seamless support at every stage, Chargebee offers automated billing, invoicing, payments, and compliance capabilities while providing up-to-date key metrics and insights to help businesses make informed decisions. With over 4,500 customers worldwide, including Sendinblue, Freshworks, and Study.com, Chargebee is the ideal solution for companies looking to start, scale, and sustain their operations. To learn more, visit www.chargebee.com.