CloudCheckr Takes AWS Skills Development to New Level with 80 Certifications in 80 Days
CloudCheckr validates employee cloud expertise with industry-recognized credentials while demonstrating their commitment to professional development
ROCHESTER, N.Y., Aug. 31, 2020 /PRNewswire/ — CloudCheckr™, the total visibility cloud governance platform, announced today their employees collectively hold more than 150 AWS Certifications after completing an "80 in 80" professional development program. CloudCheckr staff across all functions earned a total of 86 Amazon Web Services (AWS) certifications within an 80-day testing window. The professional development effort with AWS builds on an existing relationship. Together, the companies deliver a complete cloud services and cloud management portfolio that provide enterprise customers fast, flexible access to the cloud.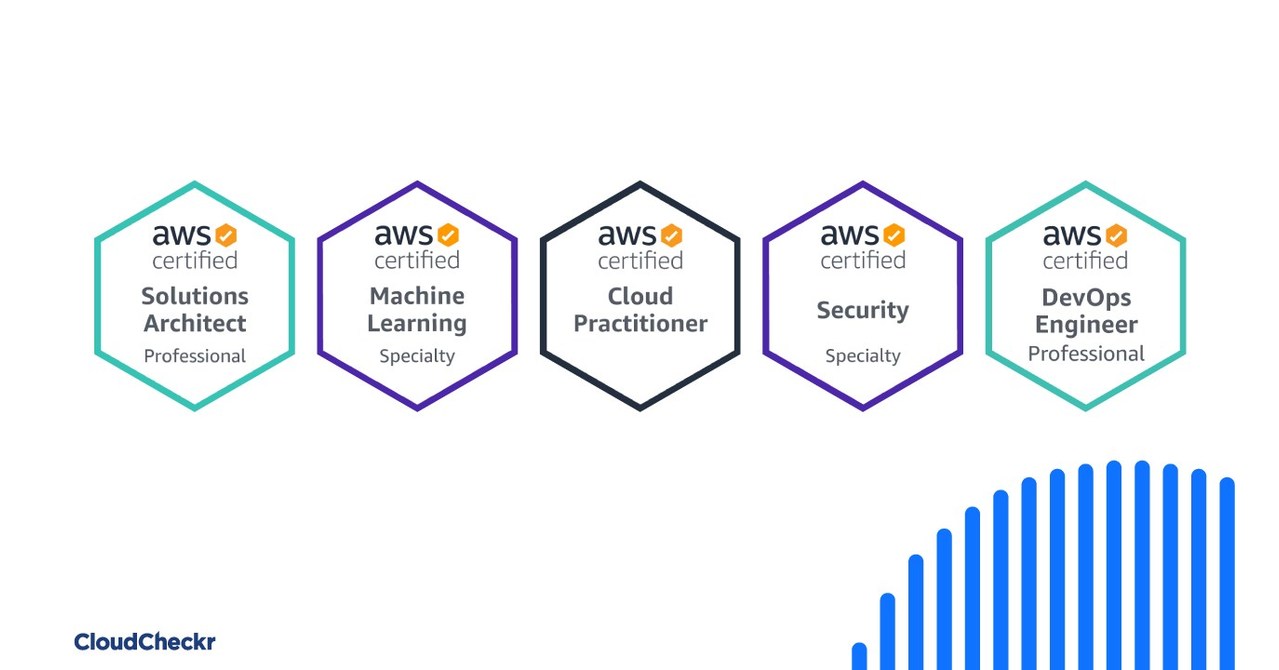 CloudCheckr exceeded its own expectations with a final tally of 86 individual certifications, from a goal of 80, including every individual certification offered by AWS. The company's commitment to industry skills development and a 9-year partnership with AWS underscore its reputation as a leading solution for securing, managing, and governing the most sensitive environments in the world.
"The '80 in 80′ program allows employees of all levels to become familiar with AWS offerings, ensuring CloudCheckr is always at the forefront of innovation and understands new services on the market," said Alana Fitts, director of sales strategy at CloudCheckr. "We constantly provide employees with new development opportunities, and this program is just one example of how we strengthen our commitment to employees, partners, and clients."
CloudCheckr first introduced a '60 in 60′ program back in 2018 and achieved more than 80 certifications in the 60 days. This summer, the team decided to expand the program and encouraged employees in every department, from DevOps to Information Security to Sales and Marketing, to become certified with AWS. As a long-standing AWS partner, CloudCheckr's customers expect development teams to stay up-to-date on new services. However, the company extended this commitment company-wide, and now over 65% of CloudCheckr employees have at least one certification.
CloudCheckr is also working to achieve two new AWS competencies, DevOps and Data & Analytics, adding to their existing Security, Government, Cloud Management Tools, and Microsoft Workloads competencies. To keep up with the current pace of innovation, CloudCheckr continues to ensure its teams are equipped with the right skills to improve its CMx platform and offer the best solution for large enterprise, public sector, and managed services.
"CloudCheckr's competency and certification achievements are evidence of our competitive edge in the AWS partner ecosystem, and we can say that all employees are thoroughly knowledgeable about the platform and industry," Fitts said. "We look forward to growing our AWS partnership and continuing to provide opportunities for employees to expand their professional development at CloudCheckr."
Broadening their commitment to professional development, the company recently hosted a free virtual event on closing the skills gap in enterprise information technology departments. Higher Learning: Preparing Your People for the Public Cloud included AWS Director of Learning Products, Scott Barneson, as well as A Cloud Guru SVP of Cloud Transformation, Drew Firment. They shared their experiences in building workforce learning and development programs that place IT pros on the learning path to cloud adoption success. The event is now available to watch on-demand on CloudCheckr.com.
About CloudCheckr
CloudCheckr delivers 30% savings on public cloud costs while managing the risks of cloud security and regulatory compliance. Our total visibility platform works across multiple public clouds and hybrid workloads—making immediate cost savings achievable from the most complex cloud infrastructure. From government agencies to large enterprise and managed service providers, CloudCheckr customers deploy our SaaS solution to secure, manage, and govern the most sensitive environments in the world. Our industry-leading products for cost management, billing & invoicing, cloud security, compliance, resource inventory & optimization, and cloud automation include CloudCheckr CMx, CMx High Security, CMx Federal, and CloudCheckr Finance Manager. For more information, visit CloudCheckr.com, connect with CloudCheckr on LinkedIn, or explore the CloudCheckr Resource Center.
Media Contact
Bridget Devine
Walker Sands
bridget.devine@walkersands.com
(312) 561-2492
SOURCE CloudCheckr
Brianna Vay, Technical Product Manager, CloudCheckr
Eric Morrissey, Sales Engineer, CloudCheckr
Only CloudCheckr provides one dashboard cloud management across Amazon Web Services (AWS), Microsoft Azure, and Google Cloud with independent cost management and comprehensive security & compliance built for the scale of modern enterprises and public sector. (PRNewsfoto/CloudCheckr)
(This news has not been edited by the Life Care team, it is published directly from the agency feed.)
Friends if you like this post, please hit the like button below and share this post with your family, friends and colleagues more health related news, articles and updates. Like our Facebook Page, Subscribe Our YouTube Channel And Follow Us On Twitter.
(This News has not been edited by the Life Care team, it is published directly from the agency feed.)
Legal Disclaimer
LifeCareNews.in provides the information "as is" without warranty of any kind. We do not accept any responsibility or liability for the accuracy, content, images, videos, licenses, completeness, legality, or reliability of the information contained in this article. If you have any complaints or copyright issues related to this article, kindly contact the provider above.