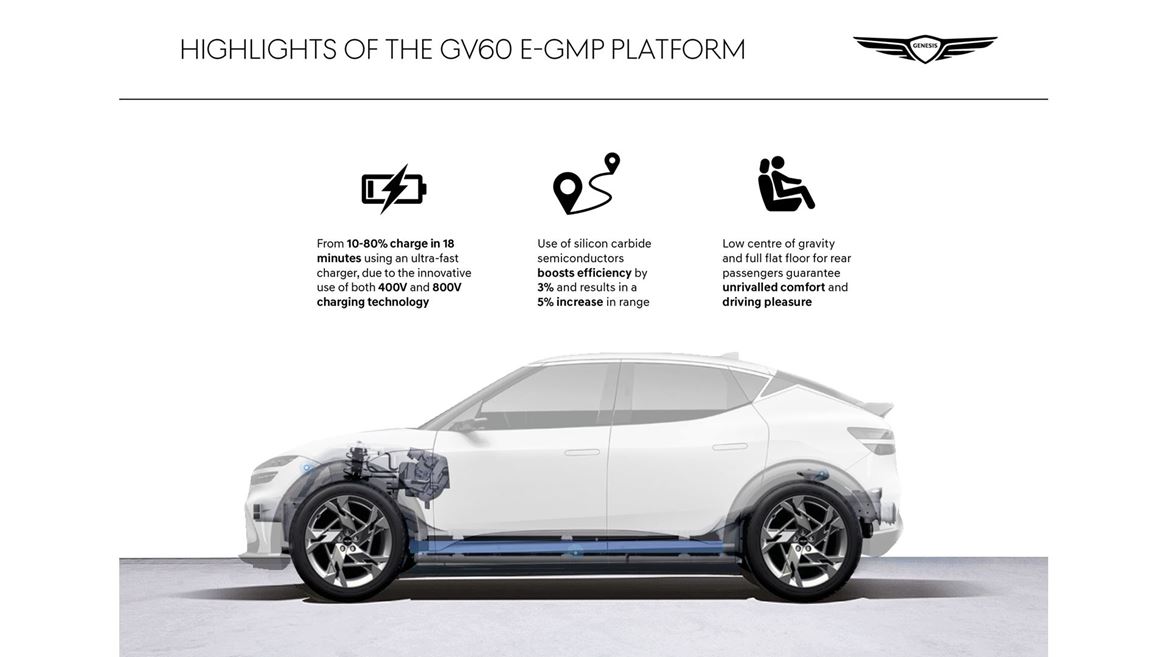 CUTTING EDGE ELECTRIC−GLOBAL MODULAR PLATFORM DELIVERS WORLD−LEADING INNOVATION AND TECH TO GENESIS GV60
Genesis GV60 uses the brand's world-leading Electric-Global Modular Platform

Innovative features help deliver greater efficiency, performance and driving pleasure

Pioneering use of silicon carbide boosts energy efficiency by 3% and range by 5%

Using an ultra-fast charger and under optimal conditions E-GMP can charge from 10 to 80% in as little as 18 minutes
FRANKFURT, Germany, January 25 2023:  With its advanced and sophisticated E-GMP platform, Genesis GV60 is leading the way in electric vehicle technology. Featuring innovative and pioneering features designed to deliver unrivalled performance, driving pleasure and efficiency, GV60 sets new standards for the luxury EV sector.
Even the smallest details highlight the Genesis commitment to delivering class-leading BEV (Battery Electric Vehicle) technology that has been designed to make the switch to electric mobility effortless and rewarding. 
Cutting-edge performance and dynamics
GV60 features the firm's exceptionally compact Power Electric (PE) system, which consists of the motor, an EV transmission and inverter. These three components are integrated into a single compact module which are almost exclusive to E-GMP.  This offers efficiency gains of around 2 to 3 percent compared to more common silicon semiconductors and an approximate 5 percent increase in range for the same battery energy. 
On the Sport Plus AWD (All-Wheel Drive) model the motor can also spin at speeds of up to 19,000rpm, which is around 50 percent faster than traditional units. Not only does this allow incredible power, with up to 360 kW (490PS) available with Boost mode that unleashes an extra 40kW for up to 10 seconds. The ability for the motor to spin so quickly also allows a top speed of up to 146mph (235km/h), without the need for a heavy and complicated multi-ratio gearbox.
Further E-GMP innovation comes in the form of the Genesis Disconnector Actuator System (DAS), which on AWD models can quickly and smoothly connect or disconnect the front motor from the drive wheels. This allows all-new GV60 to freely switch between RWD and AWD depending on the system requirements, minimizing power loss and ensuring efficient driving. Unlike rival twin motor models that simply cut the energy supply to one motor, which results in significant losses as the motor is still being turned as the car is moved, DAS completely cuts drive to both reduce resistance and boost efficiency.
Smart braking, smart charging
This system works seamlessly with the Smart Regeneration System 2.0, which fine-tunes energy regeneration by automatically adjusting the regenerative braking levels according to data from traffic and navigation map information. In doing so, it more effectively channels energy that would otherwise be lost back into the battery, enhancing GV60's already strong range of up to 321 miles.
At the heart of E-GMP is the patented electrical architecture that enables both 800 V and 400 V charging without the requirement for additional components or adapters. This advanced technology allows for stable charging regardless of the infrastructure, meaning all owners need to do is plug-in and relax. More importantly, when charging at a maximum power of 240 kW using an ultra-fast charger, the battery can be charged from 10% to 80% in just 18 minutes. 
Such fast-charging times are also made possible by E-GMP's unique battery conditioning function that manages the battery's temperature to ensure optimal conditions. The state-of-the-art system can also preheat the cells in the 77.4 kWh lithium-ion battery to secure better performance when the battery temperature is low, ensuring that fast-charging is possible even in extreme conditions.
Genesis is also a pioneer of bi-directional charging, with the E-GMP delivering a unique V2L (Vehicle to Load) function that allows owners to use GV60 as a mobile power source. Capable of providing a 3.7 kW charge, which is more than supplied by most domestic sockets, it provides access to electricity regardless of location, such as when camping or enjoying outdoor activities. From laptop computers to electric bicycles and portable fridges, GV60's state-of-the-art technology can keep them fully charged and functional even when miles from the nearest power source. In fact, GV60 was the first model across the entire Hyundai Motor Group to feature the E-GMP platform, including model derivatives including the Kia EV6 and Ioniq 5.
Lawrence Hamilton, Managing Director for Genesis Motor Europe, commented: "Genesis is committed to creating an electrified future that remains loyal to the brand's values of innovation, luxury and driving pleasure. Designed from the ground up for full electrification, GV60 is packed with pioneering features that improve performance and efficiency, yet also help make the transition to electric ownership an easy and exciting experience for our customers."
Orders for the 2023 model year GV60 are now open in the UK in either Premium, Sport or Sport Plus versions, with pricing starting from £53,100. Customers can tailor their GV60 using the online configurator where they can choose from a whole range of optional packages and personalise the car's exterior and interior features.
For more information on the GV60, please head over to https://www.genesis.com/uk
About Genesis
Genesis brings premium cars with a luxury experience to Europe. The Korean brand has established itself as a true alternative within the premium segment, receiving multiple award wins in 2022. With a commitment to hospitality and great service, Genesis strives to build sincere relationships with customers and, above all, to respect the greatest luxury – their time. Embodying its unique design language 'Athletic Elegance', the brand continues to strengthen its range of vehicles and services across Europe having launched five premium luxury vehicles in 2021. Genesis introduced three electric vehicles in 2022 and, from 2025, all-new Genesis vehicles will be pure electric as part of the brand's vision for a sustainable future. Genesis is also pursuing a goal to become carbon net zero by 2035.
For more information about Genesis and its definition of premium, please visit www.genesis.com.