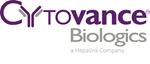 Cytovance Biologics Announces Ping Zhang as Chief Executive
OKLAHOMA CITY, Jan. 16, 2023 (GLOBE NEWSWIRE) — Cytovance® Biologics, a leading biopharmaceutical contract development and manufacturing organization (CDMO) of mammalian and microbial biologics, announces the appointment of Mr. Ping Zhang as Chief Executive Officer. In his role as CEO, Mr. Zhang provides oversight in the development and execution of the company's business strategies in the contract manufacturing industry. He holds a Master of Business Administration and serves on the board of other subsidiaries within the Hepalink Group.
Mr. Zhang has over 30 years of experience in manufacturing and operations in the pharmaceutical industry. He served at Sanofi as the Head of Industry Affairs China for 20 years and was responsible for seven plants across China. Mr. Zhang has extensive experience in technical transfer and new product launch at Sanofi China. Prior to that, he served as the Head of Manufacturing at Johnson & Johnson China for 14 years.
"At Cytovance, everything we do here is driven by our mission and responsibility to our customers who use our products and services to enable the world to be a healthier, safer, and better place." said Mr. Ping Zhang. "As a biologics CDMO that focuses on development and manufacturing for more than 20 years, we are constantly striving to provide value to customers and patients."
About Cytovance® Biologics
Cytovance® Biologics is a leading biopharmaceutical Contract Development and Manufacturing Organization (CDMO) that excels in the rapid and cost-effective development and manufacture of large molecule active pharmaceutical ingredients (APIs) from both mammalian cell culture and microbial fermentation such as monoclonal antibodies, fragment antibodies, bispecifics, enzymes, fusion proteins, vaccines, and other biological products, including plasmid DNA and cell-based therapeutics. In addition to its clinical and commercial CGMP API manufacturing services, Cytovance offers well-integrated development services supporting the entire product lifecycle, including cell line development, cell banking, microbial strain development, process and analytical development, and process characterization. A centralized, responsive program management team coordinates all critical chemistry manufacturing and controls (CMC) activities for each client program around raw materials management, QC testing, ICH stability studies, and regulatory support. Our 140,000 sq. ft. state-of-the-art facilities in Oklahoma City are designed to meet U.S., EU, and other global regulatory standards.
Cytovance offers deep industry expertise and unique customized services for the scale-up and CGMP manufacture of protein-based therapeutics; from early-stage pre-clinical development to commercial production, for both mammalian and microbial. Further information can be found at www.cytovance.com.
Cytovance, your responsive, reliable, and resourceful partner.
Media Contact:
Ruofu Huang
Tel: 405-319-8310        
E-mail: marketing@cytovance.com