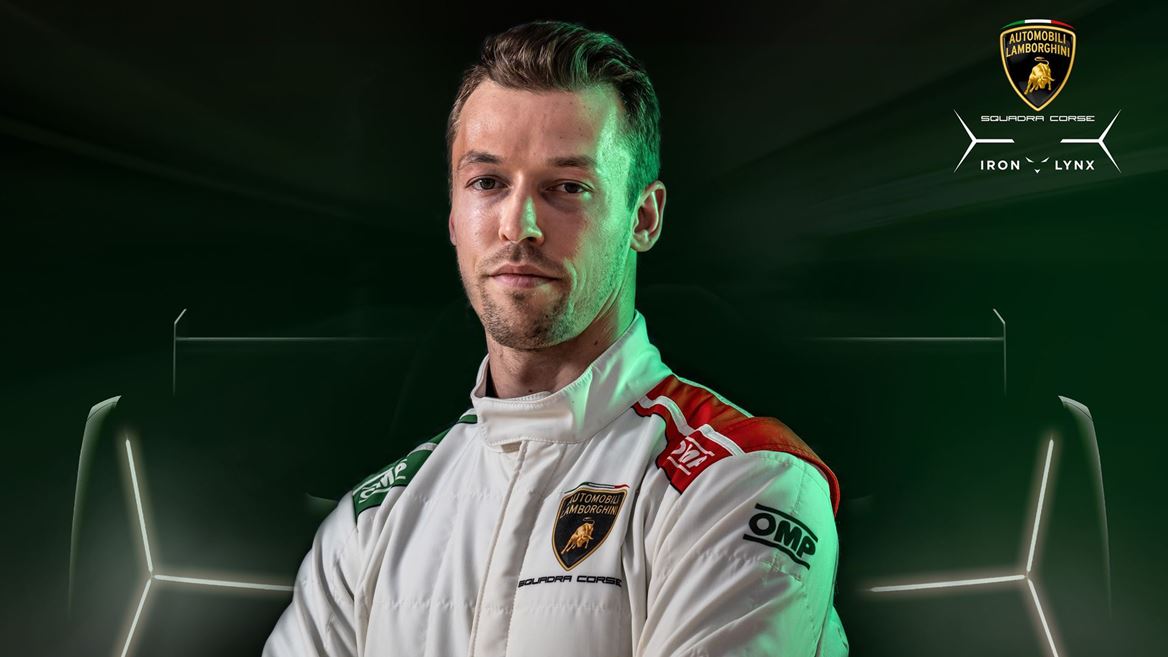 Daniil Kvyat unveiled as latest addition to Lamborghini Factory Driver roster
The Italian-licensed driver will perform the role of LMDh test driver this year ahead of 2024 WEC and IMSA season with Iron Lynx
Sant'Agata Bolognese, 13 April 2023 – Former Formula 1 driver Daniil Kvyat has been announced as an official Lamborghini Squadra Corse Factory Driver, carrying out extensive testing of the firms' LMDh prototype this year before making his race debut in 2024 with Lamborghini Iron Lynx in the WEC and IMSA Championships.
Kvyat is the latest newcomer to the Sant'Agata Bolognese outfit's roster of Factory Drivers for the LMDh project along with Mirko Bortolotti, Andrea Caldarelli and Romain Grosjean.
Having spent much of his youth based in Rome, Kvyat quickly rose through the karting ranks up the junior single seater ladder towards F1, winning the Formula Renault Alps title and finishing second in the Formula Renault 2.0 championship in 2012 before taking the GP3 Series crown a year later. A Red Bull Junior driver since karting, he was then promoted directly to F1 with Scuderia Toro Rosso, impressing enough to graduate to Red Bull Racing in 2015. He finished second in the Hungarian Grand Prix that year, before moving back to Toro Rosso 12 months later where he would score another third place in the 2019 German Grand Prix.
Daniil Kvyat's programme in 2023 will consist of a season in the World Endurance Championship, racing for PREMA Racing in the highly competitive LMP2 class alongside with Factory Driver Mirko Bortolotti and the French driver Doriane Pin of the Iron Dames project.
Concurrently, Kvyat will be carrying out extensive test and development work on Lamborghini's LMDh prototype with which he will contest the IMSA WeatherTech Sports Car Championship and the FIA World Endurance Championship in the Hypercar class next year. Kvyat will compete under an Italian race license.
Head of Motorsport at Lamborghini Squadra Corse, Giorgio Sanna, said: "As a group, we are very excited to welcome Daniil to Lamborghini and believe he will be a strong asset to our LMDh project over the course of the 2023 season. Daniil's main role with us will be working closely with our engineers and mechanics on the prototype car which will debut next year and given his vast experience in other racing categories, I have no doubt that he will play a crucial part in us hitting the ground running in 2024."
Daniil Kvyat said: "I am very happy to have joined Lamborghini Squadra Corse, it is a great honour for me. Lamborghini is a very well-known Italian brand with a great history in automotive world and, having grown up in Italy, this is an additional source of pride for me. We hope to achieve many goals together, I thank you for your trust in me and I look forward to starting work on the LMDh project later this year."