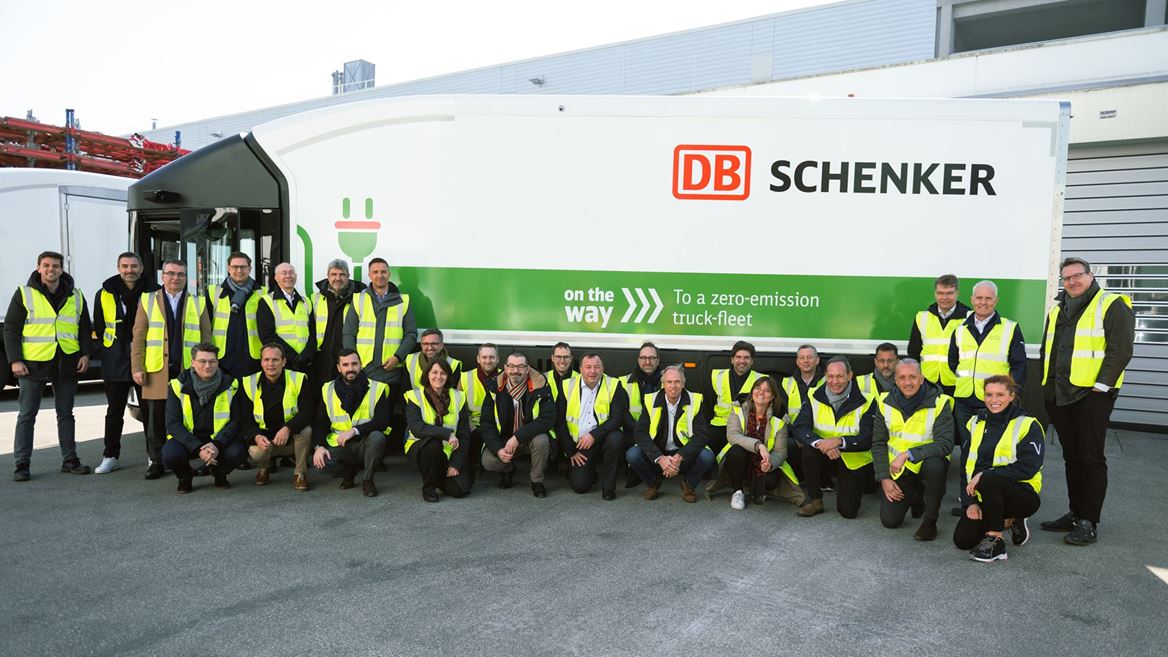 DB Schenker visits Volta Trucks contract manufacturing facility to see pre−production progress of the all−electric Volta Zero
Review of pre-production progress of next phase all-electric Volta Zero test truck.

Test truck, to be one of a fleet of trucks, destined for upcoming European field trial.

DB Schenker to take delivery of 150 series production Volta Zeros in 2023.
Volta Trucks, the leading and disruptive all-electric commercial vehicle manufacturer and services provider, welcomed DB Schenker, one of the world's leading logistics service providers, to its contract manufacturing facility in Steyr, Austria, this week to see the final prototype generation of the all-electric Volta Zero truck in pre-production, as they prepare to take delivery of 150 series production Volta Zeros later this year. 
The Volta Zero Production Verification prototype, which DB Schenker witnessed the build of in Steyr, will be one of a fleet of test trucks which the company will operate as part of a European field trial. The fleet of trucks will be used in DB Schenker's European terminals to transport goods from distribution hubs to the city centres and urban areas. This is where the vehicle's innovative design that uses a safety-oriented cab to protect vulnerable road users, as well as its zero-tailpipe emission drivetrain, will offer the greatest benefits.
In September 2022, DB Schenker and Volta Trucks successfully completed the very first on-road testing of the all-electric Volta Zero Design Verification prototype in Paris. This was part of an engineering development phase where no load could be carried. The next phase of testing will enable DB Schenker to operate the Volta Zero in real distribution environments carrying full payloads.
DB Schenker will be operating these test vehicles in 18 different cities across Europe and Scandinavia, including France, Germany, Spain, Italy, the Netherlands, Sweden & Norway.
Essa Al-Saleh, Chief Executive of Volta Trucks, said: "Being able to welcome DB Schenker to our contract manufacturing facility in Steyr and show them, first-hand, the production progress of their first all-electric Volta Zero test vehicle, is extremely exciting. DB Schenker has joined us on the journey to decarbonization, and they've been able to experience and see the many safety and environmental advantages that the Volta Zero will bring to their urban logistics, and making our cities safer and more sustainable. Meeting with them in Steyr and being able to show them the actual vehicle that they'll be testing in its build phases brings the whole experience to life, and is a significant step for all of us."
Cyrille Bonjean, Head of Land Transport at DB Schenker Europe, continued: "Once again, DB Schenker is taking a pioneering role. As the market leader, we aspire to be the world's number one provider of green logistics. We take responsibility for a reduction of emissions resulting from our fleet operations. The European field test of the Volta Zero Trucks is an important milestone for us and for Volta Trucks. The feedback of our drivers and carriers will be taken into account for the series production of the all-electric Volta Zero. With the on-boarding of the first 150 Volta Zero series production vehicles later this year, we will be able to deliver emission-free with more than 330 eTrucks from 7,5t to 19t in 124 cities across 22 countries plus around 70 cargo bikes – an e-fleet unmatched in the freight forwarding market."
Editor's notes
About the Volta Zero
The Volta Zero is the world's first purpose-built all-electric 16-tonne vehicle designed for urban logistics, reducing the environmental impact of freight deliveries in city centres. Designed from the ground up with an operating pure-electric range of 150 – 200 kms (95 – 125 miles), the Volta Zero will eliminate an estimated 1.9M tonnes of CO2 by 2026.
Safety is also at the heart of Volta Trucks, with the ambition to produce the safest trucks for our cities. The Volta Zero was designed for electric from the outset, which facilitates a step-change in vehicle, driver and pedestrian safety. Thanks to the removal of the internal combustion engine, the operator of a Volta Zero sits in a central driving position, with a much lower seat height than a conventional truck. This combination, plus a glass house-style cab design, gives the driver a wide 220-degrees of visibility, minimising dangerous blind spots.
Volta Trucks is also innovating with its Truck as a Service proposition that is revolutionising the financing and servicing of commercial vehicle fleets. Truck as a Service offers fleet managers a frictionless and hassle-free way to electrify their fleet and helps them with every step by offering a single, affordable, monthly fee that provides access to an all-electric Volta Zero, and all its charging infrastructure, servicing, maintenance, insurance, and training requirements, maximising uptime and operational efficiency.
About Volta Trucks
Volta Trucks was founded in 2019 in Sweden by co-founders Carl-Magnus Norden and Kjell Waloen. The company, focused primarily on operations across all major cities in Europe and the UK, aims to accelerate the transition to fully electric trucks, reducing the effects of climate change and helping make our cities safer, healthier and more sustainable for everyone. Volta Trucks is partnering with a number of global leaders in the supply chain for the development and production of the Volta Zero, at pace and scale. In total, Volta Trucks has raised over €360 million funding to date.
The company's contract manufacturing facility is in Steyr, Austria, where production of customer specification vehicles is starting in early Q2 2023. The company has also established a network of 'Volta Trucks Hub' service and maintenance facilities in its launch markets, with the first four already announced in Bonneuil-sur-Marne, to the south of Paris, in Tottenham, London, Duisberg, to the west of the Rhine-Ruhr region in Germany, and in Madrid, Spain.
About DB Schenker
With around 76,100 employees at more than 1,850 locations in over 130 countries, DB Schenker is one of the world's leading logistics providers. The company operates land, air, and ocean transportation services, and it also offers comprehensive solutions for logistics and global supply chain management from a single source. To reach its ambitious goal of carbon-neutrality until 2040, the logistics service provider continuously invests in innovative transport solutions, renewable energies, and carbon-neutral products for its customers.