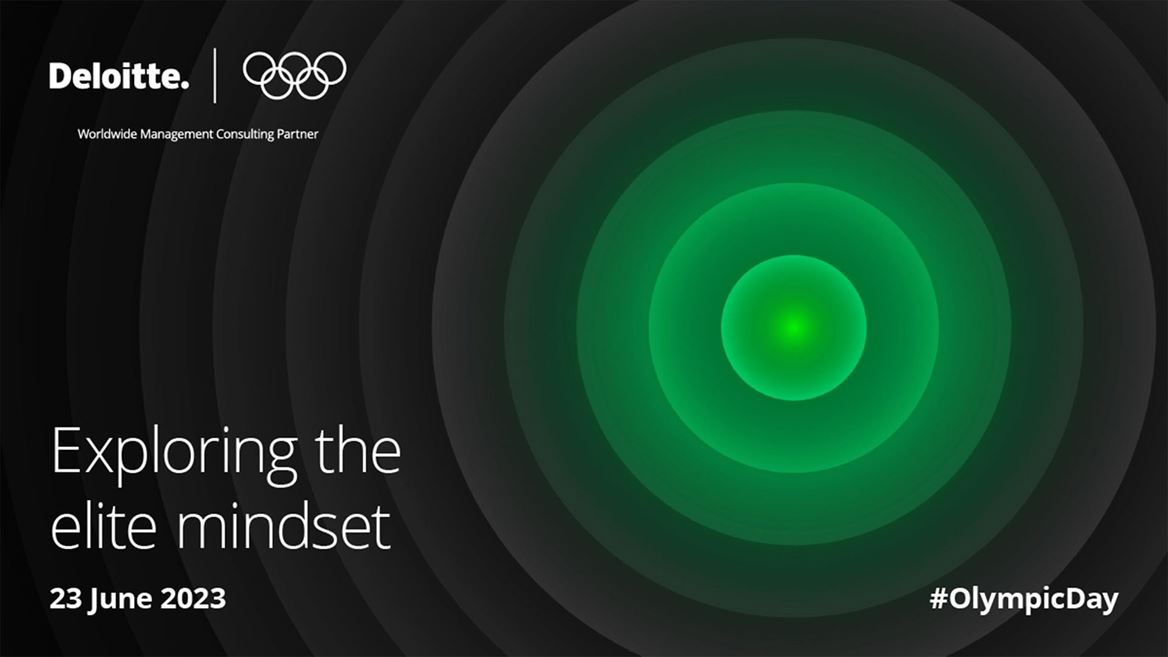 Deloitte kicks off month−long programme to 'ignite the champion within' its people
13 Jul 2023 – Worldwide Olympic Partner Deloitte marked Olympic Day Let's Move initiative on 23 June with the launch of an exciting month-long programme of Olympic-themed activities for its 415,000+ people, helping them to "ignite the champion within" leading up to the one-year-to-go milestone for the Olympic Games Paris 2024.
The activities included in Deloitte's programme are designed to align with the International Olympic Committee's (IOC's) Let's Move initiative, promoting physical activity and getting the world moving. They encompass a range of engaging and interactive experiences, such as short "masterclasses" featuring renowned Olympians and Paralympians (who also happen to be Deloitte professionals), suggested workouts to encourage different types of movement, quizzes related to Deloitte's partnership with the Olympic and Paralympic Movements, and opportunities to win prizes and have a donation made in their name to the Olympic Refuge Foundation.
"Each year, Olympic Day enables Deloitte to celebrate our TOP partnership, the Olympic and Paralympic Movement, and several essential elements of our culture such as well-being, inclusivity, and resilience." says Elizabeth Faber, Global Chief People & Purpose Officer, Deloitte Global. "We are honored to have Deloitte professionals who are remarkable Olympians, Paralympians, and hopefuls who embody the unique qualities required to make possibilities a reality in both elite sport and business, thereby inspiring their colleagues around the world.
This campaign builds momentum for many activations in the year ahead, including the upcoming Team Deloitte launch and One-Year-to-Go milestones in July, the co-created digital campaign we will launch with IOC early next year, and our client and talent leadership programs for Paris 2024."
To kick off the campaign, Deloitte hosted a webinar on Olympic Day, focusing on the significance of movement and mental health as part of a holistic approach, exploring what it takes to be an elite athlete and how many of those practices help them beyond sport to find balance and purpose in both their professional and personal lives. The 45-minute webinar, titled "Exploring the Elite Mindset", featured Deloitte US Chief Well-being Officer, Jen Fisher, as the host, with insights from renowned Australian athlete Natalie Cook OAM OLY, gold-medallist, and five-time Olympian in beach volleyball and Ian Dors, US Paralympic triathlon Paris 2024 hopeful.
The highlight of the internal campaign is the athlete-led masterclasses, where participants can learn valuable insights and lessons from accomplished athletes, who are all Deloitte professionals. These masterclasses include sessions such as "Supercharge your focus," hosted by Susana Romero Steensma OLY, which teaches participants how to prioritise and manage their day better using an athlete's mindset. Rebecca Wing OLY leads a session titled "Stretch yourself," which encourages individuals to step out of their comfort zones and pursue passion projects. John Whitney PLY hosts "Make possibility a reality," emphasising the importance of balancing long-term goals with immediate tasks to help unlock one's true potential. Lastly, Jodi Evans OLY and Noemie Thomas OLY jointly present "Bounce back better," highlighting the power of resilience and the ability to turn failures into growth opportunities.
One masterclass will be released each week, to align with a theme, along with supporting content. Participants can engage in these activities at their convenience throughout the month, earning points for their respective countries, with additional bonus points awarded for photos submitted to be featured on an "Experience wall". A leader board prominently displayed on the campaign hub will track the points earned by each country, creating a sense of friendly competition among the participants.
"The Deloitte Championships are a wonderful opportunity to come together to celebrate Olympic Day, have fun and support our respective countries.", says Karen Aranky Aparicio, Marketing Manager, Deloitte Spain. "Learning what it takes to face and overcome challenges from our colleagues who are acclaimed Olympic and Paralympic athletes is insightful, and hearing their personal stories hopefully inspires us to make an impact collectively to create a better world through sports."
The campaign will run until 21 July, with "winners" (drawn randomly from the three countries topping the leader board) announced on 26 July to mark the one-year-to-go milestone for the Olympic Games Paris 2024. By extending the Olympic Day activities across the four weeks, the campaign aims to engage Deloitte people and bring them closer to their Olympic and Paralympic partnership.
Deloitte joined The Olympic Partner (TOP) programme in 2022, forming a "partnership with purpose" with the IOC that leverages Deloitte's considerable business acumen to help the IOC realise the possibilities of its strategic roadmap for the future, Olympic Agenda 2020+5, and its vision to build a better world through sport.
About Deloitte
Deloitte refers to one or more of Deloitte Touche Tohmatsu Limited ("DTTL"), its global network of member firms, and their related entities (collectively, the "Deloitte organization"). DTTL (also referred to as "Deloitte Global") and each of its member firms and related entities are legally separate and independent entities, which cannot obligate or bind each other in respect of third parties. DTTL and each DTTL member firm and related entity is liable only for its own acts and omissions, and not those of each other. DTTL does not provide services to clients. Please see www.deloitte.com/about to learn more.
Deloitte provides industry-leading audit and assurance, tax and legal, consulting, financial advisory, and risk advisory services to nearly 90% of the Fortune Global 500® and thousands of private companies. Our professionals deliver measurable and lasting results that help reinforce public trust in capital markets, enable clients to transform and thrive, and lead the way toward a stronger economy, a more equitable society, and a sustainable world. Building on its 175-plus year history, Deloitte spans more than 150 countries and territories. Learn how Deloitte's approximately 415,000 people worldwide make an impact that matters at www.deloitte.com.