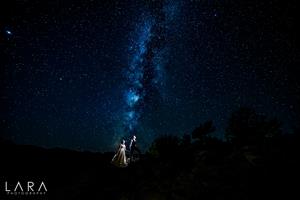 Denver Wedding Photographer Named One of the Top in the
DENVER, Feb. 16, 2023 (GLOBE NEWSWIRE) — For the third year in a row, Denver Wedding Photographer Sean Lara has been named one of the top 25 wedding photographers in the world.
Each year, the Wedding Photojournalist Association announces its rankings of the top wedding photographers in the world. Since Lara first started entering his photos for judging in 2020, he's made this list each year with his highest ranking to date being at number 5 in the world and number 2 nationally. This award is given to those photographers that score the most points with judges in their yearly competitions. The more creative the photograph, the more points it's awarded. What makes this competition unique is that the wedding photos submitted may only be from real events from that calendar year to ensure the photographer is a current working professional.
"The first year I received this award I was incredibly humbled and blown away," Lara said, "and 3 years later, I still have that same feeling. I would not have been able to achieve this amazing honor without the couples that have trusted me to capture their wedding, so I must give them recognition as well by providing them with a huge thank you."
Lara captures weddings with a story-telling approach focusing on real moments and authenticity in his imagery. When it's time to get creative during the portrait session of the day, he incorporates the surrounding landscape with his bold and vibrant "environmental portraiture" style.
Sean Lara is a wedding photographer servicing the Denver area and all of Colorado and is currently booking engaged couples for 2023 and 2024 weddings. His portfolio can be viewed at https://seanlara.com/Denver-wedding-photographer. 
sean@seanlara.com
970 999 4093