Direct-To-Satellite Communications to Generate $9 Billion
LONDON, Feb. 22, 2023 (GLOBE NEWSWIRE) — A new report from Kaleido Intelligence, a leading connectivity market intelligence and consulting firm, has found that direct-to-satellite connectivity, where unmodified cellular smartphones and IoT devices leverage satellite communications networks, will see revenues for connectivity services reach over $9 billion annually in 2030.
Satcom (Satellite communications) services promise to enable the 'everything, everywhere' vision for cellular connectivity, serving as a failover for terrestrial coverage 'not spots'.
Kaleido anticipates significant potential for IoT initiatives, forecasting over 460 million connections by 2030, although it notes that the path towards market traction is fraught with challenges.
See the full research details here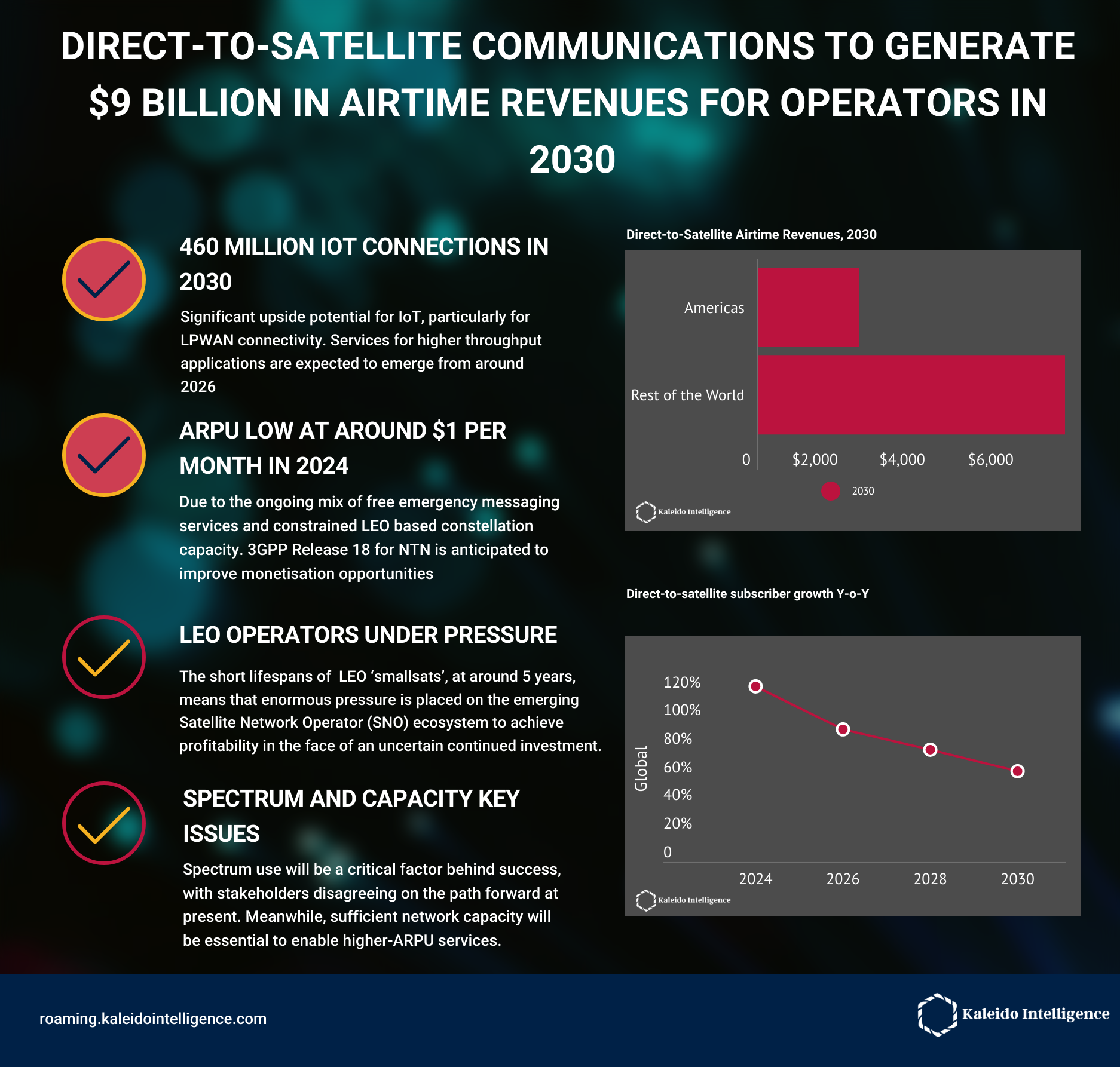 Cellular-Satellite Communications Market is Now Ripe for Growth
The research, Cellular-Satellite Communications: Opportunities & Outlook 2023-2030, highlighted that the market is moving from proprietary solutions based on bulky, expensive hardware and high-cost airtime services towards services that are able to connect to unmodified cellular devices, signalling a new era for Satcoms.
Chipset makers such as Qualcomm, MediaTek and Sony Semiconductor are supporting this new architecture. Meanwhile, the 3GPP has started the path towards integrated cellular and satellite communications networks, following the finalisation of the NTN (Non-Terrestrial Networks) standard as part of 5G Release 17 last summer. Standardisation and hardware ecosystem support means that the market is now ripe for growth.
Economics and Capacity Critical to Success
At this stage of the market, large ecosystem barriers remain in place. The high-cost nature of launching and maintaining satellites in orbit inherently raises airtime costs for customers, and whether pricing models can be offered that prove sustainable remains under question. Meanwhile, approaches towards spectrum use remain divided at a regulatory level and commercial level, with capacity ultimately likely to remain constrained for the foreseeable future. In turn, this will limit available bandwidth and the scope of overall service potential.
Steffen Sorrell, Chief of Research at Kaleido, commented: "Using existing GEO-based capacity looks the most sustainable way forward for LPWAN IoT connectivity, but few providers have opted for this path. Meanwhile, the relatively low data rates offered by NTN-NR will ultimately mean that the revenue opportunity will remain constrained until at least 2030. Further industry consolidation is inevitable as the market positions itself."
VIEW THE FULL PRESS RELEASE ON OUR WEBSITE
About Kaleido Intelligence
Kaleido Intelligence is a specialist consulting and market research firm with a proven track record delivering telecom research at the highest level, delivering a range of mediums including:
Data Forecasts by Market
Historical & Forecast Viewpoints
Competitive Intelligence
Strategic Insight
Trend Analysis
Research is led by expert analysts, each with significant experience delivering telco research and insights that matter.
Contact details for further information:
Jon King
Chief Commercial Officer, Kaleido Intelligence
Jon.king@kaleidointelligence.com
A photo accompanying this announcement is available at https://www.globenewswire.com/NewsRoom/AttachmentNg/da447c7c-cf44-4922-84dc-4d1a1ca480d9