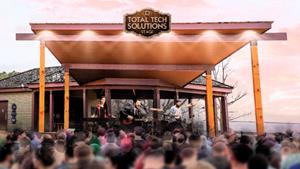 Discovery Park of America Announces Total Tech Solutions
Union City, Tennessee, Feb. 24, 2023 (GLOBE NEWSWIRE) — Union City, Tenn.— Discovery Park of America has announced a new partnership with Total Tech Solutions that includes naming rights of the museum and heritage park's new performance venue. The Total Tech Solutions Stage will be located on the south side of the park near the Train Depot.
Total Tech Solutions is a provider of burglary and fire alarms, surveillance cameras, access control and data and managed information technology. They serve commercial, educational, industrial and residential customers throughout Tennessee and Kentucky.
The announcement was made at Discovery Park on Thursday at the official kick-off of the celebration of the Obion County Chamber of Commerce's 100th birthday. That event, also sponsored by Total Tech Solutions, included a free concert by Randall French, John McDaniel and Darryl Worley.
"As our business continues to grow and expand, we've been looking for ways we can support the communities we serve," said Total Tech Solutions's founder and chief executive officer Chaz Robinson. "I believe providing a way to encourage more live music in the region is a great way to do that."
"Discovery Park has been the host of many live performances since first opening to the public ten years ago, but these are always on temporary stages we put up and take down," said Discovery Park's president and CEO Scott Williams. "All of us here are grateful to Total Tech Solutions for providing a permanent stage in West Tennessee for entertainment of all kinds."
The Total Tech Solutions Stage will first open to the public on Friday, May 5, 2023 for the opening night of Discovery Park's free, annual summer music festival, Rhythm on the Rails.
Although the full festival lineup has not yet been announced, entertainment for the festival will include Texas Hill with Adam Wakefield, Ghost Town Blues Band and B.B. King's Blues Club All-Star Band.