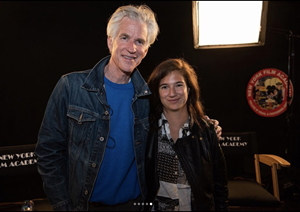 Documentary by New York Film Academy Matthew Modine
New York, NY, Jan. 13, 2023 (GLOBE NEWSWIRE) — The Sundance Film Festival has officially selected a short documentary by two New York Film Academy (NYFA) Master of Fine Arts degree program alumni for its 2023 edition. Shirampari: Legacies of the River will screen in competition as part of the Documentary Short Films category. Both filmmakers are international recipients of the prestigious U.S. Department of State's Fulbright Program, the Matthew Modine Masters Scholarship (MMMS), 10 ARTS Foundation funding, and a National Geographic Explorer grant.
Held in Park City, Utah, this year's Sundance Film Festival had more than ten thousand short film submissions, resulting in a final selection of only sixty-four. The festival, organized by the nonprofit Sundance Institute and founded by legendary actor Robert Redford, showcases feature films, documentaries, and short films in various languages. It will run from January 19-29, 2023.
Shirampari, directed and written by Lucia (Chía) Flórez and produced by José Miguel (Chémi) Pérez, takes place in a remote part of the Peruvian Amazon rainforest. The film is a coming-of-age story centered around Ricky, an eleven-year-old member of the Ashéninka tribe. To enter manhood, Ricky must overcome his fear of catching a giant catfish using only a single hook.
According to director Flórez, "Making this film was transformational. Working in such a remote and pristine location was both a privilege and a responsibility. It is necessary to tell these stories since ecosystems and cultures like this one are under constant threat." You can learn more about Flórez's background and vision in her Sundance segment of 'Meet the Artist 2023.'
The short documentary was filmed in a verité style in the native tongue of Ashéninka and shot in Yurúa, a well-preserved and remote part of the Amazon rainforest. Production took place in the Native Community of Dulce Gloria in one of the biggest and best-preserved blocks in Peru, commonly known as "Alto Purús." Unfortunately, due to the high demands of construction, the area faces the threat of deforestation. 
Producer Pérez declared, "With this film, we want to give voice to the Ashéninka people of Yurúa. Their land is about to be changed forever due to the construction of a highway connecting the region with Brazil. Their cultural and environmental heritage has a clear expiration date. This short is not only a way to introduce the Ashéninka values and legacies to the world but also a call to action."
In 2022, Shirampari found success on the festival circuit, screening at Murcia Festival International de Cine IBAFF in Spain, Shorts Mexico, DOKLeipzig in Germany, Suncine in Spain and Mexico City, Spektrum Film Festival in Poland, Chicago International Children's Film Festival, DOC NYC, Lima Alterna in Perú (awarded 'best film'), and Amazonia (Fi) Doc in Brazil (awarded 'best film').  
Both alumni received a Matthew Modine Masters Scholarship, which provides financial assistance to outstanding candidates of NYFA's Master of Fine Arts programs in select disciplines. Golden Globe-winning actor and filmmaker Matthew Modine, who is a member of the New York Film Academy's Board of Directors as well as the sponsor of the scholarship, stated, "Chía and Chémi were among the first recipients of the Masters Scholarship. It's thrilling to see how the scholarship has benefited their art and ambition. Chía and Chémi have delivered on the promise of their artistic potential with Shirampari. Their documentary exhibits stunning visuals while exploring its characters with great thought and care, opening our eyes to a distinct culture and tradition as well as calling attention to our shared humanity."
Among their long list of accomplishments, Flórez and Pérez are Fulbright Scholars, and Pérez is an alum of The Academy of Motion Picture Arts and Sciences Gold Program, a highly sought-after opportunity for emerging filmmakers to network and learn their craft. The pair received funding from the 10 ARTS Foundation and National Geographic Society to produce Shirampari (read about the National Geographic Explorer grant here). The 10 ARTS Foundation–a recently launched U.S.-based nonprofit–funds, educates, and nurtures visual and performing artists from under-resourced communities.
Tony Harris, Chair of the 10 ARTS Board of Trustees, exclaimed, "Shirampari is a story that touches on the criticality of environmental protection, human rights, conserving threatened cultures, and the deep love of a father and son. For the 10 ARTS Foundation to have added our support along with the National Geographic Society, The Fulbright Program, and New York Film Academy's Matthew Modine Masters Scholarship has been an honor. We are committed to focusing our efforts on talented storytellers worldwide. Together we hope to make a positive impact through the enablement of a more diversified point of view."
For Sanora Bartels, NYFA's Documentary Program Advisor, Flórez's recognition at Sundance is critical. Bartels said, "I'm so happy Sundance is recognizing Lucia Flórez because she has developed into the best kind of documentary filmmaker: an incredibly talented director with a cinematic eye for beautifully realized storytelling and, deeper than that, she feels a genuine responsibility to represent her subjects in their truth respectfully."
Crickett Rumley, Senior Director of NYFA's Film Festival Department, who consulted on the film's festival strategy, said, "For emerging filmmakers, screening at Sundance is the absolute pinnacle. I'm so proud of Chía and Chémi for making it to the top with this treasure of a short film, building on an impressive collection of laurels and awards from festivals in the U.S., Europe, and Latin America." 
About New York Film Academy
New York Film Academy (NYFA) is a leading film, media, and performing arts college that offers hands-on intensive undergraduate and graduate degree programs, certificates, and workshops across a multitude of areas of study in New York City, Los Angeles, South Beach/Miami, Gold Coast (Australia), Florence (Italy), Beijing and Shanghai (China), and more. NYFA also offers online education allowing students the opportunity to advance their creative and technical skills in "Hands-Online Workshops," available across NYFA's film, media, and performing arts disciplines.
NYFA is accredited by the WASC Senior College and University Commission (WSCUC). This accreditation extends to all NYFA campuses in the United States and overseas.
For more information, please visit nyfa.edu.