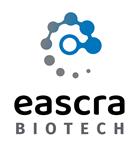 Eascra Biotech Selected as Finalist for 2023 SXSW Pitch
BOSTON, Jan. 18, 2023 (GLOBE NEWSWIRE) — Eascra Biotech, a new start-up building the next generation of therapeutic nanotechnologies, was selected as a finalist in the "Innovative World Technologies" category for the 15th annual SXSW Pitch (formerly SXSW Accelerator).
SXSW Pitch is the marquee event of South by Southwest® (SXSW®) Conference & Festivals (March 10 – 19, 2023), where leading startups from around the world showcase some of the most impressive technology innovations to a panel of hand-picked judges and a live audience. Eascra is one of only 40 finalists. More than 700 companies applied to present. The categories are: Artificial Intelligence, Robotics & Voice, Enterprise & Smart Data, Entertainment, Media & Content, Food, Nutrition & Health, Future of Work, Innovative World Technologies, Metaverse & Web3, and Smart Cities, Transportation & Logistics.
The two-day event will be held the first weekend of SXSW, Saturday, March 11 and Sunday, March 12, on the fourth floor of the Downtown Hilton Austin. The event will culminate with the 2023 SXSW Pitch Awards Ceremony on Sunday evening, March 12, where winning startups from each category and a Best in Show winner will be announced and honored.
Eascra and four other companies will present in the Innovative World Technologies category on Sunday March 12, 2023. In addition, Eascra will participate in the SXSW Pitch Startups Showcase on Monday, March 13th, from 10am to 12pm at the Hilton Austin Downtown.
"Being chosen as part of the Innovative World Technologies category seems fitting," said Mari Anne Snow, Eascra's CEO. "One way SXSW defines this category is 'technologies that act as the infrastructure that new technologies are built on'. Eascra's JBNs will usher in a whole new era of out-of-this-world biomedical applications, changing how we look at drug treatments for illnesses and chronic conditions." Eascra recently announced that NASA had selected the company for an in-space manufacturing project designed to evaluate low-Earth orbit manufacturing.
"Since its beginning in 2009, SXSW Pitch has significantly helped shape the early-stage venture ecosystem and connected promising companies with the resources they need to thrive, giving promising companies the resources they need to succeed when it matters most," said SXSW Pitch event producer Chris Valentine. "Of the 613 companies who have been selected as finalists since the competition's inception, over 93 percent have gone on to secure funding and numerous have been acquired by the likes of Google, British Telecom, Huffington Post, Apple, Live Nation, OpenTable, Meta, Michelin, Constant Contact, and Harmon. We're excited to see this year's impressive group of startups take to the stage and show us how their innovations will change the world."
For more information about SXSW Pitch and to view the complete list of finalists, visit: https://www.sxsw.com/pitch.
About Eascra Biotech
Eascra Biotech focuses on the development of DNA-inspired Janus base nanostructures to create a family of safe, versatile, and temperature stable nanomaterials for biomedical applications, enhancing the therapeutic efficacy of drug treatments for a variety of chronic conditions and medical needs. Eascra's novel family of Janus base nanomaterials provide highly effective solutions for:
mRNA and gene editing delivery systems with minimal toxic side effects.
Tissue engineering and regenerative medicine for orthopedic applications.
Accelerated biomedical research and drug testing on simulated tissues-on-chips.
About SXSW
SXSW dedicates itself to helping creative people achieve their goals. Founded in 1987 in Austin, Texas, SXSW is best known for its conferences and festivals that celebrate the convergence of tech, film and television, music, education, and culture. An essential destination for global professionals, the annual March event features sessions, music and comedy showcases, film screenings, exhibitions, professional development, and a variety of networking opportunities. SXSW proves that the most unexpected discoveries happen when diverse topics and people come together. SXSW 2023 will take place March 10 – 19, 2023 in Austin. For more information, visit sxsw.com. To register for the event, visit sxsw.com/attend.
SXSW 2023 is sponsored by White Claw, Volkswagen, Porsche, Itaú Bank, and The Austin Chronicle.